5 Solutions for Airdrop not Working on Mac
Using Macs has many benefits, but one of the most useful day-to-day is Airdrop. Being able to move files quickly and easily between your Apple devices can make work and entertainment so easy to manage when it works. That ability is so useful, that when it stops working it can be a real problem, so when you find Airdrop not working on Mac, you want to fix it as quickly as possible. Here are a few ideas of what to do if your MacBook not showing on Airdrop becomes a regular thing or any other problem you may be having.
Part 1. Ways to Fix Airdrop Not Working on Mac
In normal circumstances, using Airdrop is easy, you turn on the Airdrop vial in the control center and simply select 'Airdrop' when choosing the sharing method for any photo or other file. This will open a menu that allows you to choose the people or devices you want to share with. It's simple, well-integrated, and easy to use, but what happens when Airdrop Mac won't show up? If you want to know why can't I Airdrop to my Mac, keep reading. There are several ways in which Airdrop can fail, so let's look at the most effective ways you can fix your Airdrop issues.
1Restart your device
Before we look at specific problems, here is a general tip to solve your MacBook not showing up on Airdrop and any other issue. Reboot the device. This could be a force restart on an iPhone or a reboot on a Mac. But whatever the device, restarting like this can often fix frustrating issues with Airdrop, so always try this first.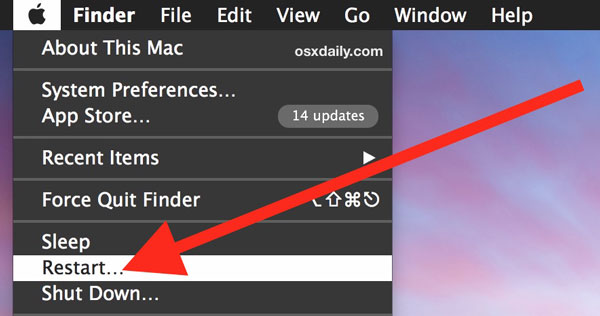 2Personal Hotspot
If you find that your Airdrop not working on Mac problem is that it doesn't show any other devices nearby, there may be a simple answer. Both Airdrop and Personal Hotspot use the same Wi-Fi system, you can only use one or the other. Check to see if Personal Hotspot is enabled on the device you are trying to send to by tapping Cellular and then Personal Hotspot. Turn it off and see if you can now connect via Airdrop.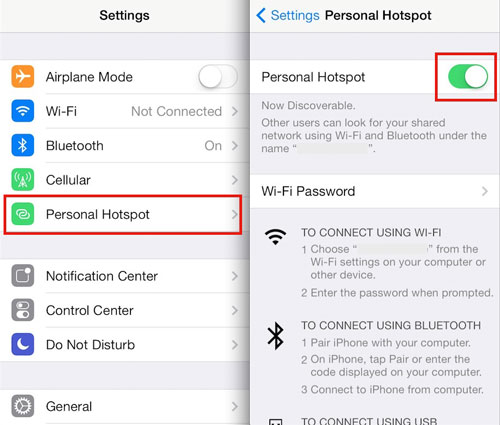 3Check your discovery settings
Another cause of issues with Airdrop is often the discovery settings. These settings allow you control of who, if anyone, can connect to your device. If you are left wondering, why can't I Airdrop to my Mac, this could be the issue. Airdrop settings can be reached via the control center. Select Airdrop and you will be given a choice for connections, these are: Off Contacts Only Everyone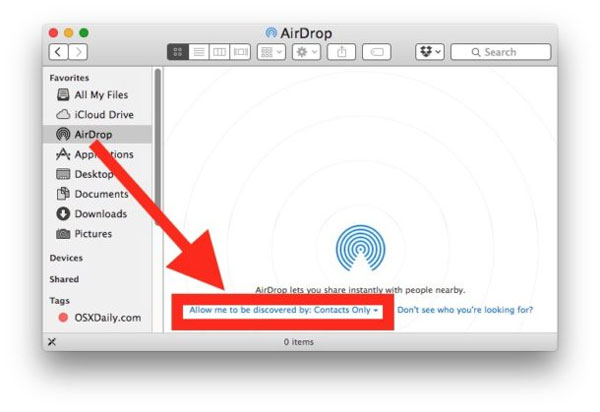 If it is set to off, then Airdrop is not enabled, and with this setting on Airdrop Mac won't show up as available for share whatever else you do. Having it set to Contacts Only means that only devices owned by recognized contacts can use Airdrop to connect to your device. This may seem like a sensible approach for security, and it often is. However, you must remember to add any device you want to use Airdrop with to your contacts. Having Airdrop set to Everyone removes this requirement, and ensures that every Airdrop compatible device within range can be connected. Remember, you have to accept any file sent via Airdrop anyway, so you can still control what is sent to your device, so you are still in control of how Airdrop is used.
4Check network settings
When you can't connect to a device even after you have set Airdrop settings Mac and other devices to Everyone, then try checking the network settings. Think of this as the ultimate option, go to network settings on your Mac and hit reset. Then connect back to your Wi-Fi network and save the settings again. This ensures you are properly connected and may deliver a solution for your MacBook not showing up on Airdrop.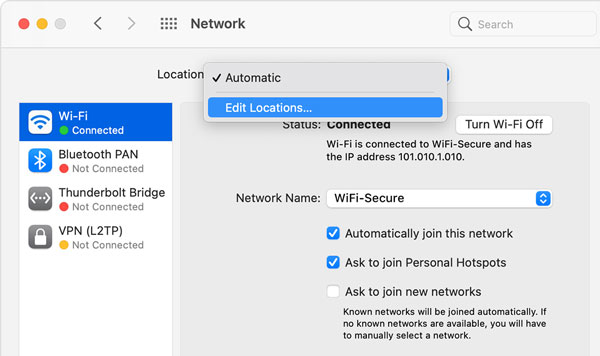 5Make sure you are logged into iCloud
One other way that you can find your MacBook not showing up on Airdrop is if you are using the contacts only setting for privacy. If you have your Airdrop settings on Mac or iPhone like this, then both devices connecting through Airdrop must be logged into iCloud. Make sure that you keep the devices logged into Airdrop and try again, you may find that it works again at this point.
Part 2. Best Alternative to Airdrop - AirDroid Personal
Still, Struggling?
While all of these options can help get Airdrop working again, you should find a fix for your Airdrop issues, whether that is your MacBook not showing up on Airdrop or something else. But what if nothing works, or maybe you need a file-sharing solution that works with more than Macs and iPhones? There is an answer that offers easily configured, reliable file transfer between any device, and that is AirDroid Personal. This is an easy-to-use app that allows for easy sharing across devices while offering a range of other features including screen mirroring, the ability to manage your SMS texts and notifications on a computer, and even remote control of some devices.
Why choose AirDroid Personal?
When it's working Airdrop is a great idea, easy, seamless file transfers between your devices. But what if, like most people, you have a mic of devices? Airdrop only works on Apple, but with AirDroid you can share files between Android, iOS, Windows, and macOS devices, in the face of the web application, you can share with any connected device, with no barriers, just seamless sharing whenever you need it.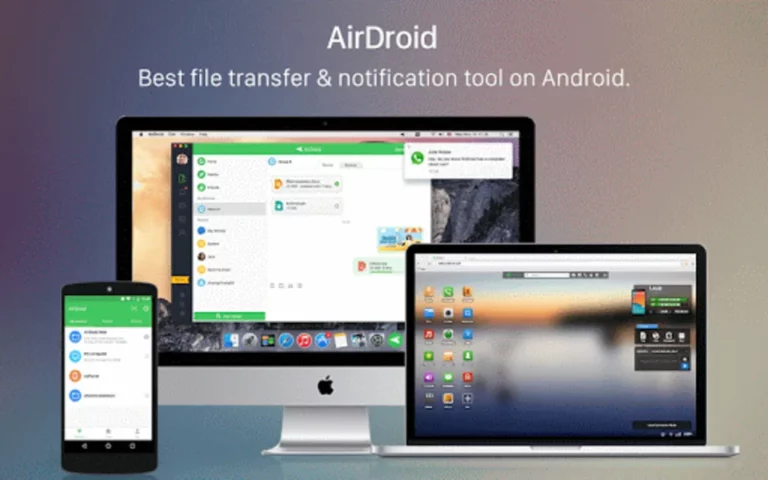 Key features of AirDroid Personal
The app is designed for safe, lossless, and wireless file transfer across devices.
You can manage your files and documents remotely across different devices
Hyper-fast file transfer across platforms and devices
Files can be shared with nearby devices without internet
It's an all-in-one app to do a lot of things, transfer files across all platforms, remote control & screen mirror android devices, receive and send mobile notifications and SMS on PC.
That alone makes AirDroid the most versatile file-sharing solution you can find today, but it has so much more to offer.
1File Transfer
The file transfer and management options within AirDroid are some of the most advanced available, allowing you to quickly transfer files between devices regardless of the operating system, and because it can use the Wi-Fi, 4G, or 5G networks, you can transfer files to those nearby without the internet, making it more secure.
2Remote Control
AirDroid also includes a remote control function for Android phones, allowing you to operate an Android device regardless of its location, even if that is the other side of the world. There is no need to change the operating system or make any other alterations to the device, and it will not invalidate your warranty either. Just install Airdroid on your devices and you can begin remote controlling your phone or other Android devices.
3Screen Mirroring
AirDroid also includes a Screen Mirroring feature, which lets you mirror your Android phone screen onto your computer for easy visibility. In addition to these features, Airdroid also allows you to manage your phone messages directly from your computer. Whether typing a new text or checking notifications, through AirDroid you can do it all on the big screen without needing to keep reaching for your phone. The best thing about AirDroid Personal though is that it is completely free to use with some restrictions, and only $2.50 a month for unlimited data use.
Part 3. Conclusion
Airdrop is a great tool when it works, but if you find Airdrop not working on Mac or other problems, or if you need to share files between devices using platforms other than Apple, then there are alternatives. Airdrop Personal offers all the file-sharing features you need in a robust, reliable, and easily managed system, and it can share files regardless of platform, whether Windows, Android, iOS, or macOS. Free to use and with a range of other features, AirDroid Personal is the first choice for file sharing between all your devices quickly and hassle-free.
FAQs
Q1: What is Airdrop?
Airdrop is the built-in file sharing service from Apple that allows you to connect to nearby devices and share photos and more over Wi-Fi.
Q2: Why can't I Airdrop to my Mac?
There can be several issues that stop you sharing files easily. From network configuration to having the right Discovery settings, to conflicts with other Apple features such as Personal Hotspot. Checking all of these in turn can help you find the fault and get back up and running with Airdrop.
Q3: Is there an alternative to Airdrop?
Yes, AirDroid Personal offers comprehensive sharing features, but across all platforms not just Apple, along with several other benefits like screen mirroring and remote control for Android devices. It is free to use and simple to set up in seconds.
Was This Page Helpful?