Top 8 Free File Sharing Sites in 2023
Key Factors To Consider When Choosing A File Sharing Site or Program
When you are deciding which solution to go for as the best file-sharing website, the following considerations play an important role in the decision:
1. Speed
The speed of file sharing is important when collaborating online or sharing files remotely. Thankfully, with the clickable links, you can instantly share a file. However, speed still matters because how fast you send a file depends on how fast it is uploaded to the cloud storage.
2. Security and Privacy
The security that your data is encrypted and privacy that no unauthorized user can access your data are also very important. Therefore, when a user selects a tool for file sharing or uses it as cloud storage, security and privacy also matter.
3. File Size and Bandwidth limit
The file size limit shows the maximum size of files that can be shared in one day or once. The bandwidth limit expresses the usage by each user to download the stored data. The higher the file size and bandwidth limit, the better.
4. Cloud Storage Size
Cloud storage size is a general factor that matters whenever you are choosing a file-sharing website to collaborate with others or share different file formats remotely.
5. Price
Of course, if a tool is affordable and fits your budget, it will only be worth considering in that case. Therefore, pricing is also an important consideration when choosing a tool.
Best Free File sharing Sites in 2023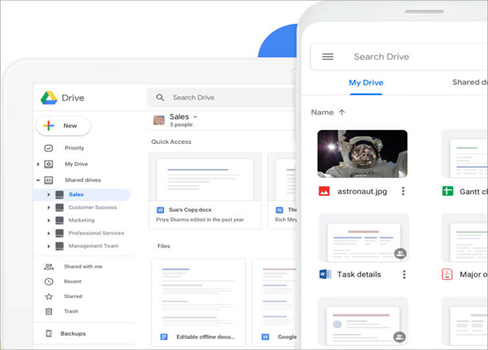 Let's start with Google Drive, an unapologetic leader in the best file-sharing sites. Google Drive is cloud storage developed by Google that users can capitalize on to store their data, share large files as a clickable link, and ensure that data is secure. Different space subscriptions offer you data storage according to your needs.
Here are the top features of Google Drive:
Create, edit, and Upload multiple file formats
Seamless integration with cloud-native apps
Real-time synchronization
Easy to share the file in the form of a link
No limit on the file size with an online file-sharing site
A much needed integration with unlimited external apps. E.g. Gantt Chart, Diagram Tool, etc
Pros
Easy file sharing with an online file sharing site
Access files anywhere with cloud storage
Compatible with all OS
Free storage up to 15 GB
Convenient and Easy to use interface
Cons
No password protection makes it a vulnerable file-sharing tool
Limit the file size you can upload in a day
Internet connection is necessary for real-time sharing
Pricing
Google Drive has free and paid versions.
Personal(Free)
Basic: $1.99/month
Standard: $2.99/month
Premium: $9.99/month
Supported OS
Online file sharing site supports Windows, Android, macOS, and iOS
Editor's Review
Google Drive is a popularly known free storage that most Android users and Windows users capitalize on. Doubtless, file sharing is very easy with Google Drive, no matter what size. It is the best personal use file sharing site that can be additionally used to collaborate with your work teams in real-time.
AirDroid Web – Recommended
AirDroid Web is the best free method to transfer files across different devices in a seamless way. It is a web-based tool that is efficient, quick, and intuitive. Whether you want the best free file-sharing website or want to control your devices, AirDroid web is an all-in-one tool. You can share files without the hassle of uploading files from your phone to the web client or downloading your files from the web to your phone.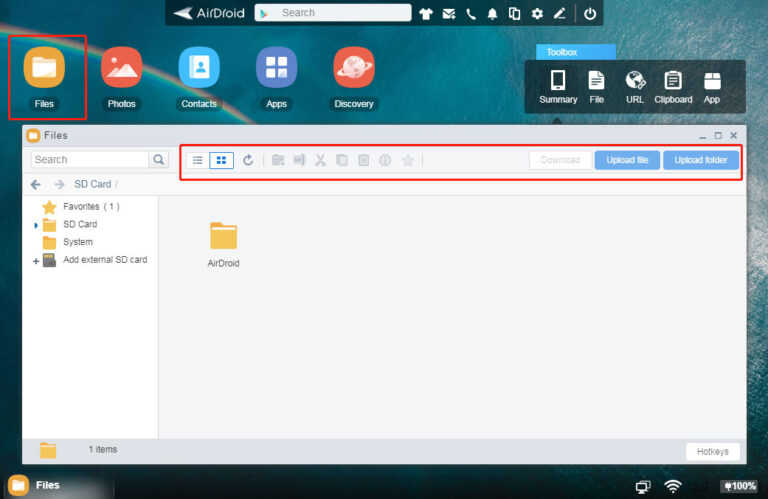 The main features of AirDroid web are as follows:
Transfer files from one device to another remotely
Control other devices remotely with AirDroid Personal Web
Screen sharing or mirroring to view your Android screen on a laptop
Find Phone feature to locate a lost device
Remove data or create backup files remotely
Pros
Intuitive interface for easy navigation
Wireless file transfer across devices
Advanced security features
Additional features like screen mirror, remote control, etc.
Cons
File size limit of up to 200 MB
Internet speed can affect a file transfer
Pricing
Basic(Free)
The premium for $3.99 per month
Supported OS
Web-based solution, Android, iOS, Windows, Mac
Editor's Review
AirDroid web is a free tool with multiple capabilities. If you want a solution for more than just file transferring, you must try AirDroid web. Besides, it is the best solution for managing and controlling your device.
DropBox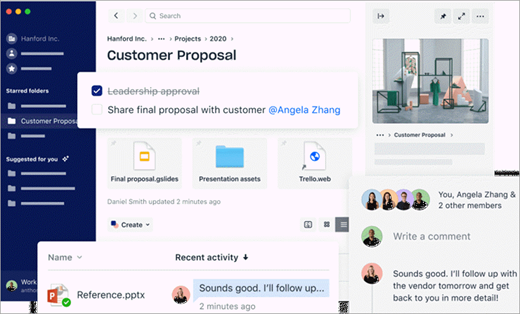 DropBox is the next file-sharing website and program that is worth talking about. The tool has improved a lot over time, and currently, you can sync your data across all devices, from smartphones to laptops.
The main features of DropBox are as follows:
Upload and easily share your photos, documents, and other files
Cloud storage
Arrange files in folders for easy access
Collaborate with your teams with real-time synchronization
File size up to 50 GB
Synchronize data across all devices
Pros
Easy file sharing in a secure way
Direct sharing with a clickable link
Automatic backup and data synchronization across all devices
Free plans for limited use
Cons
Freemium model offers only 2 GB storage
Pricing plans are expensive
Advanced features like password protection & download tracking are not available
Pricing
Here are the pricing plans for Dropbox
Individual(Professional): $19.99 per month
Team(Standard): $15 per month
Team(Advanced): $25 per month
Supported OS
Available for all operating systems like Android, iOS, Windows, macOS
Editor's Review
It is an easy-to-use software with a very intuitive user interface that provides you with better security features and control over file storage and sharing.
iCloud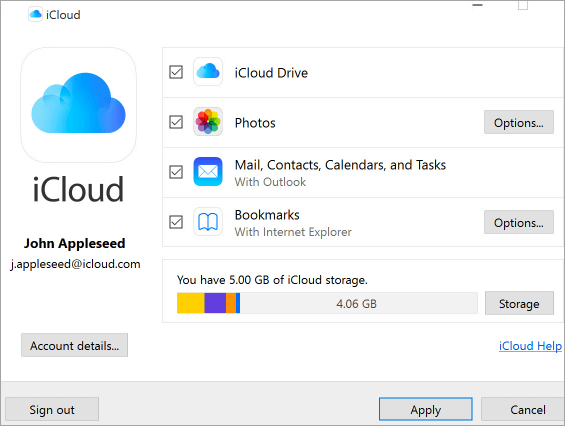 iCloud is also an online service based on cloud storage that lets you store files in the way you want. You can upload and share different file formats like photos, documents, music, contacts, books, and a lot more. Cloud storage automatically creates data backups to avoid any data loss.
The main features of iCloud Drive are as follow:
Store and share multiple file formats
Apple's email servers and calendars can also be integrated with iCloud
Apple's inherent tool is also available for other operating systems
Password protection to increase the security of your data saved
Pros
Intuitive user interface
Advanced security features
Seamless integration across Apple's ecosystem
Create a backup of any file you want
Cons
Internet connection is necessary
Subscription plans can be expensive
Works well in Apple interface and devices
Pricing
Free Plan with 5 GB storage
iCloud+ with 50 GB: $0.99 per month
iCloud+ with 200 GB : $2.99 per month
iCloud+ with 2 TB: $9.99 per month
Supported OS
iOS, macOS, and Windows.
Editor's Review
iCloud storage is the best option you can capitalize on for file sharing across Apple devices or other operating systems. No matter what file size you want to share or create a backup, Apple's iCloud is one of the most secure tools you will come across.
Box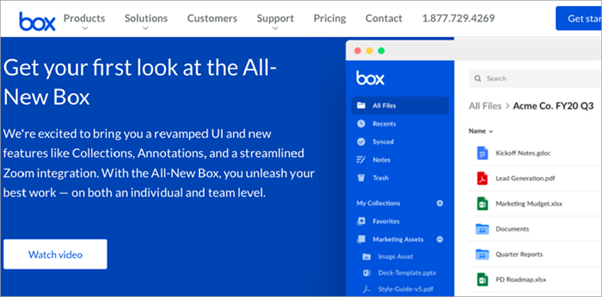 Box is also popular cloud storage that can be capitalized on for file storage, management, and sharing with multiple users for personal or professional use. You can collaborate with different users in real-time regardless of the operating system. Besides, the intuitive user interface is also one reason you should choose Box.
The main features of Box are as follows:
File sharing, storage, and backup
Advanced security features and controls with intelligent threat detection
Seamless integration with over 1400 apps, including popular ones like Slack, GSuite, etc.
Share files or collaborate with other users without worrying about confidentiality
Pros
Advanced security for sharing sensitive data
Upload limit higher than other cloud storage
Easy to retrieve your lost data
Supports multiple languages and all regions of the world
Cons
Desktop sync can be slower than expected
The user interface needs improvement regarding ease of use and speed
Plans are expensive
Pricing
Personal plans(Free with 10 GB storage, $10 per month with 100 GB storage)
Small Teams: 3-10 users with $5 per user for a month.
Business: Depending on needs and business size
Supported OS
iOS, Android, web-based
Editor's Review
The Box is one of the best file upload sites that provides the highest uploading size limit. Whether you are a small business or a large enterprise, the software is workable for you with advanced security features.
WeTransfer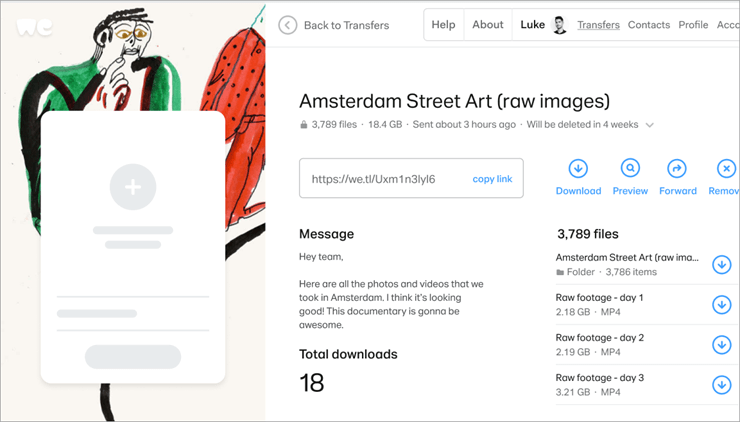 WeTransfer is also a file-sharing website and cloud storage that lets you share files easily across different devices and users around the world. Cloud storage offers many interesting features, including deleting or resending transfers, password-protected transfers, etc. You can directly share files or clickable links with anyone with WeTransfer.
The main features of WeTransfer are as follows:
You can choose how long to make the transfer available in storage
Password-protected transfers make it best for confidentiality
Track download feature lets you see how many times transferred files have been downloaded by other users
Resend, delete or forward the file transfers
Pros
Control over who can view, edit, or share your transferred files
Autoexpiring links are secure
Password-protected transfers
Intuitive user interface
Cons
There is no freemium model like other solution providers
No password protection protocols
Reports of sending large data to the wrong recipients
Pricing
WeTransfer Pro at $12 per month
WeTransfer Premium at $23 per month
Supported OS
Android, Windows, macOS
Editor's Review
If you want to transfer files to multiple people at a time, WeTransfer is a good option. Besides, advanced controls like password protection and auto expiring links make it a good choice for business use and sharing sensitive data. However, if you are looking for a personal file-sharing website, WeTransfer might not be for you.
OneDrive
Microsoft's OneDrive is also popular cloud storage that was previously known as Skydrive. You might choose this option whether you need it for personal or business use. You can store and backup your data on OneDrive and share it with others whenever you need it. Besides, multi-platform synchronization is yet another benefit.
The main features of OneDrive for file sharing are as follows:
Store, backup, edit, and sort data like documents, photos, videos, audio, and other file formats
Offline access to data is available, so you don't have to be active on the internet all time.
Recover your data easily and share files with a clickable link
Pros
Once stored, data can be accessed offline as well
Secure data and file sharing site with the easy-to-share method
Bandwidth limiting to avoid unauthorized use for teams
Cons
Privacy might be compromised
Special character limitation in file/folder names
Limit path sizes and synchronization
Pricing
Free up to 5 GB
$1.99/month for OneDrive Standalone
$69.99/year for Microsoft 365 Personal
$99.99/year for Microsoft 365 Family
Supported OS
Windows, macOS, iOS, and Android
Editor's Review
You can get your files on demand with Microsoft's OneDrive. Besides, a personal vault can be capitalized on to save your important data. Besides, the offline access to data stored is also a big pro of OneDrive.
MediaFire
Last but not least, MediaFire is also trustable third-party cloud storage that can be used for file sharing with different people using other devices. The free tool makes it possible to access your data anytime, anywhere.
The main features of MediaFire are as follows:
Easily store, edit, and sort your data for free
Unlimited bandwidth and downloads with any subscription
You can collaborate with other people, from your colleagues to clients
Batch uploading and sharing of files are available.
A one-time link maintains the privacy of your data
Pros
A free-to-use tool with unlimited downloads and usage
One-time link limits file sharing with unauthorized people
Affordable pricing
Easy to share files of any size
Cons
The desktop sync client is not as effective
The free version has too many ads
No file encryption or versioning
Pricing
The basic Plan is free for up to 10 GB
Pro Plan is $5 per month for 1 TB
The business Plan is $50 per month for 100 TB for 100 users.
Supported OS
Windows and macOS
Editor's Review
It is the best choice if you want an inexpensive solution as an independent professional who has to collaborate and share files very often.
However, if you are looking for more than file sharing, it might not be an effective solution.
Final Words
We have shared different tools that can be capitalized on to transfer files remotely from one device to another. You can also share files via email using the tools mentioned. However, AirDroid Web is the best among all due to high-end security and additional features. The tool can be used to control your Android device, collaborate with teams and a lot more.
FAQs
Which file-sharing site is the best?
There are many file-sharing sites with cloud storage that you can capitalize on. However, the popular ones are Google Drive, DropBox, and Microsoft OneDrive. If you want a more convenient and easy-to-use tool with additional features, AirDroid Web is the best solution.
What are file-sharing sites?
File Sharing Sites are tools or programs that sell and administer cloud storage, file transferring remotely, etc.
What are the dangers of file sharing?
There might be spyware, viruses, Trojan horses, or worms in files when transferred through third-party file-sharing websites. These viruses and worms can infect your devices. Therefore, make sure to choose a trustable tool with high-end security encryption.
Was This Page Helpful?