Top 8 File Manager Apps for Android in 2023
Managing files is necessary whether you're a businessman or a student. And finding that specific folder or file when you need it the most can be unpleasant. That's why Android phones come with built-in file managers. But sometimes, they do not possess all the essential features you require. In any case, this can create a problem in the long run. Thus, it is better to download apps for managing files. So, hopefully, you'll find the file manager of your desire after reading this article.
So, the file managers recommended here have strengths and weaknesses in some instances. But all of them can do the basic tasks of a file manager. Some have extra features that might have ads or additional payment. Thus, consider all the aspects mentioned here before making your final decision.
List of the Top 8 File Manager Apps for Android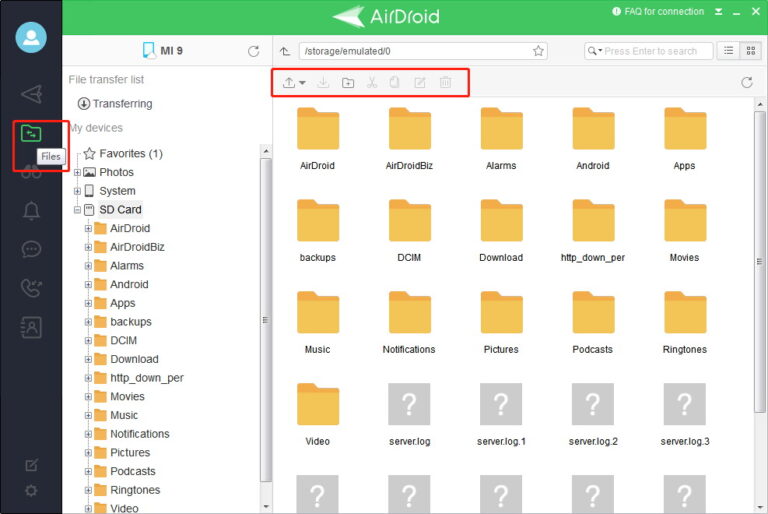 AirDroid Personal is the most complete one-in-all app for managing your phone files. First of all, just like the other apps on this list, you can access your device's files through AirDroid. But, that's just scratching the surface. AirDroid also lets you access your Android files right from your pc. You can drag and drop files between your PC and your phone seamlessly and wirelessly. And on top of that, you can control your phone right from your pc, get notifications and calls related to your PC and so much more. There is no other app in the market that provides so many tools in one single package like AirDroid.
Pros
Access and manage your phone files
Easy file sharing with PC
Control your phone from your PC
Get phone notifications on your PC
Cons
200 MB limitation on file sharing on the free version
One of the older apps in the store, but ASTRO File Transfer still packs a punch. It's still going strong and for good reasons! Firstly, the UI is very friendly and has a Windows Explorer feel. You can quickly move, shuffle, and delete your files. It also possesses managing options for cloud, external, and internal storage systems.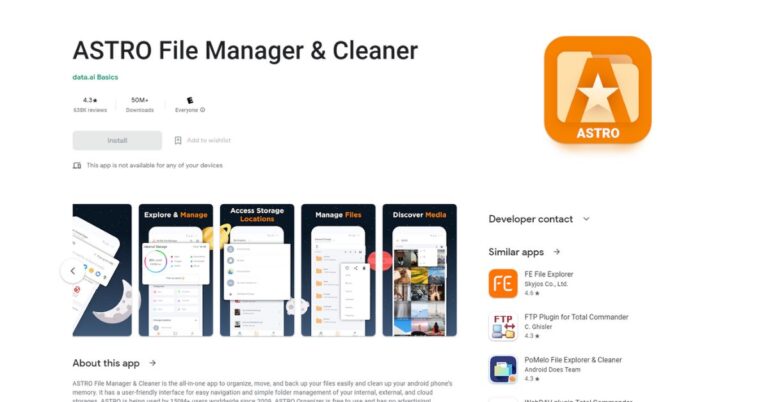 The manager supports many popular cloud storages (like Google Drive) for sharing and syncing purposes. And you can easily compress your files into the ZIP format. Furthermore, backing up your files using ASTRO File Transfer is simple should you ever reset your device. The best part? ASTRO File Transfer has no ads, and it is free to purchase. Thus, the pros and cons of ASTRO File Transfer are:
Pros
Familiar Windows-type UI system
Great cloud storage options
Has a nifty feature to keep your phone clean
Cons
Has problems in searching SMB-type files
No rooting functions are available
3MiXplorer
MiXplorer is a well-rounded app with reliable features. It has the standard features of a file manager like copying, moving, and adding files. It has a unique feature which is the dual-plane UI in landscape mode. It's like working on two tabs at the same time! The manager supports all your typical file systems like NTFS, FAT32, and exFat.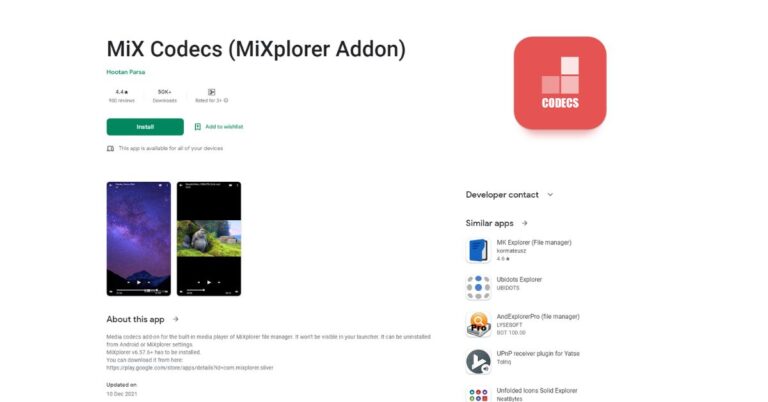 Furthermore, the app has an HTML viewer, which supports different web page archive formats (MHT, CHM). It also allows the unpacking of ZIP files and has view modes for each separate file. The app also has access to cloud spaces like Dropbox, Mediafire, and 4Sync. Also, you can get the app for free or buy the Silver version for a small fee. So, the pros and cons are:
Pros
Excellent HTML and dual-plane features
Supports file formats like NTFS and exFAT
Has a sorting mode for each file
Cons
The NTFS file format is read-only
The Silver version will cost you a bit
Files from Google is a fantastic app for all your managing needs. One of the highest-rated apps in the store, File has three exciting modes. Firstly, the 'Clean' mode shows the amount of storage left in your phone. It will tell you which files are duplicates or unwanted and which apps you don't use. So, cleaning on the go will keep your phone smooth!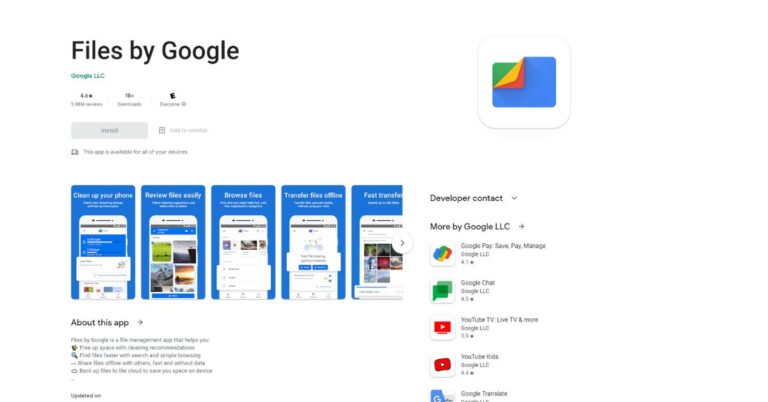 The 'Browse' mode makes everything easy to find. Files will sort out images, videos, and pdfs in separate folders. Lastly, the 'Share' mode allows you to share and receive files on the go and without any internet! Also, the app is free and also ad-free! Hence, the pros and cons of File are:
Pros
Backup files on Google Drive using simple steps
The three modes are fantastic and unique
Very easy to use
Cons
Cannot compress files into ZIP
Lack of root support
As the name suggests, this app has solid features to enhance your file-managing experience! Along with the typical features, the app supports popular cloud services like Drive, MEGA, and Yandex. But you do need to pay for it. Solid also provides paid plugins for USB on-the-go support and more. It can compress and decompress any ZIP files.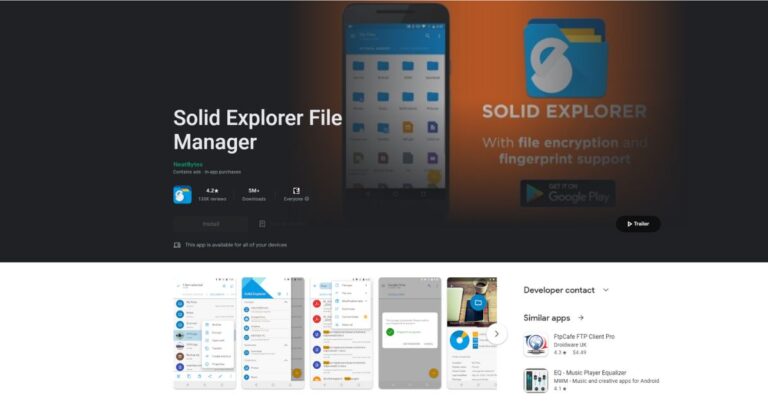 The manager also has privileges for multi-network file-sharing modes like FTP, WebDAV, and SMB. The best feature of Solid is its security. You can fingerprint passwords to protect all your files easily. The app has various customization options and allows you to surf system files on rooted devices. Hence, the pros and cons of this app are:
Pros
All the prominent features are free to use
The security of files is top-notch
Has Chromebook support
Cons
The advanced supports require payment
Lack of power-user features on the free version
6Total Commander
Total Commander is an exceptional file manager. The app possesses directory creation, drag-and-drop, archiving files, and sharing file protocols. It has some interesting features like a media player, the history of a directory, and the power to change the permissions of a file. These features separate this app from other apps.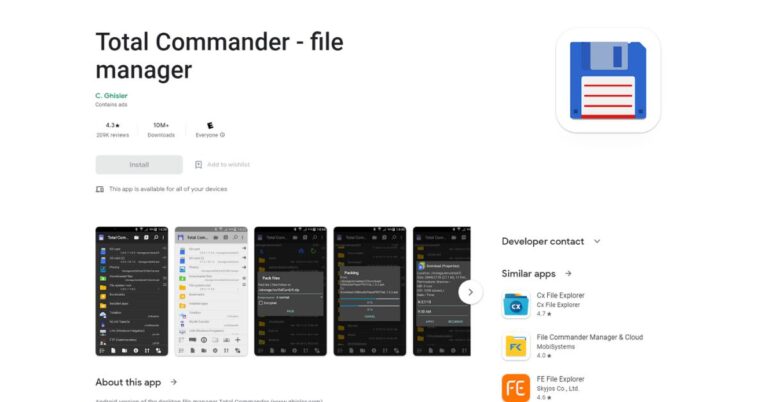 Total Commander allows you to rewrite system folders (like/data). So, this app is a great powerhouse for root functions which every app cannot do. It is free and almost ad-free. So, give this app a go! And so, the pros and cons of Total Commander are:
Pros
Supports root functionalities
Can move whole file directories
Possesses the ability to change administrative privileges of a file
Cons
Plugins require additional costs
The UI is a bit janky
7Root Explorer
One of the best file managers for rooted phones. Root allows you to have multiple tabs working simultaneously. It supports cloud services like Google Drive, Dropbox, and others. Additional supports include database viewing, text editing, file archiving, file compression, creating scripts, and much more!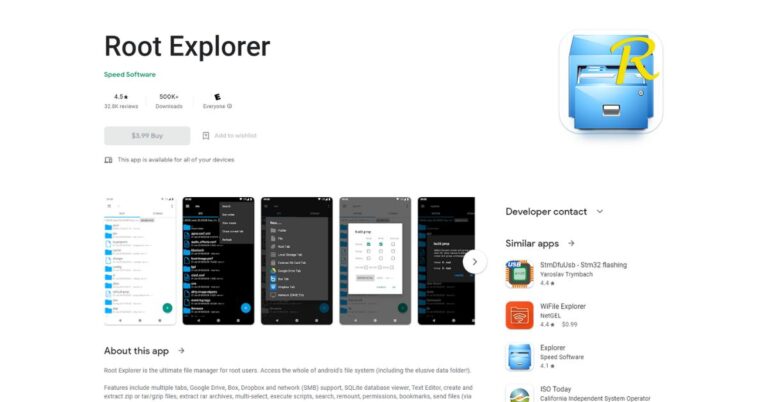 Some notable features are sharing of files through email and Bluetooth. The app also helps change the owner of a file through rewriting. So, for the best features in root support, you opt for this app. The downside is the app is not free. So, the pros and cons:
Pros
One of the best apps for rooted devices
Multi tabs are great for multitasking
Multi-select files for quick commands
Cons
The free version isn't good enough as it removes the routing functions
It is not for everyone
If you wish to remove all the bravado and want a good old file manager, this is for you! ASUS file manager shouldn't be such a good file manager, honestly. But the simplicity of the app takes the cake. Opening the app, you will understand all the standard features of a file manager. The files are neatly organized in specific directories (for example, documents).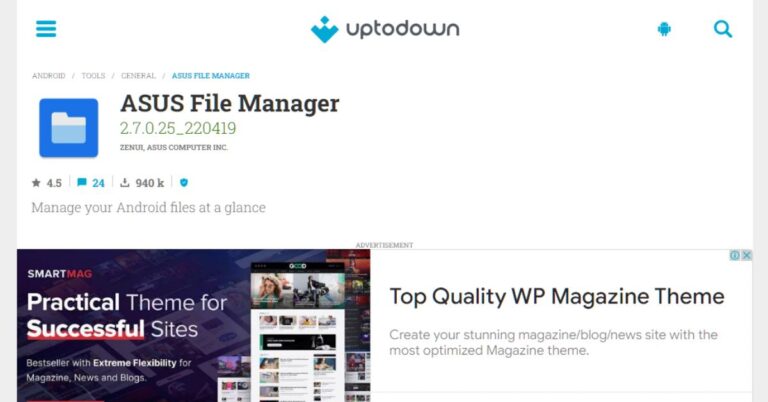 The Storage Analyzer tells you how many duplicate and unwanted files you have. You can also do wireless transfers to other devices, including PCs. The 'Hidden Cabinet' feature is also great! You can keep your secret files there via a PIN code. And it is free to download. So, the pros and cons are:
Pros
The UI is straightforward to navigate
'Hidden Cabinet' is fantastic
Wireless Transfer is also convenient
Cons
The app isn't available in the Google Play store
The color scheme is a bit tacky
Conclusion
So, hopefully, these apps were varied enough for you to have the right choice! The suggestion is that you should check out the free versions before buying any premium ones. In any case, try to download different apps and experiment with the features. Then finalize which one is better for you overall. And don't forget to check out Airdroid! The app is handy in dire situations! So, thank you very much for being so patient. Hope to see you soon on the next hot topic. Till then, stay safe, stay organized, and make sure to secure your important files! Goodbye.
Frequently Asked Questions
How do you find hidden files on your phone?
On AirDroid click on the 3 dots on the top right then click "Show Hidden" to see all of your hidden files.
Why can't I find my file manager app?
Your device probably does not come with a file manager. Download AirDroid to get access to your android files.
Are file manager apps expensive?
No, in fact most great file manager apps are actually free.
Was This Page Helpful?