What Is Smart Switch App for Android? Best Alternatives of Smart Switch
Smart Switch app Android is a utility of Samsung available on the newer Samsung Galaxy phones. The company has introduced an app for users to facilitate phone switching. When you purchase a new Samsung Galaxy phone, you can easily use Smart Switch to transfer data from your old phone to your new phone.
However, many people like the idea of convenient data transfer but are looking for Smart Switch alternatives. We have come up with the best alternatives for Smart Switch for Android users, iOS users, and macOS users. So let's get into it.
What Is Smart Switch App On Android? What Does Smart Switch Do?
As mentioned earlier, Smart Switch for Android is a dedicated data transfer app Samsung has developed to facilitate Samsung users. Whether you want to switch from Android to Samsung, Samsung to Samsung, or iOS to Samsung, the Smart Switch app enables seamless data transfer. You can install Smart Switch and transfer data across devices if you have an Android device with Android version 4.0 or above.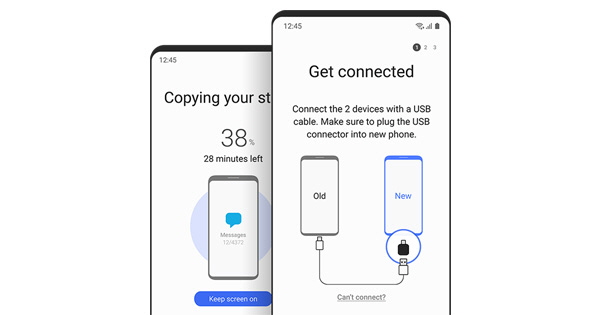 When it comes to what Smart Switch does, here are the main features of the app:
Key features of Smart Switch App
Smart Switch is a data transfer app that can be used to transfer content like apps, contacts, messages, call logs, photos, videos, calendars, device settings, documents, etc.
You can create a backup of your Android, tablets, PC, etc., and restore it on your Samsung devices.
Smart Switch app is available on Android as well as PC. You can transfer data across mobile phones using the Android version. The desktop application allows you to create backup files and restore data.
You can transfer data from iPhone to Samsung Galaxy, Android to Samsung Galaxy, and Samsung to Samsung.
If you are moving data from iPhone to Samsung, you can avail of the iCloud transfer feature.
What Does Samsung Smart Switch Not Transfer?
When it comes to data transfer, we would like to do into the details of the same and try to establish a clear distinction between;
What does Samsung Smart Switch transfer?
What does Samsung Smart Switch not transfer?
Beginning with the first question on what we can transfer via this application. In contrast, we have already mentioned the data that can be moved from one device to another. We can include images, videos, contacts, call logs, text messages, applications, calendar events, etc.
You can transfer all types of images and videos; however, whether they play or not in the new device depends on the extensions compatible in Samsung Galaxy. This can be an issue specifically when you are transferring files from an iPhone or Mac. The file extensions of images and videos captured on an iOS or Mac device are different from the ones captured on an Android device.
So, we can see that there are limitations to what type of files we can transfer via the Samsung Smart Switch app. We have also mentioned that we can transfer messages, but only text messages.
If you are wondering, "can I transfer WhatsApp messages via the application," then the answer is no. Samsung Smart Switch does not allow you to transfer messages you have received in Whatsapp. You can, however, transfer the media files received on the app, but not the messages.
Along with this, DRM-protected media files, application-related data, and account information cannot be transferred. Plus, you cannot transfer browser history, specifically Safari and bookmarks.
Is Smart Switch Only For Samsung? Can Smart Switch Transfer From Samsung to iPhone?
When users know Smart Switch for Samsung, a question arises if such a features-enriched tool is only available for Samsung devices. Can Smart Switch transfer from Samsung to iPhone for iOS users?
When you know what Smart Switch is on Samsung, let's answer the next questions.
Smart Switch app for Android can be installed on any mobile device until and unless it is running on Android version 4.0 or above. It is okay to install the app on any Android device for data transfer until the target device is Samsung Galaxy.
As far as iPhone users are concerned, you can use the Smart Switch app to transfer from iPhone to Samsung, but it doesn't work the other way around. You can create a backup of your Samsung and restore it on your iPhone using your PC. But Smart Switch app Android can not directly transfer data from Samsung to iPhone.
Review Of Smart Switch
You know everything about the Smart Switch mobile transfer app; let's discuss the likes and dislikes of Smart Switch.
What Do We like?
Pros
No Size Limit –There is no size limit when you are transferring data to or from a Samsung device using the Smart Switch app. Therefore, it is a perfect app for transferring bulk data.
Free App For Data Transfer –You can install the Smart Switch Android app on any device for free. There are no charges for transferring data across devices using Smart Switch.
Transfer All Content Formats –Smart Switch app for Samsung can be used to transfer all content formats. Smart Switch is a perfect app for Samsung users if you want to transfer photos, documents, music, audio, calendar, notes, or device settings.
Internet Connection Is Not Required –You do not need any WiFi or internet connection to transfer data with the Smart Switch app for Android.
User-Friendly Interface –It has a user-friendly interface with on-screen instructions to complete the data transfer, unlike complicated data transfer tools.
What Don't We Like?
Although there are too many good things to count about the Smart Switch Android app, there are a few cons of Smart Switch as well:
Cons
Data Backup is Not Available During the Transfer –When you are transferring data using the Smart Switch app for Android, the app does not create a backup for any emergency breakdown or failed transfers.
Glitches Can Disturb The Process –If your phones are not too close, glitches can disturb the transfer. The phone's connectivity to WiFi can also trigger malfunctioning when transferring data.
Speed –Although a good app for bulk data transfer, the speed can be slower when phones are not too close. You can expect a good device when transferring data via a USB cable. However, the wireless transfer is a lot slower than expected.
Data Transfer Not Available For All Devices – Although you can transfer apps and data from any device to the Samsung app, data is only transferred when both the sender and receiver are Samsung devices.
Only Targets Samsung Devices –You can only send data on a Samsung Galaxy device.
Technical Limitations –You must meet the technical requirements on Android, iOS, and macOS, to be able to install and use Smart Switch for data transfer.
How Does Samsung Smart Switch Work?
The Samsung Smart switch application works in two ways, wireless and wired. The wireless transfer of data is powered by WiFi, where the user must connect both the phones via WiFi through the application and initiate the transfer of data.
The second way is by connecting the devices via data cable and then initiating the transfer. However, this option is not as popular as the wireless transfer because;
Every Samsung Galaxy device does not always come with a data cable.
Some devices don't have the ports to connect to a mobile phone.
Hence, the best way to transfer data from an existing smartphone to Samsung Galaxy is by using the wireless mode. The application has a built-in system wherein, after connecting the two devices, the person will be presented with the types of files and data that can be transferred from the application.
After selecting the same, the transfer will begin, and at its completion, all the data from the existing phone will be moved to the new Samsung Galaxy.
How to Use Samsung Smart Switch to Transfer Data?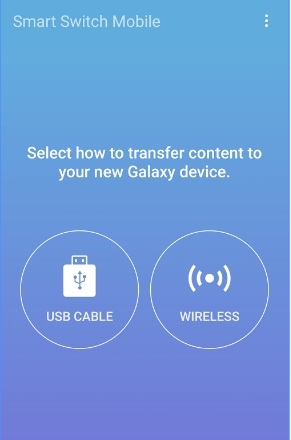 Follow the steps to transfer data from an Android device to Samsung Galaxy;
On Samsung Galaxy, go to Settings, then to Accounts and Backup, and select Smart Switch.
On the new device, select "Receive Data" or "Receiving Device" on Samsung Galaxy. And on the other device, select Sending Device.
Depending on the transfer mode, select Wireless or Cable. However, for a Wifi connection to work properly, make sure that both the devices are closer to each other.
Next, select the media files and other data you wish to transfer and wait for it to be moved from one device to another.

Wait for the data to be transferred and start using your Samsung Galaxy with all the old apps and media files on a new phone.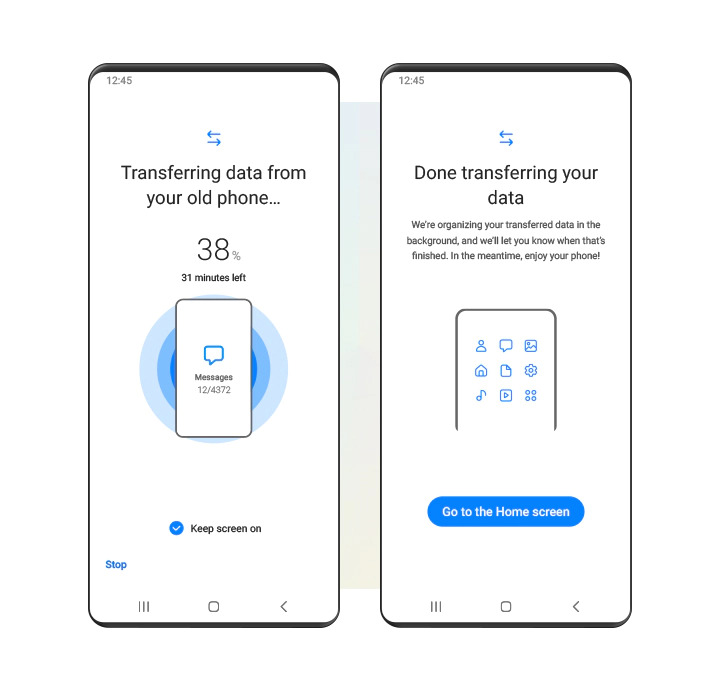 The second way to do this is by using a USB cable and connecting both devices. Here you have to follow the same process with a difference that when promoted to select Wireless or Cable, select Cable.
What to Do If Samsung Smart Switch Not Transfer?
While the Samsung Smart Switch is a good solution, it is not an absolute one. There have been complaints about the Smart Switch transfer process where it gets stuck at a certain point and doesn't move ahead. At this time, we are forced to look at other options and try to compare Android file transfer vs. Samsung Smart Switch.
For times like these, here are a few useful tips;
Try clearing the Smart Switch app's cache. Sometimes a loaded cache can prevent the application from working smoothly, leading to issues.
If this does not work, try reinstalling the application in your existing phone. On the new Samsung Galaxy, you can disable and enable the app.
Lastly, restart both the phone and then try again.
However, if the issue still exists, you have other easy solutions that provide the same level of security and accessibility and even with more features, please check the below list of the best Samsung Smart Switch alternatives.
How Do You Choose The Best Smart Switch Alternative: Full Comparison
Here is the full comparison of the best Smart Switch alternatives available based on the features, pricing, supported OS, etc.:
| Features | MTP Mode | Folder Transfer | Media Transfer | File Transfer | File Backup | File Management | Device Compatibility | Price |
| --- | --- | --- | --- | --- | --- | --- | --- | --- |
| AirDroid Personal | ✓ | ✓ | ✓ | ✓ | ✓ | ✓ | Android, iOS, macOS, Windows, Web | Free |
| Android File Transfer | ✓ | ✗ | ✓ | ✓ | ✓ | ✓ | Android, macOS | Free |
| MacDroid | ✓ | ✓ | ✓ | ✓ | ✓ | ✓ | Android, macOS | $1.67 per month |
| Android File Transfer | ✓ | ✗ | ✓ | ✓ | ✓ | ✓ | Windows, Android | $39.99 per year |
| Android File Transfer | ✓ | ✗ | ✓ | ✓ | ✗ | ✗ | Android, iOS, macOS | Free |
Best Alternative to Smart Switch
We have already compared the best Smart Switch app for Android alternatives. Here we have listed the best alternatives you can consider when transferring data across different devices:
1AirDroid Personal
AirDroid Personal is a go-to file transfer and management app with vast compatibility across operating systems and devices. Whether you want to transfer data from Android to iOS or vice versa, transfer data across PCs, or from PC to mobile, AirDroid Personal has all capabilities to do it.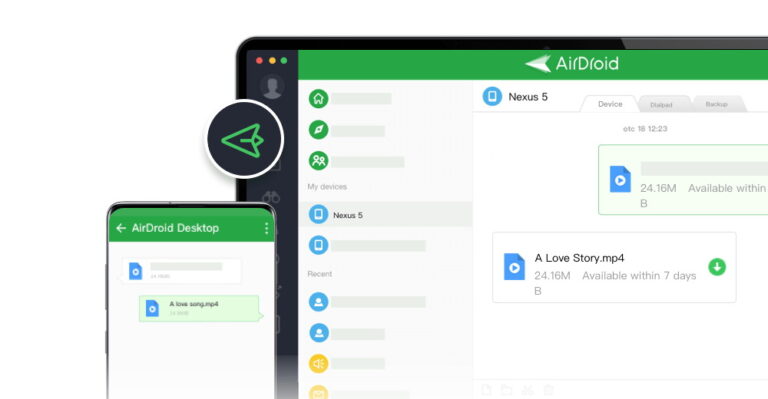 You can transfer multimedia, apps, documents, music, text, and other content formats via AirDroid Personal. The main features of AirDroid Personal are as follows:
Transfer all types of content, be it multimedia or documents
Multiple devices and operating systems support are available.
No limitations due to network connections
Hyper-fast file transferring speed
Lossless transfer across all types of devices
More than a file management and transfer app; remote access, mirroring, remote camera, notification & SMS management
2Android File Transfer
Android File Transfer is an app by Google that enables data and file transfer from Android to PC or vice versa. The main purpose of Android File Transfer is to enable data transfer between macOS and Android. There was a gap due to limited apps to bridge the connection between Android and macOS. Android File Transfer has bridged the gap, and you can easily transfer multimedia files, documents, and other formats between Android and Mac computers/laptops.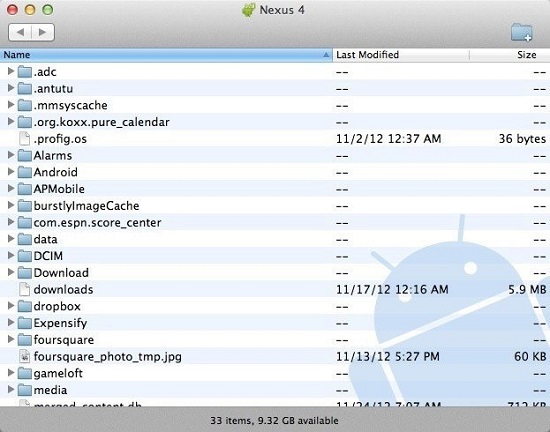 3MacDroid
MacDroid is similar to Android File Transfer as it is also an app that enables data transfer across Android devices and macOS. The main difference between MacDroid and Android File Transfer is that the former is not free and offers some additional features. Unlike most Smart Switch for Android apps, MacDroid allows folder transfer from macOS to Android and vice versa. The monthly fee for MacDroid is $1.67.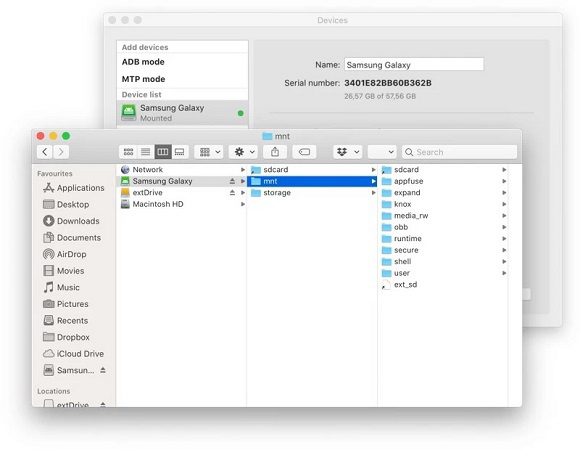 4Mobile Trans
MobileTrans by Wondershare is a similar tool to AirDroid Personal and can be capitalized as a file transfer and management across Android and Windows. Whether you want to transfer data from Android to PC or vice versa, iPhone to iPhone, and Android to Android, MobileTrans offers you several features. However, it is not a free app, and you must pay an annual subscription fee of $39.99. Unlike Smart Switch, MobileTrans requires the newer Android and iOS. Your devices must be running on Android 9.0 or iOS 13, respectively.
5SyncMate
Last but not least, Syncmate is also an alternative to the Smart Switch app for Android. Although very limited capabilities as compared to other alternatives, the app has a freemium version. You can subscribe to paid version according to your needs. You can transfer apps, messages, music, videos, images, documents, calendars, etc., with Syncmate. If we talk about OS compatibility, SyncMate is available on Android, macOS, and iOS.
Bonus:How to Use Smart Switch with Broken Screen
In some cases, when you are switching to a new phone, your old one is broken. In case your old phone has a cracked screen or a touch screen that does not work, it can be very frustrating having the device in your hand but unable to access or save any of your data.
But there's a way to salvage all your data. You can use Airdroid Personal to remotely access your phone and control it to save all your data. So having AirDroid installed on your phone is a lifesaver in conditions like this.
As long as the AirDroid app is installed on your phone, you can log in to your AirDroid account from the web version of AirDroid and access your phone's contents. You can save all your data from here and download them to your computer. Then you can use the Smart Switch app to transfer all the data from your computer to your phone.
Or, if you want to use Smart Switch on your phone, you can also install the Smart Switch app using the remote control feature of AirDroid on your phone. This method will work even if your touch screen isn't responsive anymore. Using this method, you can safely transfer all your data to a new phone without worrying.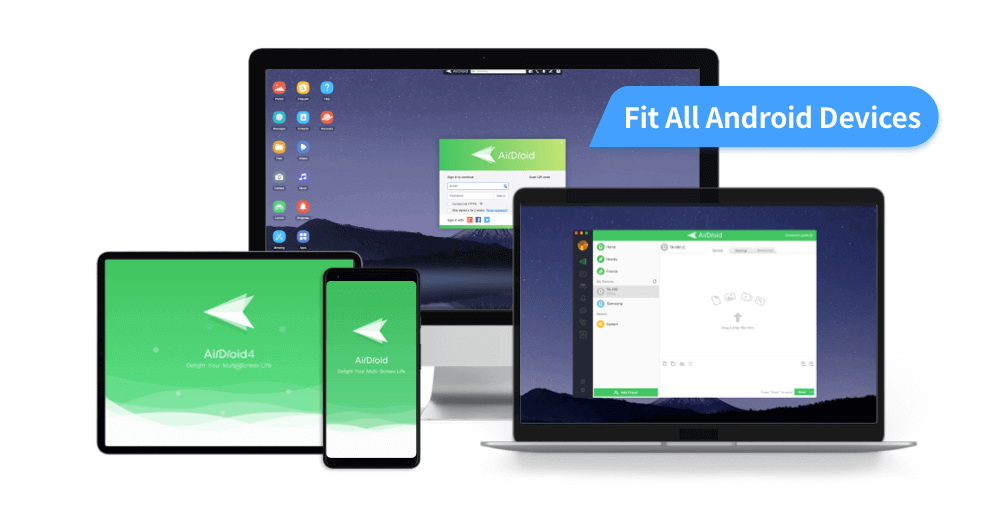 FAQs
1. Does Smart Switch delete data from the old phone?
No, Smart Switch does not remove any content from your old phone after you have transferred data.
2. Does Smart Switch need WiFi?
If you are using wireless transfer via the Smart Switch app for Android, you will need local WiFi to establish a connection between the devices. However, it doesn't require connectivity to WiFi.
3. Does Smart Switch transfer passwords?
No, you cannot transfer passwords from one device to another using Smart Switch. However, if you have installed LastPass, it can sync your passwords.
4. Is Smart Switch faster with cable or wireless?
The USB cable transfer via Smart Switch for Android is faster as compared to wireless transfer.
5. Why is Smart Switch taking so long?
The amount of data you are transferring can affect the speed of the transfer. If you are transferring bulk data, Smart Switch will take longer to complete the transfer.
6. Where is Smart Switch on my phone?
If you are a Samsung user, your phone will probably have Smart Switch pre-installed. You can find it in Settings > Accounts and Backup > Smart Switch. For Android users other than Samsung, you will have to install it from Playstore.
Was This Page Helpful?