How to Transfer Movies to iPad without iTunes?
Watching videos is slowly but steadily shifting to the Realm of mobile devices, among which tablets are considered the most comfortable devices. Among them is the iPad, which has an excellent large display and powerful hardware that can handle high-resolution video streams. Do not forget that this device is as mobile as smartphones.
So you can watch your favorite series or movie almost anywhere. The main thing is to know how to transfer movies to your iPad without iTunes. But you can rest assured that with the very detailed instructions below, you will do it easily and quickly without any problems.
What Are Advantages of Transferring without iTunes?
Some may wonder why not just use iTunes to transfer movies to the iPad. What's bad about it? Well, the main problem is the file formats. iTunes supports restricted file formats. So an iPad owner might miss watching many videos on their iPad.
Pros of transferring files to iPad without iTunes are as below:
Pros
Instant File Transfer;
Play the video in original format; you don't need to convert the file format;
User-friendly;
You will also avoid the complex procedure of iTunes;
Video is Accessible from any device;
However, there are the best ways to transfer movies to the iPad without using iTunes.
How to Transfer Movies from PC to iPad without iTunes?
Using AirDroid Personal
AirDroid Personal is caters for the safe, lossless, and wireless transfer of files across cross-platform device. Most mobile device users, I think, have encountered the problem of writing files to their devices, especially if you forgot the USB cable at home. This application allows you to forget about such issues. So if you want to transfer movies from Mac to iPad without iTunes, AirDroid can help you to realize it.
Features
Transfer movies with original quality;
Support multiple and cross-platform transfer;
Support transfer of multiple file types;
No network limitations;
Free and wireless transfer in fast speed;
Pros
It is incredibly fast.
Share files with nearby devices even without the internet through AirDroid Personal.
In addition to file transfer, AirDroid Personal has a plethora of uses such as remote monitoring, notification and SMS management, screen mirroring, etc.
Here is the detailed steps:
Step 1: Install the app on your android and iOS devices. Launch AirDroid.
Step 2: Connect both devices to the same Wi-Fi network.
Step 3: After installing the application on your Android phone, register an AirDroid account. Once registration is complete, grant the permissions required for the application to function.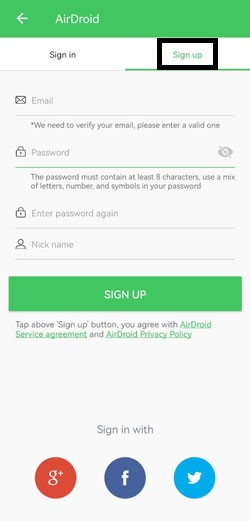 Step 4: Next, sign in the same Airdroid ID to your iPad.
Step 5: On your Android phone, click on the "my device" tab. Your iPad device will appear there.
Step 6: Tab on iPad device icon.
Step 7: Press the attachment file icon to the bottom right corner of the app.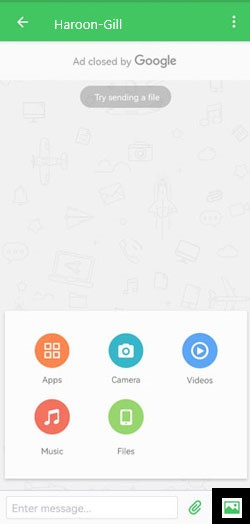 Step 8: Select any movie and press the send button.
Now you can transfer movies from Android to iPad without iTunes.
How to Transfer Movies from PC to iPad without iTunes?
1. Google Drive
If transferring movies to an iPad from a computer is not an option (for example, if you don't have a USB cable or don't want to deal with the complicated interface of the iTunes app), using Google drive cloud storage may be a good alternative.
Internet services like this are springing up like mushrooms after the rain. However, they existed before in the form of file exchangers, but there the storage format is somewhat different. Google Drive offers 15GB of free storage when a user signs up and has a solid infrastructure and a correspondingly high level of service.
The step-by-step procedure for transferring movies to a gadget looks like this:
Step 1: Register a Google account;
Step 2: Open Google Drive;
Step 3: Create a directory for storing movies;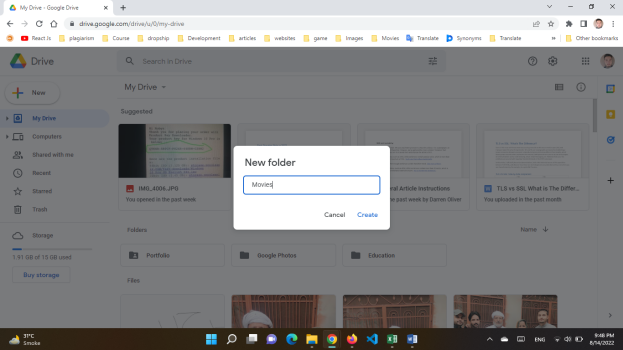 Step 4: Upload a movie/series there;
Step 5: log in to your account via iPad;
Step 6: go to the video folder;
Step 7: Watch a movie in streaming mode directly from the cloud or download it to a portable device.
Here you can not do without access to the Internet.
As for the choice of cloud storage, there will not be any specific differences, despite some features. Note that a paid account provides much more space for files, but if you are used to deleting movies from the cloud after watching, there will be no particular problems with this.
2. AnyTrans
AnyTrans is also a program that allows you to transfer movies to an iPad from your PC without iTunes. You can transfer files to the device, use your iPhone as a USB flash drive, save backups, and more.
Visit the official AnyTrans website and download the tool on your PC. You can download the program for free; if desired, you can buy a subscription with additional features.
Once AnyTrans is installed, connect your iPad to your computer via USB cable. If this is your first time doing this, you will need to unlock your device and click Trust.
The program will detect your iPad, and you can start.
Step 1: You will see all available functions on the main interface;
Step 2: Click "Add Content" to transfer a movie to your iPad;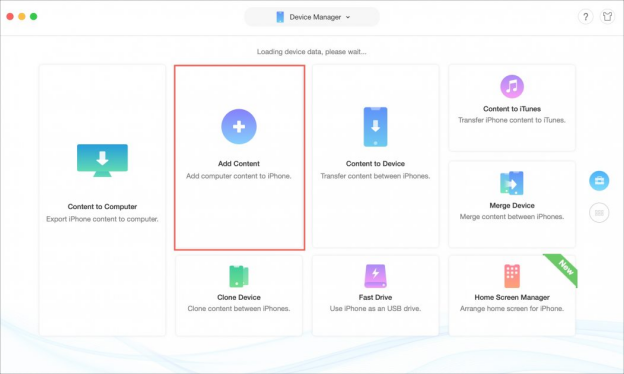 Step 3: A new window will open in which you can select the desired videos. Find your movie or series, select the desired video, and click "Open."
Step 4: Now, you need to select the videos category;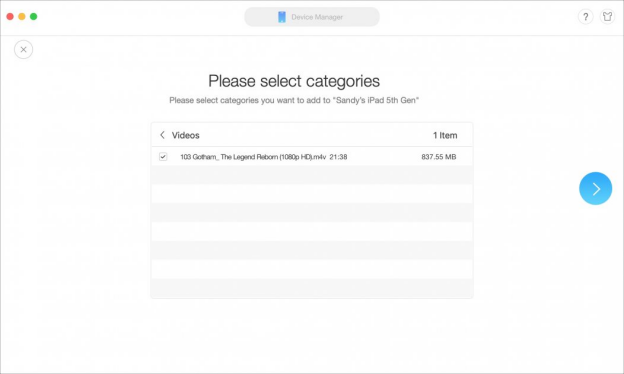 Step 5: Click the blue arrow to transfer videos to your iPad. You can see a progress indicator and a confirmation that the transfer is complete.
Now you can transfer other files or just close this window.
3. Via USB Flash Disk
USB Flash media is a popular way to transfer movies from a computer to other devices (set-top boxes, players, receivers). But Apple assured that branded mobile devices could not work with removable drives, even memory cards. Even for communication with a computer, a special cable is used here. For a long time, one could not even think about using a USB flash drive to copy video from a computer to an iPad until a special port replicator appeared on sale, allowing the tablet to see most types of removable media. So the Apple Connection Kit is a great way to share files.
The procedure is simple:
Step 1: First, copy your desired movie to the USB flash.
Step 2: Connect the USB flash disk to the iPad via the Apple connection kit.
Step 3: Open the "Files" app on your iPad.
Step 4: Here, you will see the USB flash disk folder. Open it.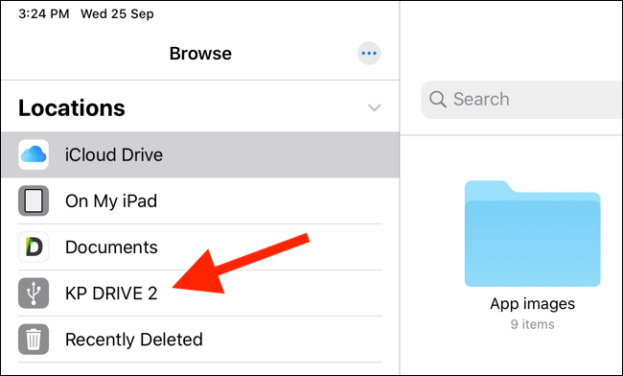 Step 5: Select the movie you want to transfer and press the "Move" button;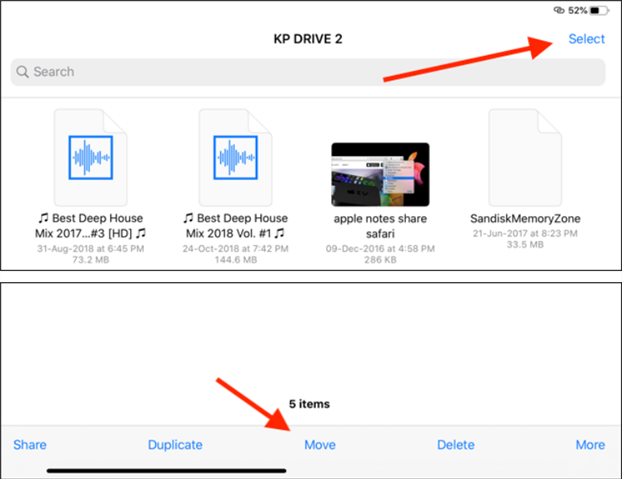 Step 6: Choose the location where you want to copy the file and press copy button.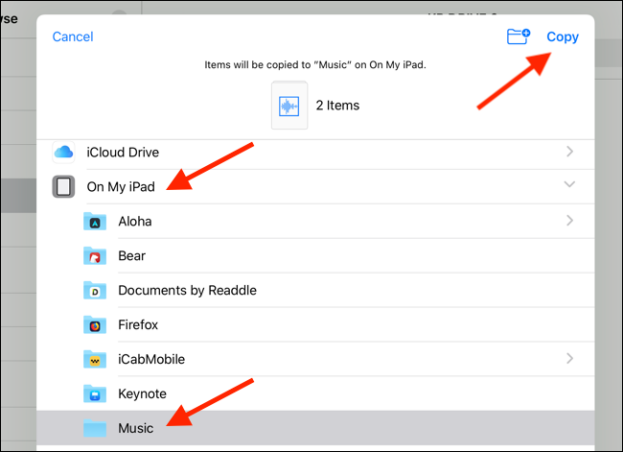 The movie will transfer to the iPad.
4. Using USB cable
There are a few ways to transfer movies to the iPad from your PC using a USB cable. File management app like File Explorer is the one way to share videos to iPad.
How to Transfer Movies from Android to iPad without iTunes?
1. Dropbox
One of the best open cloud storage that you can use to transfer your files like videos is Dropbox. This type of storage is available online so that you can store your videos, documents, pictures, and mail. Dropbox allows you to share files on your sync devices like iPhone, iPad, Android, and computer. Make sure you have Dropbox installed on your Android and iOS device, then go through the following steps.
Step 1. Launch Dropbox on your Android.
Open Dropbox on your Android and log into it with your account information. Go to upload, and you will see the + icon, tap on it.
Step 2. Select the video on your Android mobile.
Here you can choose which videos you want to transfer to the iPad. Tap you Photos > Videos and select a folder where you'll load them.
Step 3. Upload the videos.
After creating a folder, upload the videos. It will store the files in virtual storage. It will allow you to download them from your iPad.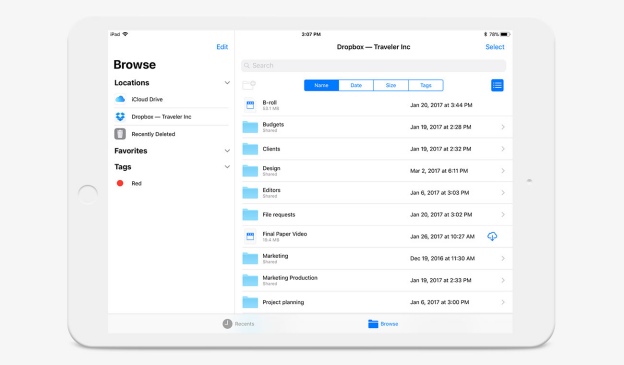 Step 4. Download the video to your iPad.
Go to Dropbox on your iPad. Sign in to the same account. And then download videos to your iPad.
2. SHAREit
A handy application that allows you to transfer data from one gadget to another with high speed. It works not only with smartphones but also with tablets, laptops, and PCs. It is available for free.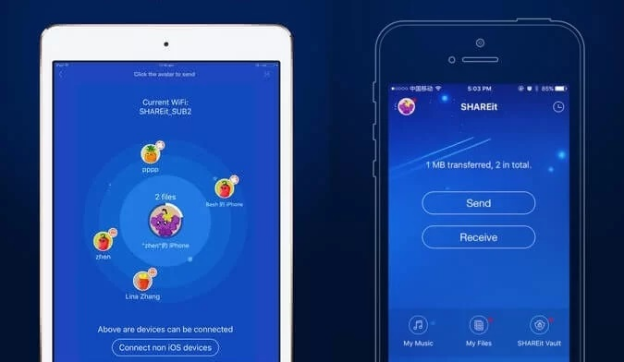 Step 1: Install SHAREit on both devices.
Step 2: On the Android device, tap on Send and specify the files you need to transfer to the iPad.
Step 3: Press the "OK" button on the phone in the green robot. The radar icon will appear on the screen. At the same time, tap on the "Receive" button on the iPad.
Step 4: After a short period, the "Connect to iOS devices" button will appear on the Android smartphone and the "Connect to Android" on the iPad. Click them one by one.
Step 5: On Android, a new Wi-Fi network will automatically appear. Its name will display on the screen of the mobile phone. Connect to it.
Step 6: In the detected devices, select the cell phone and click "Receive" on the iPad.
The synchronization process will begin.
Step 7: At the end of the process, all the videos will be in the "My files" folder.
Conclusion
Above are all the methods I have tested and succeeded in transferring movies to iPad. I Hope these methods will be helpful to you. I wish you success in transferring videos and movies to iPad without iTunes. As you can see, AirDroid personal is a great program that uses a simple principle to quickly and easily transfer files from one device to another. I highly recommend downloading AirDroid personal for free to anyone who wants to transfer movies onto an iPad without iTunes.
Was This Page Helpful?