How to Track a Samsung Phone
When it comes to mobile security, there's no question that Samsung mobile phones are the top choice for most of us. The reason is simple: Samsung phones are compatible with Google's security features and offer a variety of apps and services that can help keep your information private.
But what if you were to lose your Samsung phone? Would you be able to track it down? Would you be able to recover any data from it? And what about all those photos and videos you took with your phone?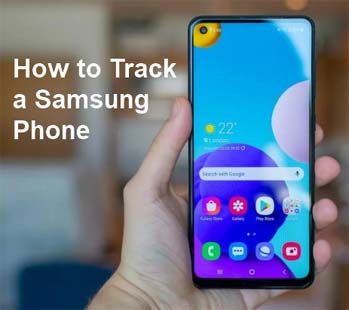 When you lose your phone, it can be a great inconvenience, but more than that, it can be a security risk. If someone has access to your device, it is possible to access all the information stored. Therefore, to protect your data from getting hacked or stolen, here are some quick tips discussed in this article. Firstly, let's get a deep dive and find out how to track a Samsung phone?
Part 1. How to Track a Samsung Phone with Find My Mobile
Samsung offers an excellent way to track any lost or stolen device - Find My Mobile. It is a free tool that allows users to track the location of their Samsung devices in real-time, erase all data remotely and do much more. The best part? It works even if the device isn't connected to Wi-Fi or mobile data!
You'll need to register for a Samsung account to use this tool.
Setting up Find My Mobile
Step 1.Tap the settings icon on your home screen or app drawer.
Step 2.croll down and select "Biometrics and security" or "Lock screen and security" or "Security" from the list of options.
Step 3.Scroll down until you see "Find My Mobile" in the list of options, then tap it to open it.
Step 4.Tap Enable Remote Controls. Make sure this switch is set to "On," then tap "Add Account" if prompted to sign in to your Samsung account or create one if you don't already have one. You'll need a Samsung account to use this service.
Tracking Your Lost Phone Using Find My Mobile
Step 1.Open a browser and navigate to Samsung's Find My Mobile website. Sign in with the Samsung account that is associated with your phone.

Step 2.Select your phone from the menu on the left side of the screen.
Step 3.Click "Lock my device" on the right side of the screen, then enter a temporary password for your phone in the text box in the middle of the page.
Step 4.Click on "Lock again", wait for your phone to go offline, and click Locate my device. Your phone should now be locked, and its location should appear on a map at the bottom of this page.
Step 5.You can easily track your missing phone from that map, and even you can do the following from that portal:

1. Ring the mobile phone so you track your mobile if it is in your house somewhere.

2. Erase data from the phone so no one can access the data on the phone.

3. Lock the mobile and assign a new PIN so no one can unlock the device.

4. Extend the battery life of the mobile, which will kill all the background applications on the mobile, so the mobile battery lasts longer.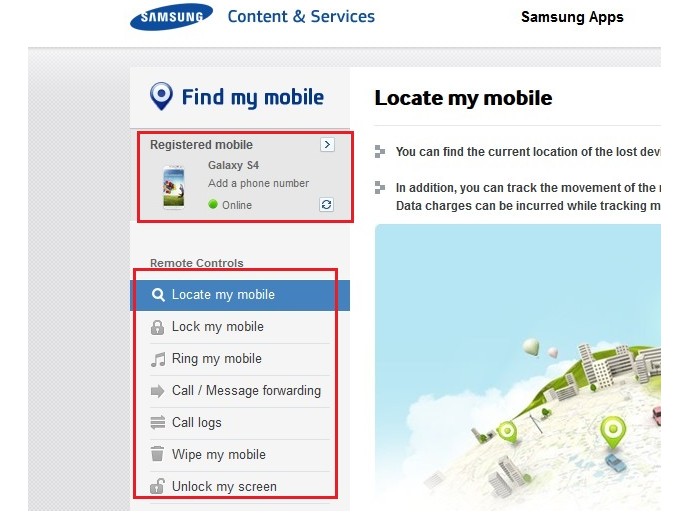 Part 2. How to Track a Samsung Phone with Mobile Trackers
What Are Mobile Trackers
Mobile trackers are software programs that allow you to monitor your phone usage. They record your incoming and outgoing calls, messages, downloads, etc. Some of them even let you read deleted texts. Mobile trackers always use GPS tracking and alert to keep track of your phone's location.
1AirDroid Parental Control App
Here the question arises: how to track a Samsung phone for free?
AirDroid Parental Control app is the best way to control and monitor your kid's Samsung phone. It is compatible with all Samsung models, such as s7 edge, galaxy, a20, and so on.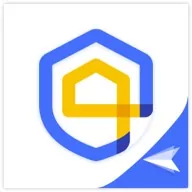 It allows you to track every activity happening on your kid's mobile phone. You can check all installed apps, view logs, get all call details, texts, screen time, and check the phone's location. It also allows you to control your child's phone remotely. The interface is very user-friendly, and it is straightforward to use. With the help of this app, you can monitor your child in real-time.
Features
Location tracking: View the location history of your child's Android device and see its current location at any time.
Remote Monitoring Surroundings: Watch and hear the surroundings of the Samsung phone from a distance
Safe Area Alerting: Get notified when your child enters or exits the previously marked areas on the map.
Panic Mode: Your child can send an alert to you with a single tap in an emergency.
App Monitoring: See all apps installed on the target device and filter out those you disapprove of. You can also monitor social apps by syncing the incoming messages and casting the screen of the target Samsung phone.
Screen Time limits: Set when and how long your child can access their android device.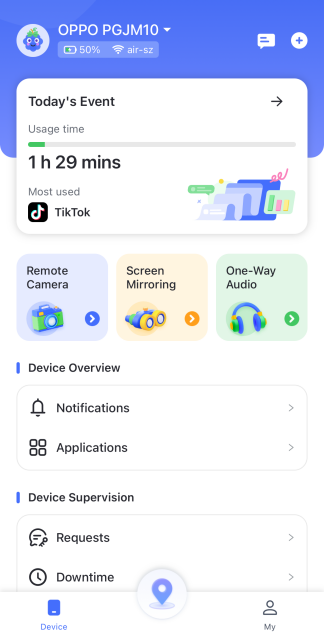 Why Pick AirDroid Parental Control?
There are many reasons why people prefer using this app. They include;
Fast setup: Installing and using this app is easy. You do not need to have prior training on using this app.
No Root: You don't need to root your phone to install this app. That's because it works perfectly even with an unrooted phone.
Reliable and Safe: The app is highly effective and reliable for monitoring phones and mobile devices remotely from any location in the world. You will be able to view the collected information in real-time and at any time that you wish to spy on the phone activities.
Stealth Mode Operation: The application icon will not appear on the device's home screen or notification bar, meaning it will be challenging for your child to know about its existence on their phone.
Steps to Use AirDroid Parental Control
We know your child's safety is your biggest concern. You may be worried about: how to track a Samsung phone for free? Therefore, here we would like to show you the detailed steps;
Step 1. Download and install AirDroid Parental Control on the phone which you will use to track the Samsung phone.
Step 2. Register an account and log in. Click "+" icon on the upper right corner and follow the instructions to bind the Samsung phone with the first phone.
Step 3. Tap the Location icon to track the Samsung phone's location. You can also use remote operations, usage limits and other parental control features.
2FlexiSpy App
FlexiSpy is a hybrid software/service which allows you to monitor your smartphone in real-time. This unique system records the activities of anyone who uses your compatible iPhone, iPad, or Android device. You install a small application onto your mobile phone. It starts at every boot of your phone but remains stealthy and does not appear in the Windows Mobile Task Manager.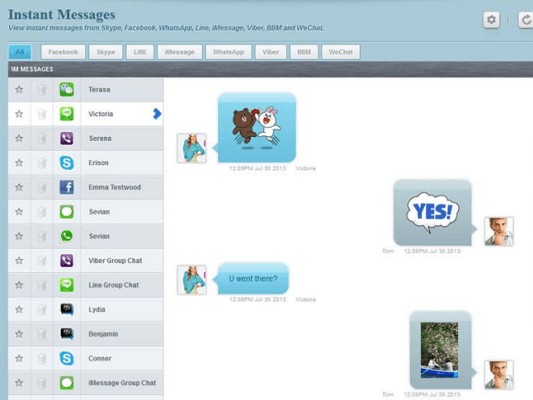 Features
There are two versions of Flexispy: a high-end version and a more economical basic version. The high-end version includes these features:
Record surroundings
Call interception and recording, and live listening
Social media and text message monitoring
How to Install It?
All you have to do is to follow simple instructions.
1. Download and install FlexiSpy on the target phone.
2. Open the app and create your account.
3. Log in to your Control Panel and start tracking all data.
3mSpy
It is another app that will help you easily track your Samsung phone. The app helps track all the information on the target device and provides it to you from anywhere at any time through its web account. Using this app, you can monitor all the messages and call logs on the target device and many other things.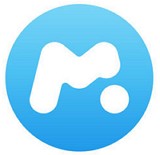 Features
mSpy is an excellent tool for monitoring cell phone usage. It's easy to use and works on Android, iOS, and the web. You can use mSpy to:
View text messages
View call history
View internet browsing history
View social media activity
View GPS location information
Block apps & websites
Lock the phone remotely
Take a photo remotely
How to Install mSpy?
First, you need to purchase mSpy as it is free for 7 days only. You can buy mSpy from its official website. It's 100% legal.
After purchasing mSpy, you will receive the email confirmation, and then you need to download the app on your target device.
Use the credentials provided in the email to log in to your online control panel and start monitoring.
Why Are Mobile Trackers Apps Useful?
Let's look at some reasons why they could be beneficial for you to use:
Track Your Children
As a parent, it can be immensely reassuring to know where your kids are always. If you feel that your child is in a dangerous situation or somewhere they shouldn't be, then using a tracker will alert you to the situation and allow you to act before things get out of hand.
Find Lost Phones
If you lose your phone or it gets stolen, a tracker app will allow you to locate it very quickly. It means that it is less likely for someone else to be able to make use of the phone without being caught by the law, which makes owning one of these devices much safer than not having one at all.
Monitor Employees' Activity
It's easy for employees to take advantage of company time during work hours when there is no oversight on what they're doing. Using these types of applications ensures that if an employee is misusing company resources.
Part 3. How to Track a Samsung Phone from an iPhone
You can open the Safari web browser and go to Samsung's official website and perform the steps mentioned above in the first part. If you log in google account on the Samsung phone, Find My Device is also a nice choice. You can also use the AirDroid Parental Control as it also offers you to track your Samsung phone from your iPhone.
Video Tutorial: How to Track a Samsung Phone
Takeaway
In the current fast-paced life, most people cannot resist the temptation of buying high-tech communication products like mobile phones for their children. However, worried about the safety of your kids, you may frown at it. After all, it is not safe to be controlled by someone.
Now, what can we do? Fortunately, AirDroid has solutions for such cases! Although you can use mobiles in almost any place and circumstance, they are not entirely safe. In addition to privacy invasion concerns, more and more mobile users are worried about their safety in the mobile era.
Moreover, mobile phone tracking app helps prevent your phone from being lost or stolen and locate the device when it has been misplaced. You can track all devices connected to your account, including tablets and laptops.
Was This Page Helpful?