Instagram Vanish Mode: Sending Disappearing Messages on Instagram
AirDroid Parental Control & Text Messages Monitoring
Find your loved ones in real-time and set geofencing; see and hear their mobile surroundings remotely
Monitor Instagram messages by mirroring kids' phones and syncing app notifications
Schedule how long and when your kids can use their mobile and manage app usage
Do you know you can share very sensitive information via Instagram? The social media giant allows users to chat through its direct message feature. More than general chat features, the messaging feature has a feature that makes messages disappear.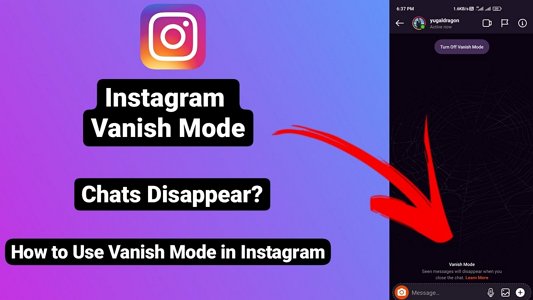 Hence, your sensitive information is only available on a chat thread for as long as the chat lasts. This extra layer of protecting messages has been around for a long time, but not every Instagram user knows it. The feature is called Vanish Mode. If you need Vanish Mode Instagram, this article shows you all you need to know about it.
Key Takeaways :
Vanish Mode message will not be saved and cannot be forwarded.
The feature only works for chats between people following each other on Instagram.
It works for only one-on-one messages. You cannot activate Vanish mode for all your chats at once.
You can report a message or conversation in Vanish Mode if you do not feel safe.
There are a few tricks to see disappearing messages on instagram.
Part 1. What is Vanish Mode on Instagram?
Vanish Mode on Instagram is a Snapchat-like feature that self-destructs messages after the recipient has seen them. For instance, the messages you send in a chat are deleted automatically once the person has read them and the chat is closed. Also, users will be notified if a message is a screenshot in Vanish Mode.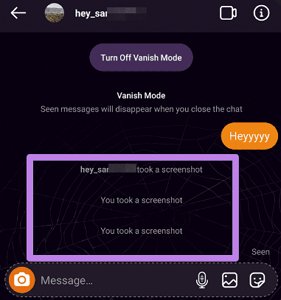 Only one person in the conversation needs to put on Vanish Mode to enable the mode. Then, the other person will be notified that the mode is about to be activated. The person can accept or deny that set up the mode for the conversation. However, this feature does not prevent users from reporting a message that does not make them feel safe.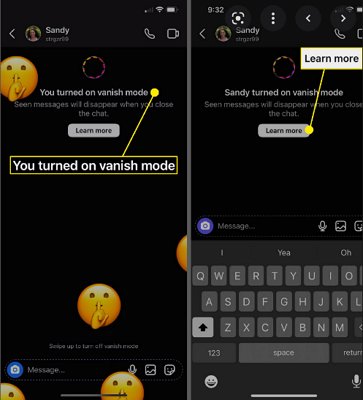 Vanish Mode Instagram is not the same as unsend messages on Instagram. To unsend, a message is to delete the message you sent. It is not automated, and you do not need the recipient's permission to unsend a message. In fact, only the recipient can unsend a message. At the same time, Vanish Mode destroys the message on the sender and recipient's screen.
Another difference is that while an unsent message will leave a note for the recipient that a message was removed, Vanish Mode does not leave a note for the sender and recipient. Lastly, only one message can be unsent at a time. In contrast, many messages in a conversation can be destroyed at once.
Part 2. How to Send Disappearing Messages with Instagram Vanish Mode
Depending on the sensitivity of a piece of information, not all conversation is meant to be saved. Suppose you intend to destroy your conversation with specific individuals automatically. In that case, this section will show you how to send disappearing messages with Instagram Vanish Mode.
To use the Vanish Mode, you have to enable it for each chat. It does not automatically work for every chat because you activated it for one. Also, you should note that it only works for one-on-one messages. If the step below is not working, update your Instagram app to the latest version.
Step 1.Launch your Instagram app or web page.
Step 2.Open your direct messages page to see your chat list.

Step 3.Click on the chat you want to put in Vanish Mode to open it.
Step 4.Swipe up from the bottom of the chat screen and release your finger to activate Vanish Mode.
To turn off Vanish Mode, tap on Turn Off Vanish Mode at the top of your chat screen. Alternatively, you can repeat the same steps above by dragging up your chat screen from the bottom.
Part 3. When Should You Use Instagram Vanish Mode?
There are plenty of instances to use Instagram Vanish Mode.
It is an excellent shield to protect against snoopers.
It provides an extra layer of privacy.
You can use Vanish Mode to keep surprises hidden.
Part 4. How to See Disappearing Messages on Instagram
If you have a message that disappears on Instagram, you can be extra careful when opening it. While ensuring that such a message deletes automatically may be okay, you also want to ensure you understand what was said. Therefore, this section will show you how to see disappearing messages on Instagram.
Screenshot and screen recording: If you want to continue seeing disappearing messages on Instagram, a manual method of saving the chat would be good. Hence, you can screenshot the chat or record the conversation while it is ongoing. A notification will be sent to both parties by attempting to screenshot a Vanish Mode.
Take a photo with another camera: You can see disappearing messages through your phone app or web browser. You can snap your screen with a camera to ensure the information is not lost.
Read messages through notifications: You can see disappearing messages on Instagram through notifications. You can see its content by pulling down a DM notification on your screen without tapping it. Likewise, you can tap on the notification on your screen to view the message in your DM inbox.
See messages through mail: If your mail notifications are enabled, Instagram will send your disappearing messages there. Hence, you can see those messages in your mail inbox.
Through third-party apps: You can see the disappearing message through the syncing app by linking your phone to another device. The app will allow you to read the message with another device like Android, iOS, or PC. A recommended option is the AirDroid Parental Control app.
Bonus: Monitor Instagram Activity and Schedule When to Use It
To complement the privacy feature of Instagram Vanish Mode, you can have more oversight over your Instagram activities. Furthermore, you can control how often you use the Instagram app by scheduling when to use it. All these features are provided in the AirDroid Parental Control app.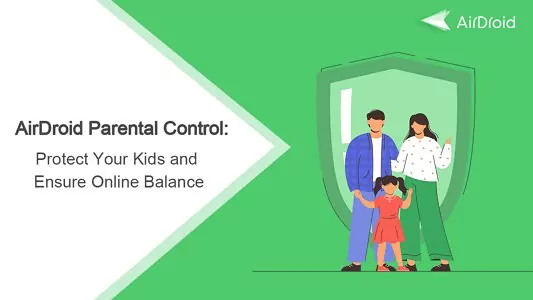 It is a monitoring app that you can link to your phone. Also, parents can use it to cut off their kids' time on Instagram. Below are some features of AirDroid Parental Control.
Cast your kid's Android device to your mobile to remotely monitor Instagram activities in real-time.
Schedule and limit the time you want your kid to access Instagram.
Monitor Instagram notifications to intercept cyberbullying and online fraud.
View your kids' daily phone activities report on Instagram.
Track your kids' current location and get alerts of the geo-fenced zones.
Remotely watch and hear your kid's phone surroundings.
Words at End
Instagram Vanish mode is a thoughtful invention of Meta (Facebook), Instagram's parent company. This feature is a much-solicited extra layer of privacy for social media app users. It is an advanced feature to the delete or unsend message feature that already exists on most instant chat apps. This article has shown how to turn on and off Vanish Mode Instagram. Furthermore, it provides alternative solutions to seeing disappearing messages on your account. Lastly, this article delves into monitoring and scheduling your time on IG with the AirDroid Parental Control app.
Hottest Question Related to Instagram Vanish Mode
Q 1. Does the Other Person Get Notified when You Turn on Ig Vanish Mode?
The other person is notified when you turn on IG Vanish Mode. You need their permission to enable the mode for your chat with them. Hence, if they decline the request, you cannot set up the feature for your conversations with them.
Q 2. Does Vanish Mode Delete Messages for Everyone?
Yes, Instagram Vanish mode deletes messages for both participants in a chat. If you activated the feature or only accepted it, your messages in a Vanish Mode conversation will be deleted. Likewise, any message you send or receive will be removed.
Q 3. Can Vanish Mode Hide Old Messages?
No, Vanish mode will not hide old messages. Old messages will remain in your chat before and after you have activated vanish mode.
Q 4. How Long Do Disappearing Messages Stay on Chats?
Disappearing messages stay on chats for as long as you have not read them. Once you read it, the message disappears. Also, the message disappears immediately if you use the unsend message feature.
Q 5. Does Instagram Notify When You Screenshot a Chat 2023?
When you take a screenshot of a chat in Vanish Mode, Instagram will leave a comment on the screen. It notifies both the sender and the recipient on the chat.
Was This Page Helpful?