How to Know If Someone Read Your Facebook Message
If you've ever sent a Facebook message and wondered if the person on the other end read it, this blog post is for you! We'll discuss five ways to tell if someone has read your message. Whether you're trying to hold someone accountable or curious, these tips will help!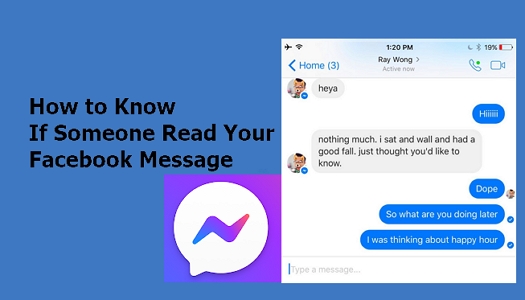 Part 1. Get to Know the Facebook Message Read Receipts
The first step to understanding whether or not your message has been read is to become familiar with the Facebook message read receipts. These little icons appear next to a message in your conversation thread to let you know its status. There are three possible statuses: Sent, Delivered, and Read.

Sent: The most basic status means that your message has left your outbox and is on its way to the other person's inbox. The icon for this status is a small white circle with a blue checkmark inside.
Delivered: The next step in the process, this status means that your message has made it to the other person's inbox. The icon for this status is a small blue circle with a checkmark inside.
Read: The final and most important status; this one lets you know that the other person has not only received your message but has also opened and read it. The icon for this status is a small circle with the recipient's profile picture inside.
Part 2. How to Tell If Someone Read Your Facebook Message
Now that you know the basics of Facebook messages and read receipts, let's determine if someone has read your message. Here are four ways to do just that!
Check for the Read Receipt
The easiest way to tell if someone has read your message is to check the read receipt. It is a small circle with the person's profile picture inside. If you see this next to your message, it means they have read it. Remember that the person you're messaging can turn off read receipts, so this method isn't foolproof.
Look for the Last Active Status
Another way to tell if someone has read your message is to look for their last active status. The time stamp next to a person's name tells when they were last active on Facebook. If you see that the person was active after you sent your message, they likely read it. However, this method isn't foolproof because the person may have been active on a different device or browser.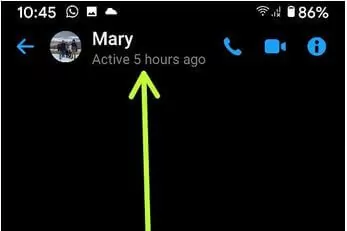 See If the Person Is Typing
A third way to tell if someone has read your message is to see if the person is typing. If you see the small ellipsis next to your message, it means that the other person is typing a response. It is a good indication that they have read your message and are in the process of writing a reply.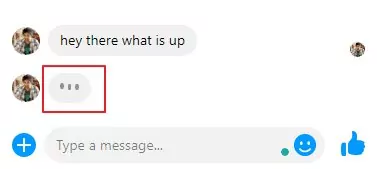 Ask the Person Directly
If you're unsure if someone has read your message, the best way to find out is to ask them directly. This method is foolproof because it takes the guesswork out of the equation.
These methods should give you a good idea of whether or not someone has read your message. Next, let's discuss the different ways to check Facebook read receipts.
Part 3. Different Ways to Check Facebook Read Receipts
Since Facebook is a multi-platform service, there are different ways to check read receipts depending on which device you're using.
On the Desktop Site
To check if a message has been read, log in to Facebook with a web browser or go to the Facebook Messenger site at messenger.com instead of facebook.com. When you click on the Messenger symbol, a list of your contacts appears. When you choose a person, a tiny window appears over your Facebook timeline.
You'll see the profile picture of a friend who has responded to your message in a tiny size. If they haven't received it, you'll receive a grey icon with a white checkmark if they've received the message but have not yet read it. A white circle that appears with a grey checkmark means the message has been sent but not yet delivered.
If you hover your mouse over the person's profile picture, a pop-up will appear that says "Seen by [Name of person]" along with the date and time. The only way to see the time and date a message was read on Messenger is by using the website version.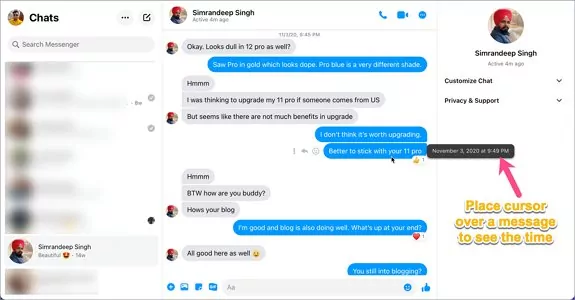 On Facebook Messenger App
You can check the read receipts on the Facebook Messenger app. The Facebook Messenger app only shows messages, while the Facebook app shows your newsfeed. You can download it free from the App Store (iOS) or Google Play (Android).
Small, circular icons appear in the lower right message window on Facebook Messenger. If you can't find a tiny circle with the user's photo, they haven't replied to your message yet. The indicator beneath it shows whether your message has been accepted or not.
Remember that the user might have already read the notice from their home screen's notification bar. Shorter answers appear complete, while longer texts are truncated midway through. Furthermore, the message may have gone unseen if you went away for a few seconds.
Part 4. Is It Possible to Make a Read Message Look Unread?
Sometimes we prefer not to let the other person know we've seen their message. Maybe we don't want to appear too eager, or we don't have time to respond immediately, and by keeping the message unread, we can buy ourselves a little extra time.
Facebook provides users with the ability to mark messages as unread. You can do this on both the desktop site and the Messenger app.
On the Desktop Site
Marking messages as unread is easy and only takes seconds, but it differs between the mobile and browser versions. Nonetheless, both processes are very simple. The shift is limited to specific threads, so the modifications only apply to the intended conversations.
Click the round messenger symbol in your web browser's top right corner. To make a list of recent conversations, click the icon. To mark a conversation as unread, go to the desired message and hover over the small dot next to it. The text "Mark as Unread" will appear; click it to change the status of the conversation.
On the Messenger App
To open the Messenger app on your mobile device and view a list of conversations, scroll to the desired conversation. Once you find it, use your finger to select and hold onto the conversation. Doing this will generate a functions list with options such as delete, mute, ignore and block conversations. If you want to change the reading status completely without getting rid of it, then choose Messenger's Mark as the Unread option.
Your Messenger feed will highlight the conversation when it's set to be read. It will make it simple to find the discussion while also serving as a reminder to reply. The conversation will automatically change to read status once you open it.
Part 5. Monitor Messages on Activities on Facebook Messenger
With the increased popularity of Facebook Messenger, many parents wonder how to monitor their child's app usage. After all, people can use Facebook Messenger for much more than just chatting with friends. It can also be used for video calls, sending photos and videos, and even playing games.
There are a few different ways to monitor your child's Facebook Messenger usage, but one of the easiest ways is to use a parental control app. Parental control apps allow you to see everything your child does on their device, including Messenger usage. One of the best parental control apps on the market is AirDroid Parental Control.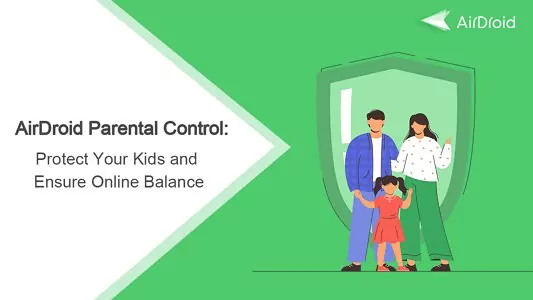 It is a parental control app with comprehensive features that allow you to monitor your children's online activity effectively.
Monitor your child's Facebook Messenger usage and activity.
See whom they are talking to, when, and what they are saying.
Help you to block Facebook and set up time limits.
Quickly locate your kids and family and check your location history.
Remotely watch what is happening around your child
The advantages of using AirDroid Parental Control are that it is very user-friendly and provides a wide range of features for monitoring your child's online activity. If you are looking for an app to help you monitor your child's Facebook Messenger activities, AirDroid Parental Control is a great option.
Conclusion
As you can see, there are a few different ways to tell if someone reads your Facebook message. You can use the Messenger app on your mobile device or a parental control app like AirDroid Parental Control. Whichever method you choose, you can effectively monitor your child's Facebook Messenger usage and activity.
Facebook Messenger is a great way to stay in touch with friends and family, but it's important to be aware of the app's potential risks. With a little effort, you can ensure your child is safe while using Messenger. Thanks for reading!
Was This Page Helpful?