How to Send a Direct Message to a Private Instagram Account
Unlike a public Instagram account, a private Instagram account has several limitations for people that aren't followers of that account. As you know to follow a private account, you will have to send a 'following request,' which has to be accepted by the account owner. However, today's question is; Can you message a private account on Instagram?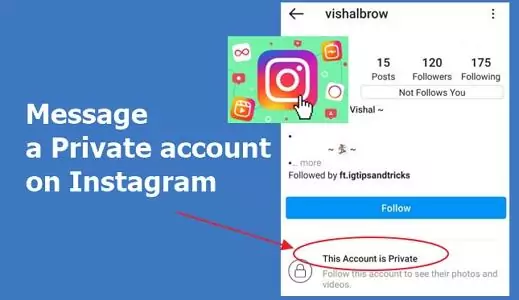 The answer is, of course, a YES, so keep reading to know how to send a private message on Instagram to a private account.
How to Send a Direct Message to a Private Instagram Account [Mobile App]
When using your phone application, there are two simple ways (procedures) in which you can send a DM to a private Instagram account.
About Direct Messages on Instagram
Direct Messages are private messages between one Instagram user and the other user or group of users. You can send posts in your feed, disappearing photos, and videos without following or being followed by that user.
Send DM from the Profile of the Private Account
Step 1. Start by opening your Instagram account.
Step 2. Select the private account you intend to send a direct message to on Instagram.
Step 3. At the top right corner of your screen, you will see three dots (…); Tap on those dots, and a pop-up will appear with several options for you.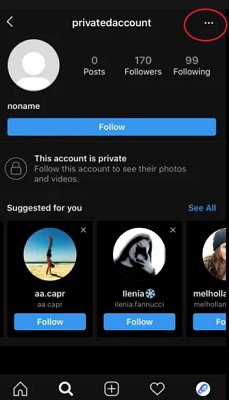 Step 4. Select Send Message by simply tapping on it.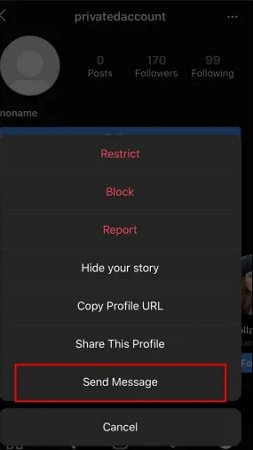 Step 5. A chat window will open to type, and you can now type and send a text.
Send DM from Instagram DM Section
Alternatively, you can use this method to send a DM to a private account:
Step 1. Open your Instagram app and sign in if need be.
Step 2. After that, tap on the chat icon in the upper right corner of your screen.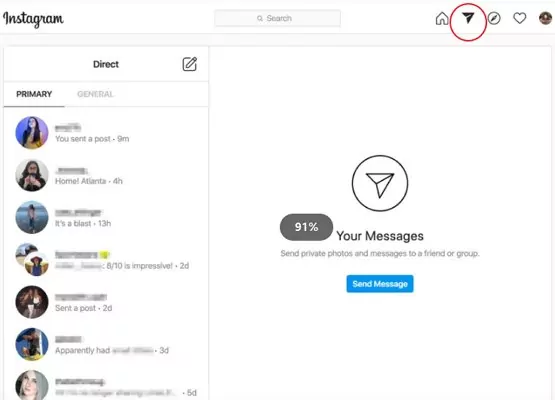 Step 3. On the search bar, type the name of the person you want to send a DM to.
Step 4. Select and tap on the profile you would like to send you a message to, and the chat window will open.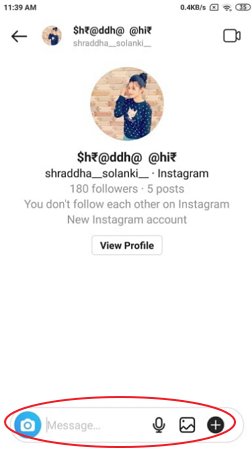 Using both options, you will not be able to chat with that person even after sending a message. It is simply because they have to accept your message request first to continue with the conversation with them.
How to Send DM to a Private Instagram Account on PC
Besides using your Instagram phone app, you can also use the Instagram web to chat or access your Instagram account. And so, if you are currently using a PC to use your Instagram account and want to know how to message a private Instagram account on a PC, follow these steps:
Start by opening your Instagram account
Head over to the chat section by taping on the Chat icon at the top
On the chat page, use the search bar to search for the person (using their name or username) you intend to send a DM on Instagram
Select that person's profile on search results and then click Next on the top right corner of the page.
This will direct you to the chat section, where you can write and send your text directly.
Note : Notably, this method is more similar to option 2 discussed above; therefore, you can apply either of the options and quickly send a DM on Instagram.
How to Track Direct Messages on Instagram from All Your Devices
Tracking Instagram messages on all your devices, more so when you have more than one Instagram account, can be challenging. To do this, you will need the help of an effective control tool such as the AirDroid Parental Control App.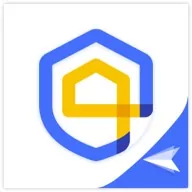 Of course, this app is primarily designed as a parental control app. However, it is fitted with many features that make it an ideal application for tracking and managing your social media apps. Additionally, this app can help your children build good digital habits and focus on essential tasks.
What Makes AirDroid an Excellent App for Managing Instagram DMs?
As noted above, this app features advanced features that make it an ideal remote monitoring tool for android, iPhone, and other OS users. Some of the core features that make it this great include:
Remote Monitor with the Screen Mirroring features embedded in this application, you can see what is going on in other paired devices. Furthermore, the Remote Camera and One-Way Audio will also help you not only see the surrounding of the one using your other device but also hear what is happening in the surrounding.
Therefore, you can utilize this feature to keep track of Instagram direct messages popping up on other devices in real time.
Sync App Notifications
If you have to leave one or some of your devices at home but want a way to track notification messages from your other devices, then you can use this app. The good thing about this feature in this app is that it gives you real-time notifications from Instagram. Once you receive a message from Instagram, the app will instantly notify you that you have received a message from whom and from which device.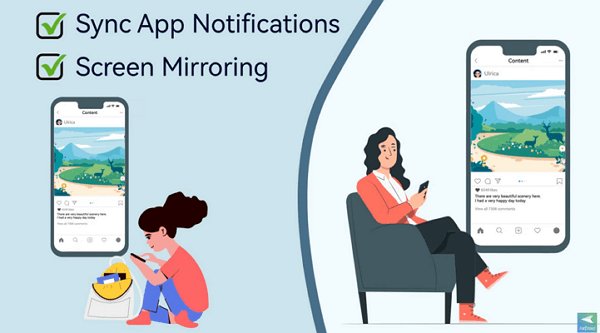 Daily Usage Report
Another quality feature this app offers is the ability to track your daily Instagram usage. For example, how many messages have you received, how much time did you spend using Instagram, data usage, and many more?
With all this information at your disposal, you can therefore be able to manage your time well and develop good digital habits.
Besides the daily usage report, you will also get a weekly usage report which will prove useful in the long term and many ways.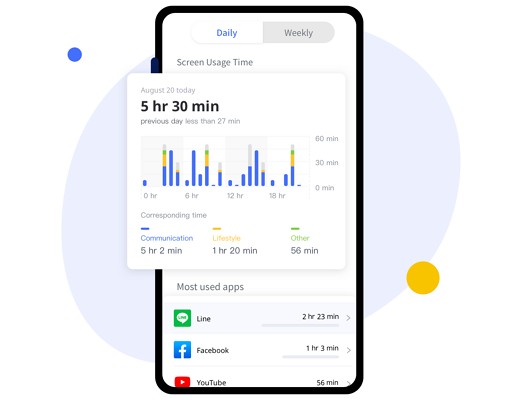 Besides the three features we have highlighted above, here are some other bonus features that you will benefit from using this app:
Location Tracker
With this app, you can track all your devices and get real-time locations of where they are. If you're a parent, then this feature will be pretty valuable to you since you can keep tabs on where your kids are by simply their devices.
Furthermore, you can use this app to set a geo-zone in which you will be alerted once your kid gets out of that zone. This basic and essential security feature will help you ensure your kids' safety at all times.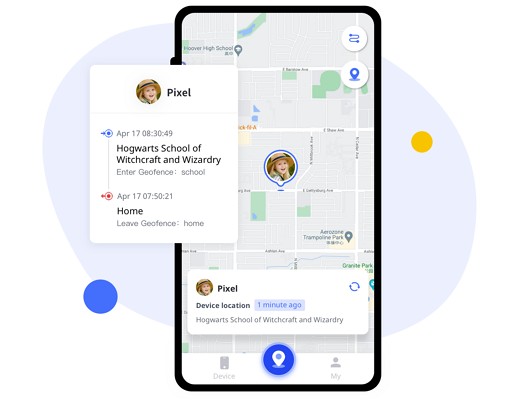 App & Screen Time Management
To ensure healthy digital habits for you or your family, you should be able to manage your app usage and screen time.
Spending too much time on your screen switching from one app to another might lead to a bad habit affecting your lifestyle and health.
And so, to help you manage this, you can use AirDroid parental control, an app that helps you minimize your social media usage.
Can You Block DMs on Instagram?
Yes, you can.
If you have someone who keeps texting you and you're not interested in chatting with them, you can block them. Thanks to Instagram privacy settings, blocking someone or DMs is now very easy than ever before.
How Can I Block Direct Messaging on Instagram Without Blocking Someone?
There are several ways you can use to stop direct messaging on Instagram, but for this, you will have to choose which one is ideal for you. So, which one of these two will you use:
1) Mute Contact
You can choose this option if you have one, two, or a couple of people you want to stop receiving direct messages from. The mute contact feature is a very important feature in that it helps you stop messages from someone without blocking them.
To mute a message, you will have to do the following:
Open your Instagram account and head over to the chats page
After that, click on their message thread.
Tap on their name at the top left corner
Mute their message by simply turning on the toggle
When your use this option, the other person will not be notified and will not know that you've muted them.
2) Disabling DM from Strangers
Another option for stopping DMs is to disable direct messages from a stranger. By default, anyone with an Instagram account can text you regardless of whether or not they follow you or if you follow them.
Therefore, this might lead to receiving many messages from people you don't know or are interested in.
To disable DMs in Instagram, head to settings, then privacy > Messages > Your followers on Instagram > select Don't receive requests.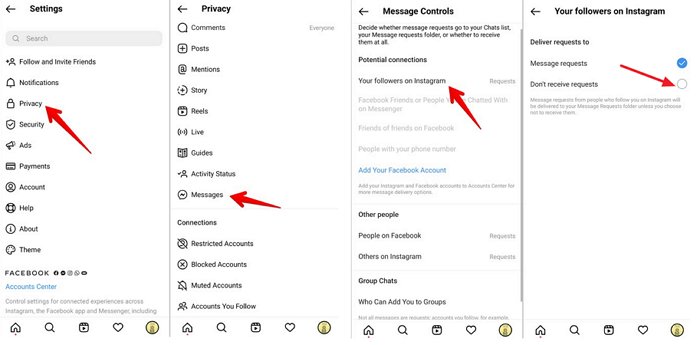 3) Restrict User
A subtle way of blocking someone on Instagram is by restricting them. The fact is that restricting a user won't stop someone from texting you or from you receiving the message. However, this option will redirect their messages to the requests folder, meaning you won't be bothered by notifications or seeing their text on the normal chats page.
The good thing about this option is that the other person won't know whether you have restricted his messages. All they will see is that they have successfully sent you a massage.
Bottomline
Overall, how to direct message, somebody on Instagram is a pretty straightforward step that you can complete with just a couple of clicks and within minutes.
You can send a private message on Instagram to private, and public Instagram accounts unless that person already blocks you.
Was This Page Helpful?