[4 Tips] How to Read WhatsApp Messages from Another Devcice
WhatsApp has become one of the most popular messaging platforms worldwide, connecting billions of people. With over 100 billion messages being sent daily on the instant chat app, they include contents that beg scrutiny.
While WhatsApp promotes privacy and security, there may be times when you need to access messages from a different device. You can read WhatsApp messages from another device, whether your chat or others' messages.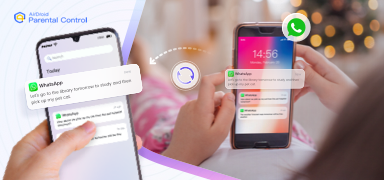 Software developers have device means to read WhatsApp messages, especially from another device. That way, when you read WhatsApp messages, the other device is unaffected, or the owner may not know.
There are ways in this article that you can use to read WhatsApp messages from another device. These methods are primarily based on WhatsApp features; hence they work for Android and iPhone devices. Also, we explore the reasons behind this desire and offer tips to keep your communications secure.
4 Ways to Read WhatsApp Messages from Another Device
If you have the appropriate consent, here are some methods you can use:
1 Link the Target WhatsApp Account to the WhatsApp Web/Desktop
If you have physical access to the target device, you can open WhatsApp for the web or desktop on your own device and scan the QR code displayed. It links the target WhatsApp account to your device, allowing you to view messages remotely.
Step 1. Open the WhatsApp app on that device and tap "More".
Step 2. Select "Link a device", and a QR code will display on the screen.
Step 3. Launch the WhatsApp app on your primary phone, tap the three-dot menu, and select "Linked devices".
Step 4. Press "Link a device" to scan the QR code displayed on the other screen.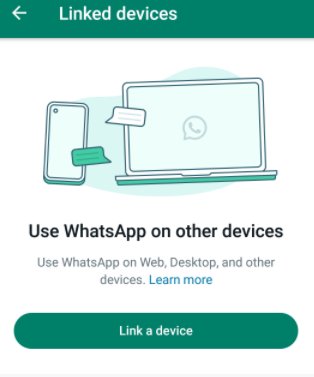 2 Link the Target WhatsApp Account to Your Phone
WhatsApp allows you to link up to four devices to your phone simultaneously. With the "Linked devices" feature, you can access WhatsApp on any devices.
Please follow the steps below to link another device:
On your main phone:
Step 1. Uninstall and reinstall WhatsApp on your phone.
Step 2. Open WhatsApp, tap the three-dot icon at the upper right corner, and select "Link a device." It will then display a QR code on the screen.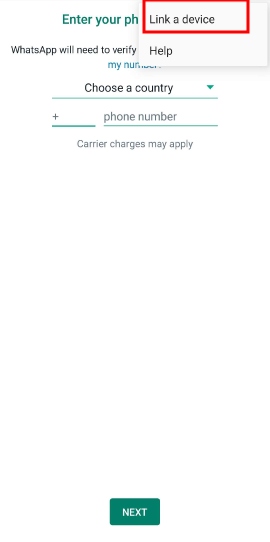 On the target phone that you want to read WhatsApp messages:
Step 1. Follow the above steps to open the scan QR code window.
Step 2. Scan the QR code.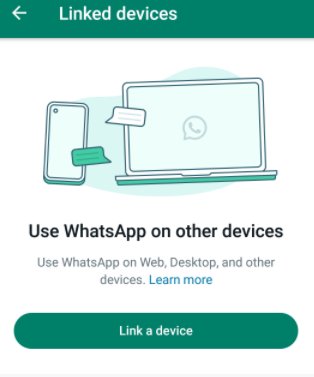 Once linked, you can access your messages via the same WhatsApp account on another device.
3 Use a WhatsApp Monitoring App
If you can't always access the original Android device or want to monitor your child's WhatsApp messages, you can try the WhatsApp monitoring app - AirDroid Parental Control.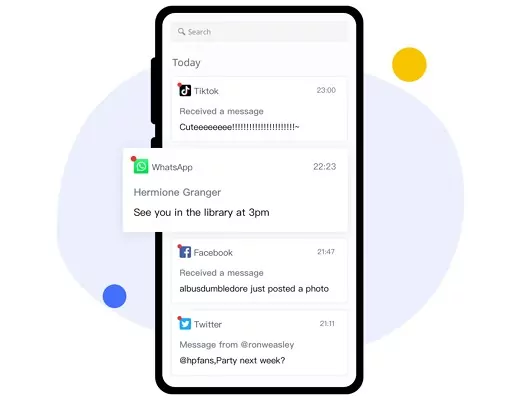 Suppose your child has enabled Notification permission for WhatsApp; you can read the incoming WhatsApp messages from the dashboard. Screen Mirroring can even help you see the live screen of the original device. Furthermore, you can use it to monitor your kids' and family members' physical and online activities. These incredible features and benefits of AirDroid Parental Controls are highlighted below.
Sync WhatsApp incoming messages to another device
Show the live screen of another device to read WhatsApp messages in real-time
View your daily phone activities on WhatsApp and make a sensible schedule
Remotely monitor your kid's phone surroundings
Find your loved ones whenever your need
Please follow the below steps to use the WhatsApp monitoring app to read whatsapp messages from anothter mobile or computer:
Step 1. Download AirDroid Parental Control app on your phone or tablet. You can also visit the web version at webparent.airdroid.com directly.
Step 2. Install the app and open it. Follow the on-screen instructions to register an account and then log in.
Step 3. Download and install AirDroid Kids on your kid's Android device. Then open the app and enter the binding code to bind your child's device.
Step 4. Next enable the permissions to enjoy full parental controls. Wait a few minutes and then you can see the incoming WhatsApp messages from "Notifications" on the dashboard.
4 Back Up and Restore the Target WhatsApp Chat on Your Phone
Depending on your WhatsApp setting, your messages are backed up. By accessing this backup, you can restore it as readable messages on your PC or a mobile device like Android or iPhone.
You can back up your WhatsApp messages to Google Drive or iCloud. To keep your WhatsApp messages can be backed up to the cloud, you must ensure that your account has cloud and local backup. Follow this path on your account to confirm that the cloud backup feature is on: "WhatsApp" > "Settings" > "Chats" > "Chat Backup."
Once there is a backup, you must install WhatsApp with the account's phone number on another device. WhatsApp will automatically restore the messages of that account from cloud storage. Also, you can restore the backup of your WhatsApp messages from Google Drive or iCloud.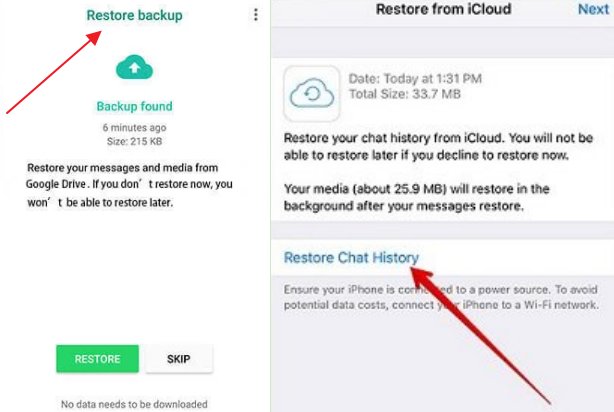 However, if you use an Android phone, you can copy the local backup to the new phone if there is no cloud backup. That way, WhatsApp will automatically restore the messages from the local backup.
Pros
It has no limited number of places where it can be restored.
Cons
The process is longer.
It can only work when the other device is offline; else, it will override it.
Video Tutorial: How to Read WhatsApp Messages from Another Device
Reasons for Reading WhatsApp Messages from Another Device
There are several legitimate reasons why someone might want to read WhatsApp messages from another device:
Employee monitoring for productivity:
Employers may want to monitor productivity and stop resource abuse in particular work conditions.
Ensure the safety of loved ones:
Couples or lovers may want to read their significant one's WhatsApp messages to see if their loved one is cheating.
Parental control and monitoring:
Concerned parents should monitor their children to ensure responsible online behaviour and shield them from harmful influences.
Should I See Others WhatsApp Chats on My Phone
Reading others' WhatsApp messages will help you watch out for them. For instance, kids are prone to social vices like bullying, addiction, scam, etc. Additionally, you can read spouse or employee messages to find out a secret about them.
However, we suggest that you respect the privacy of your family members and only read their WhatsApp messages as a last resort. Besides, a parental control app is more helpful to ensure your children's safety and help them schedule screen time usage.
Legal and Ethical Considerations
Privacy Concerns: Accessing someone's WhatsApp messages without their consent violates their privacy rights, and in many jurisdictions, it is illegal.
Legal Implications and Potential Consequences: Unauthorized access to someone's WhatsApp messages can lead to legal repercussions, including civil and criminal penalties.
The Importance of Consent and Transparency: It is essential to obtain proper consent from the individual whose messages you intend to read. The WhatsApp chat history of any number is generally intended to be confidential.
Responsible Usage of Monitoring Tools: Using apps responsibly and within legal boundaries is crucial if you choose to monitor apps.
Limitations and Risks of Seeing Others WhatsApp Chat on Your Phone
Limitations of Methods: Many methods mentioned earlier have restrictions, such as the need for physical access to the target device or the risk of being detected.
Possibility of Damaging Trust If Caught: If the person whose messages you are accessing discovers your actions, it can lead to strained relationships and potential personal consequences.
Risk of Unreliable Apps Compromising Security: Using certain methods can expose your personal information and compromise the security of your device.
How Do I Know If Someone Is Reading My WhatsApp Messages from Another Phone
Check the "Last Active..." in Settings: If you notice unusual activity, such as your account being shown as active when you haven't used WhatsApp, it could indicate unauthorized access.
Unusual Account Activity: Look for changes in settings, profile pictures, status updates, or conversations you need to remember having.
Unexpected Notifications: If you receive notifications for incoming messages that you didn't receive, it suggests that someone else is reading your messages.
Battery and Data Usage: If your device's battery drains quickly or you observe significant data usage when you're not actively using WhatsApp, it could be a sign of unauthorized access.
Tips to Keep Your WhatsApp Messages Secure
1. Enable the WhatsApp App Lock Feature: WhatsApp provides an app lock feature that requires a PIN, fingerprint, or facial recognition to access the app.
2. Enable Two-Step Verification: Enable two-step verification to add an extra layer of security.
3. Enable Disappearing Messages: This ensures that messages are automatically deleted after a specific duration.
4. Enable Security Code Notifications: Use security code notifications to notify you if someone else scans the QR code to link your account to another device.
5. Log Out after Using WhatsApp: When you use WhatsApp or log in on a new device, log out afterwards to prevent unauthorized access.
6. Use Strong and Unique Passwords: Set a strong and unique password and avoid using common phrases.
7. Use Strong and Unique Passwords: Set a strong and unique password and avoid using common phrases.
8. Avoid Using Public Wi-Fi Networks: Public Wi-Fi networks can be vulnerable to hacking attempts. Avoid using them when accessing WhatsApp to protect your messages.
9. Regularly Update the App: Keep your app updated with the latest security patches and bug fixes.
Final Thoughts
Reading WhatsApp messages from another device will help parents get a hold of what their children her doing on the app. Also, an employer can learn how the company's top secrets leak by reading employee WhatsApp messages from another device. There are many other essential instances of reading WhatsApp messages from another device. To do so, you can use our sync app, AirDroid Parental Control. You can also scan the account's unique QR code or restore its backup.
FAQs Related to Check WhatsApp Messages
Q 1. Can You See WhatsApp Messages on Another Device?
Yes, you can see WhatsApp messages on another device: linking another device to your phone, using a WhatsApp monitoring app, or restoring the Whatsapp Backup to another device.
Q 2. Can Someone Read My WhatsApp Messages without My Phone?
Yes, if they have access to your WhatsApp local or cloud backup. With your WhatsApp backup, they do not need your phone to read your WhatsApp messages.
Q 3. How Can I Read WhatsApp Messages without the Other Person Knowing?
You can read their WhatsApp messages without knowing when you install a WhatsApp monitoring app on their device. You can also link their WhatsApp account to your device. Lastly, having access to their backup works very well.
Q 4. How to See My Partner's WhatsApp Messages?
You may access your partner's device and see the WhatsApp messages. Besides, AirDroid Parental Control lets you see what others send to your partner on WhatsApp.
Q 5. Can a Third Person Read My WhatsApp Messages?
WhatsApp prioritizes end-to-end encryption, which means that messages can only be read by the sender and the recipient. In general, it is highly unlikely for another person to read your messages unless they have been given access.
Q 6. Can Anyone See My Deleted WhatsApp Messages?
Once you delete a message, it is removed from your device and the recipient's device. However, it's important to note that if someone has taken a screenshot or a backup of the conversation, they may still have access to it.
Q 7. How to Read Others' WhatsApp Messages on iPhone?
Reading others' WhatsApp messages on an iPhone is not straightforward, as WhatsApp emphasizes user privacy and security. Without the target person's consent, it is generally not possible to directly access their messages on an iPhone. It's important to consider the legal and ethical considerations before attempting to read someone else's WhatsApp messages.
Was This Page Helpful?