How to Fix TikTok Notifications Not Working? [2023 Newest]
TikTok has overtaken the world through its unique, entertaining features. However, sometimes you see yourself help-less due to some problems. And one of those problems is that your TikTok notifications not working. Please keep reading to learn more about these notifications, the reasons for them not working, and finally, the solutions.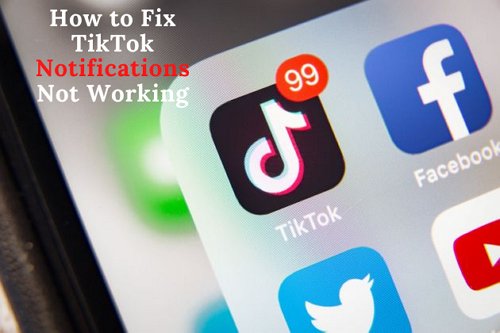 What Notifications Does TikTok Offer?
TikTok offers a variety of notifications to help keep users engaged with the app. For example, users can receive notifications when new videos are added to their feed, when someone comments on their video, or when someone likes them. In addition, users can also choose to receive notifications when someone follows them or when someone sends them a message. TikTok also offers general notifications about the app, such as updates or new features. As a result, TikTok provides a wide range of notifications that can help keep users engaged and up-to-date with what is happening on the app.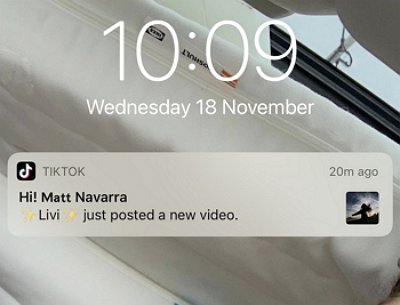 Why TikTok Notifications Not Working?
If you're among the millions of people who've recently become addicted to TikTok, you may have noticed that your notifications aren't working. While this can be frustrating, there are actually a few reasons why this might be happening.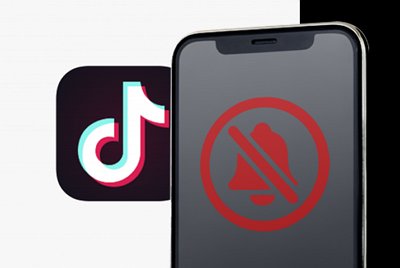 First, TikTok notifications can only be delivered when the app is open and running in the background. So if you're not actively using TikTok, you will not get any notifications. Additionally, your notifications may not work if your phone's Do Not Disturb mode is enabled. Lastly, it's also possible that your notification settings within the TikTok app are incorrect. Please keep reading to learn more about that.
How to Fix TikTok Notifications Not Working?
If you're one of the many people struggling with TikTok notifications not working, don't worry, we're here to help. You can try a few different things to get your notifications back up and running. First, ensure you have installed the most recent version of the TikTok app. If you're using an older version, it's possible that notifications are not working correctly. Secondly, check your notification settings within the app. Make sure you have notifications enabled for your account and the individual videos you want to be notified about. Finally, if you're still having trouble, try restarting your device. This should clear any lingering issues and allow you to get back to enjoying TikTok without missing a beat.
Please keep reading to learn about a few common notification problems and their solutions.
Turn Off the Notifications and Try Again
The first method to fix the not working notifications on TikTok is to turn off the notifications and then turn them back on.
In the lower right corner of the screen, tap the Profile button. Tap the dotted icon in the upper right corner.
Take a look at the privacy and security settings. Push notifications can be enabled in the Notifications section. You may now choose which notifications you would prefer to receive.

Finally, turn them off and close the app. Now, open the app and try to turn them back on.
Log out and Login to Tiktok Account
Another way to address the not working notifications on TikTok is to log out of the app and then log in again. Here is how you can do it:
After you launch the TikTok app, tap on your profile.Now select the three-lined button.
Now you can see the privacy and security settings. As soon as you click on the three-dot icon. To log out, click "Log Out."

Similarly, you can log back in by clicking the login button and entering your login details.
Enable Background Data Usage
Sometimes the TikTok notifications don't show because the background data usage is restricted. Here is how you can turn that back on an android device:
Open "Settings" from the Home screen of your smartphone.Select "Data usage." Now check for cellular data usage.
Check an option for 'Allow Background Data Usage.'

You can turn "Background Data Usage. " on for TikTok to fix the problem.
Clear the TikTok App Cache and Data
If notifications are still not working, you can always try to clear your cache and data. Here is how you can do it:
In the lower right-hand corner, click on profile.
Tap the three-line icon in the upper right corner.
Select Settings and Privacy. Click and hold on to the Clear Cache button.
Enable TikTok Notification in App
Here is how you can enable the TikTok notifications within the app:
Open the TikTok app. Now click on the profile icon, which is located on the lower left side of the screen.
Now look for three lines and tap on them. Find privacy and setting and choose them.
Here you can enable the Push Notifications button.

If they are already enabled, you must look for another method to fix your notification issue.
Enable TikTok Notifications on the Phone
Go to the settings by choosing the settings option from your home screen.
Now, look for Apps options and select them. Find TikTok and tap on it.
Now, see if notifications are enabled or disabled. If they are disabled, please enable them, and your notification problem should be resolved.
Reinstall TikTok App
This method always works, and here is how you can fix your notification problem by uninstalling and reinstalling the TikTok app:
Open the App Store and find TikTok App.
Now tap on the 'Reinstall App' button and wait for it to download and install.
Update TikTok App
Updating TikTok may fix your notification issue. Here is how you can do it:
Open the Play Store on your android or other stores if you are not running an android.
Type TikTok in the search bar and find the app.
If there is an option of 'Update' on the right side of the app, tap on it.

The app will now update, and your notification issue might resolve itself.
Contact TikTok Support
You can contact TikTok support using different methods.
The easiest way is report a problem on TikTok, click on profile, select Settings and Privacy. Click Support, you will see Report a Problem on it.

Another option to contact support is by writing to them at business-service support.tiktok.com.
You may also contact them through social media by visiting their official pages and profiles on Instagram and Facebook.
Restart Your Device
If your TikTok notifications are still not fixed, you can try the final and following method:
Press and hold the power button of your smartphone.
Choose the 'slide to power off' option that appears on your screen. Now, wait for the phone to restart.

Check if notifications are working.
Are these solutions solved your problem? If not, let's try AirDroid Parental Control
Bonus: AirDroid Parental Control
Are you frustrated seeing your kids indulging in TikTok day and night? And they are just ongoing and not listening to a word you say? Don't worry; we have just the thing to help you get a hold of your kids. AirDroid Parental Control app lets you manage and check your kid's online activity, including TikTok time.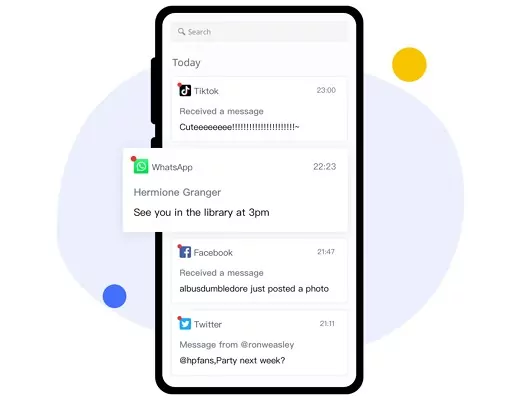 Furthermore, it brings along the following tools at your disposal:
Sync all their notifications on your smartphone - including the TikTok notifications.
Get the 24/7 live location of their device and online activity reports.
Listen to their surroundings and know who they are talking to.
Limit their internet hours and usage and block specific apps on their phone.
Basically, you can go complete Sherlock Holmes on your kids. So, no worries about their well-being. Here is how you get the AirDroid Parental control app:
Step 1. Firstly, you need to install this app on your phone. Now, you can enter your details and sign in if you have an account. And if you don't have an account, you can go ahead and sign up as a new user.
Step 2. Now, take your kid's phone, which you would like to monitor. Download AirDroid Kids on this phone and install it. After the installation, you must launch the app on your kid's phone and perform according to the instructions.
Step 3. Finally, pair both the devices - one would be yours, and the other would be your kid's.
The pairing is done through a unique pairing code generated by the app.
Congratulations, you have correctly set up the app on your phone, and now you can sleep tight knowing that you know everything they are doing and where they are doing it.
Wrapping Up
TikTok notifications not working? You can use the above-discussed methods to address that issue. Furthermore, if you have a kid or know someone who does, and they are addicted to TikTok (or any other social media app for that matter), then you need the AirDroid Parental Control app. Also, it's the best way to keep your kids safe online while still allowing them some freedom. So download it now and start fixing your TikTok addiction today. Finally, we hope this blog helped you fix your notification problems, and Hey! Thanks for the Read!
Was This Page Helpful?