How to Access An Android Phone with A Broken Screen?
Life without a smartphone is almost impossible nowadays. However, we might all have been in situations where with one single drop, the screens are shattered. At the same time, our hearts beat fast, and tsunamis panic kicks in.
Luckily, thanks to technological advancements, we now can access a phone with a broken screen. Wondering how? Just keep reading!
Using AirDroid Personal to Access An Android Phone With A Broken Screen (Wireless)
If you feel your Android phone is no longer usable, think again because AirDroid Personal enables you to access your broken Android phone in easy steps. Let's check some of the benefits of AirDroid Personal are:
Remotely Control Your Phone from Your PC:
AirDroid Personal supports the seamless control of all Android Devices from your desktop, and it is possible to engage in a plethora of tasks.
You can remotely play games on the computer, revive damaged phones by controlling them from your PC, and directly control your mobile devices from the computer and keep the distraction of social media and unnecessary notifications at bay. Moreover, you can alsoremotely access a phone with a broken screen.
Remote Control Android Devices from the Web:
Another valuable feature of AirDroid Personal is that users do not have to download a specific application or install software on their PC to start their remote desktop connection.
AirDroid Personal is compatible with the web, and you can control your Android devices simply by using AirDroid Web.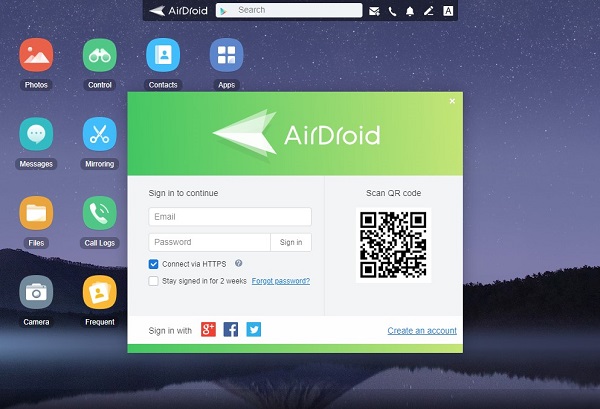 Supports Both Root and Non-root Devices:
AirDroid Personal allows users to start remote controlling their Android devices quickly. Moreover, the devices are not required to be rooted, and only a few simple setups must be followed beforehand.
Supports Multiple Platforms:
AirDroid Personal is compatible with multiple platforms, from Mac to Windows and Linux. Moreover, the only mandate is that the mobile phone or tablet you will connect with AirDroid Personal should have an Android operating system, and there are no limitations on brands, models, etc.
However, to understand the workings of AirDroid Personal, we have to consider two scenarios:
If Your Phone's Touch Screen is Still Working
In case the touch of your Android phone is still functioning, consider yourself lucky. An operable touch screen means that you can quickly recover the data.
In addition, AirDroid Personal enables you to transfer data and manage your files quickly. Furthermore, you can access your broken Android phone via AirDroid Personal without a data cable. So, without further ado, let us look at the steps.
Step 1.Install AirDroid Personal on Your Broken Phone and PC

Download and install AirDroid Personal on your phone and PC, and register an account with your email.
Step 2. Set Up AirDroid Personal

Login to your account both on your phone and computer app on AirDroid Personal app. Then enable "Remote Control" feature on the phone app.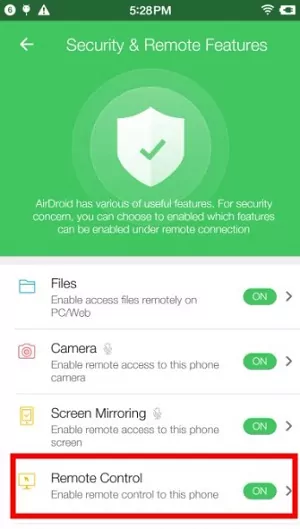 Step 3. Access Your Broken Android Smoothly with AirDroid Personal

After setting it up, now you can access your broken Android easily from your computer. You can click "Remote Control" to control your phone from PC. Also, with AirDroid Personal, you can transfer files, backup your videos, pictures, capture screenshots, use computer keyboard to type on your phone, send messages, make calls from your computer and more.
The first scenario, where the phone screen is broken but somehow operational, is reasonably feasible. However, the challenge emerges when the phone screen is broken and completely unusable. Even in such a scenario, AirDroid Personal can help.
If the Phone Screen is Not Working
To access data from an entirely unusable phone, the catch is to install the AirDroid Personal app as a precautionary measure. Once you installed AirDroid Personal on your phone. If your phone screen is not working, you can still access your broken screen Android phone without touching the screen.
Now that we have talked at length about AirDroid Personal, let us look at another tool that can help you access your broken Android phones remotely.
Using ApowerMirror to Access A Broken Android Phone (via USB)
Another convenient way to access a broken Android phone remote is using ApowerMirrror. It is an application compatible with Windows and Mac OS, and you can transport all your mobile streaming contents to a bigger screen.
ApowerMirror lets users control a broken Android phone with a mouse and a keyboard. The only required criterion is that you should be able to tap on the broken Android screen after the accident. The steps are as follows:
Step 1: Download and install ApowerMirror on your computer. After that, launch the program after application.
Step 2: Get your USB cable and connect your Android phone to the desktop. Wait until the connection is processed.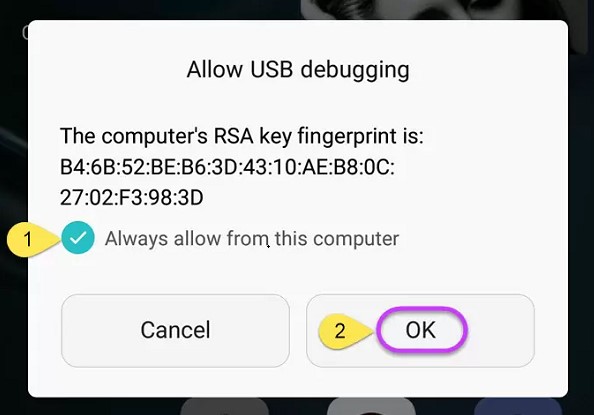 Step 3: Tap on the 'Start Now' pop-up on your broken Android phone to begin mirroring the phone to your computer. After that, you can use our keyboard and mouse to control an Android phone with a broken screen.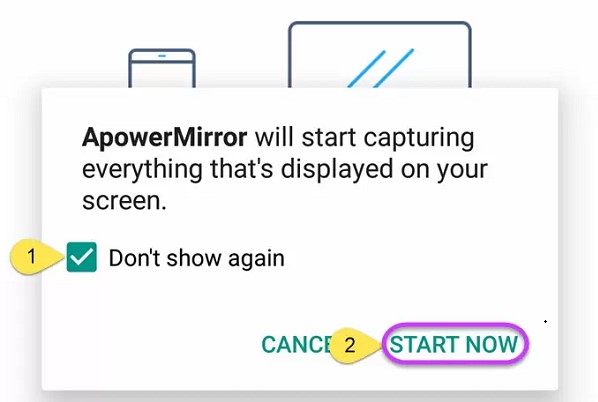 Thus, ApowerMirror serves as a lifesaving tool for people whose Android phone screens are broken but somehow operable.
AirDroid Personal VS. ApowerMirror - What Should You Choose?
Let us compare AirDroid Personal and ApowerMirror, and see who emerges triumphant.
| AirDroid Personal | ApowerMirror |
| --- | --- |
| Available on Android and iOS, Windows/Mac; has a desktop program and is available on the web. | Available on iOS and Android; is available only on the web for desktop usage. |
| AirDroid Personal has a sleek and user-friendly interface. | ApowerMirror has a good interface. |
| AirDroid Personal enables remote access to complete non-functioning Android phones, provided that they were root previously. | ApowerMirror allows mirroring with broken Android phone whose touch is still functioning. |
| It is more affordable, almost free for all basic features. | It is affordable. |
| The Web version enables connection of a broken Android device with an iPhone. | ApowerMirror has no such feature. |
Therefore, we can conclude that AirDroid Personal is undoubtedly the better choice when accessing a broken Android phone remotely.
What If An Android Screen is Broken?
The first instinct when your Android screen breaks should be to get it repaired. However, if you are unable to do so for some reason, then you should immediately use a tool like AirDroid Personal to get remote access to your Android phone before it becomes entirely non-functional.
Moreover, precaution is better than cure. So, you should install AirDroid Personal even on a fully-functional Android phone to ensure that it is rooted so that even if it completely breaks down, you can still access it from your desktop.
What Are The Probable Scenarios After Your Phone is Broken?
The first probable scenario is that the Android phone is broken yet somehow functioning
The second scenario is that the Android phone has completely broken.
In both scenarios, you can either get your phone repaired or replace it and transfer the data with AirDroid Personal.
How To Deal With A Cracked Phone Correctly?
The first step in dealing with a cracked phone is not to panic. Nowadays, there are various ways to access and transfer precious data. So, if your Android phone breaks down, make sure to get it repaired or replace it, or use it with tools like AirDroid Personal.
So, we have a comprehensive overview of the various techniques to access a broken Android phone.
Frequently Asked Questions
Can an Android Phone with Broken Screen Be Unlocked?
Yes, an Android Phone with a broken screen can be unlocked with AirDroid Personal's Remote Control features.
Can I Use Usb Debugging to Deal with the issue if the Screen Is Not Responsive?
When you can still see the display screen of your Android mobile display, but the touch is not responding, then you can use a USB debugging to deal with the issue.
When Can I Use OTG to Gain Access to Android Phone with Broken Screen?
You can use the OTG to gain access to your Android phone with a broken screen when the screen is somewhat operable.
Was This Page Helpful?