[Tested] Top Android Emulator for Chrome in 2023
Both the Chrome browser and the Chromebook are useful offerings from Google. However, running Android applications on them can often pose a challenge. Because devices running on the chrome OS lack the necessary software capabilities to run Android apps. Here, the Android emulator chrome is your solution.
Similarly, the Android online emulator chrome lets you play mobile games and apps from your chrome browser. However, certain third-party remote control apps can be an even better alternative than emulators. Know about all the methods from the following discussion.
Part 1. How to Run Android Applications on Chrome?
Before getting into the Android emulator chrome, it is only fair to let you know that it is possible to directly run Android apps on your Chromebook. In other words, you can straightforwardly download them from the Google Play store and use them on the Chromebook.
However, there are many challenges associated with that. First of all, not all Chromebooks are compatible with Google Play Store apps. And secondly, if you are using the chrome device from your office or classroom, there might be restrictions with play store access.
An Android emulator chrome can sure be a nice way to run your favorite apps on your Chrome device. Or, you might use the google chrome Android emulator from the web store to play mobile games on your browser. However, these emulators have their limitations. Plus, installing, unzipping, and preparing them is also confusing for the average Android user.
Therefore, your best option is to use a browser-based remote control app to run Android apps online like AirDroid personal. There is no hassle of unzipping, extracting, or preparing files.
Use Android Online Emulator from Chrome Web Store
The Android emulator chrome extension is a free add-on you can find at the Chrome Web store. This google chrome Android emulator makes it possible to use your smartphone applications from the browser. So, for those who are looking to play their mobile games on a bigger PC screen, this emulator extension can come in handy.
Follow these simple steps to add the Android emulator chrome extension to your chrome browser-
Step1: Go to the Chrome web store
Step2: Click 'Add to Chrome' beside the Android Emulator Online
Step3: Your browser will show a 'Proceed with caution' notification. Select 'Continue to Install'
Step4: the browser will ask to Add 'Android Emulator Online', choose 'Add extension'
Step5: the extension file will automatically download and will be added to the chrome
Step6: From your browser's extensions select the Android Emulator Online and click on it.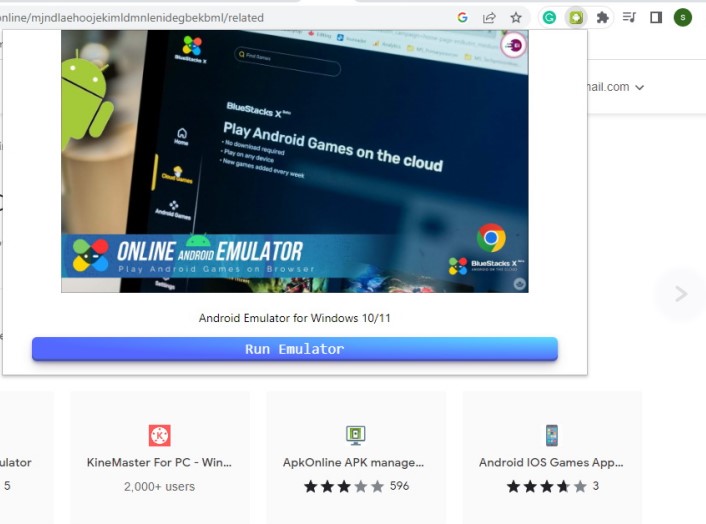 Step7: From the following window select 'Run Emulator'
Step8: This will bring you to the 'giveaways groups' web page. Select 'Download Emulator Now '
Step9: Permit the downloaded emulator files to install.
Use Google Playstore on your Chromebook
You can follow these steps to download apps from Google Play Store on your laptop device that runs on the Chrome Operating system-
Step1: Update your Chrome OS.
Step2: From the bottom of the screen select 'Quick Settings' at the right corner
Step3: Touch the gear-shaped Settings Icon
Step4: Find the Google Play store option and select it
Step5: Permit to install games or apps from Playstore on your Chromebook by clicking 'Turn on' and accepting the terms & conditions
This will enable Google Playstore on your Chromebook. You can then normally access the store from your menu and download apps as you do on other devices. However, on some devices, you might not find the Google Playstore options. In that case, you will require an Android emulator chrome.
Part 2. Top Android Emulator For Chrome OS
If your Chromebook doesn't support mobile apps directly, you will need an Android emulator chrome. This software will mimic the internal environment of your smartphone inside the Chromebook. As a result, you will be able to run the Android games and apps you want on it.
Archon Emulator
The archon emulator or ARChon runtime is one of the most popular and trusted Android emulators for chrome os. The emulator lets you run Android APKs that are written with Chromeos APK. You use it across multiple platforms such as Chromebooks, Windows, Mac, and Linux.

Use the software on your chrome by following these steps-
Step1: Download the archon emulator on your device and unzip the file
Step2: Open the Chrome Browser and head to Chrome://extensions
Step3: Slide the Developer Mode switch to the right to enable it.
Step4: Find the hamburger icon on the page and click on the unpacked files just below the icon
Step5: Choose the unzipped files you downloaded
You can repeat this process to create chrome packages for all Android applications on your device.
Features
Convenient software: This emulator lets you create as many chrome packages as you want for a huge number of Android apps. Moreover, the process is simple and requires only a few clicks.
Lightweight: Many emulators are large bundles of files and take up a lot of space on your device. Plus, they might also urge you to change various settings on your device. But the archon emulator doesn't bother you with any of that.
Pros
Many options
Easy to use
No security concern
Cons
Slows down occasionally
Has some bugs
Price: Free
Appetize.io
Appetize.io is a very smooth Android emulator for chrome os. And if you want, you can also run iOS apps with it. Moreover, developers can find this tool extremely useful. For instance, you can use it to test how your applications perform online.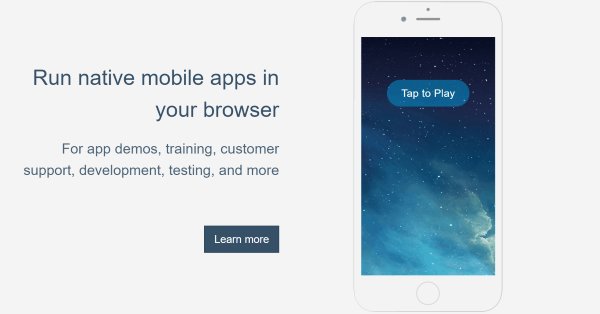 Features
Free Trial: You can get the cost-free trial version of this Android emulator chrome and run apps for 100 minutes. So, if your Chromebook is suddenly troubleshooting during important work, you can use Appetize.io to manage that session for the time being.
Large Capacity: if the trial version feels too limited, you can get the paid service for forty dollars a month. This will grant you 500 minutes of app runtime, 20 sessions, and many more perks.
Pros
Useful emulator for developers
The system has superior speed
Good customer service
Cons
It isn't an Android emulator chrome extension.
Sometimes you might encounter bugs.
Price: 40$/month
MEmu Android emulator for chrome os
The MEmu is excellent for playing Android games on your Chromebook. That's because it has a lot of exciting features that let the user practice more control over their gameplay. You will experience high-end graphics and can access the apps without a controller. Plus, it is very easy to install and use the emulator.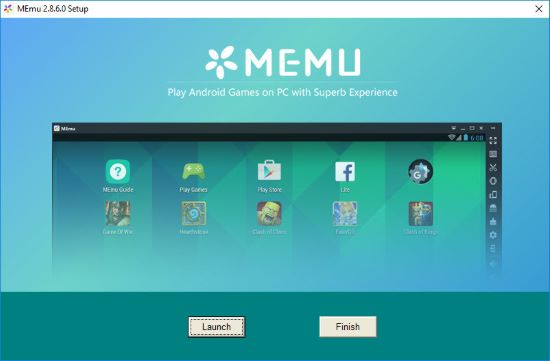 Features
Smart Key: the MEmu launcher comes with an advanced algorithm for image detection. And the 'Smart key' is the manifestation of this capability. When you are playing, the smart key recognizes various scenes, like opening a door or getting off. It then places the F button in correspondence to your position.
Macro mapping: You can put all your macros in one specific key. Here, macro means a defined series of actions the gamer performs. Such as clicks, keystrokes, delays, etc. You can define such a sequence and put them in your own special key.
Pros
Lots of interesting features
Has a huge following of 10 million
Lower RAM supported
Cons
Needs more instructional content
Can lag sometimes.
Price: Free Download
Part 3. Use AirDroid to Run Android Apps on Chrome
Therefore, your best option is to use a third-party remote control app like AirDroid personal. You will only require the AirDroid app installed on your Android device. Follow the steps below-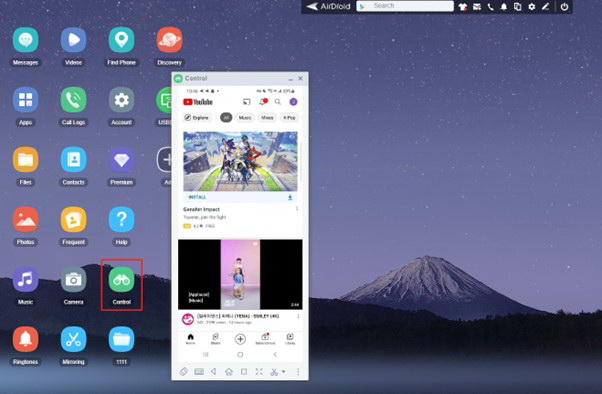 Step1: Go to AirDroid's web interface
Open your Chromebook's browser and enter the address https://web.airdroid.com/. You will reach AirDroid's web interface. Now, like any other online account, provide your email id and a password to set up your AirDroid Account.
AirDroid will now tell you to connect your smartphone. It will show a QR code for scanning. If your phone has a scanner, open it and focus the camera on the code. You will be redirected to the Google Playstore.
Step2: Set up the Mobile app
Scanning the code might sometimes take unnecessary time. So, just head to Google Playstore from your phone's menu and type 'AirDroid' in the search box.
Select the 'AirDroid: File & Remote Transfer' app and click install. The app is around 45.77 MB. So, the downloading time depends on your internet speed.
Open the app and sign in using the same id and password. You can now see the app interface. Scroll down to 'Security and Remote Control' and tick the box beside it to enable the feature.
Then the app will ask you to download the Remote Control add-on for your device. Tap to give permission and you will be redirected to the play store again to download the add-on. After the download finishes, your device is ready to connect to your Chromebook.
Step3: Connect your Device
Refresh the web interface on your Chromebook. Then click on the remote control icon (it looks like a binocular). Now, AirDroid will search for your device and once found will establish a connection between the two.
You will then see your Android phone's home screen appear on the Chromebooks monitor. Now, you can easily use Android applications or play games on your Chrome screen.
Features
Play games and apps on your Chromebook without an emulator.
Send or view text messages using Chrome's keyboard and screen.
Use the Nearby feature to send files without the internet to nearby devices.
Share any file format across all kinds of platforms.
Retrieve important data in case of a broken or stolen phone.
Pros
The easiest method for using your mobile apps is on the Chromebook.
No need for an Android emulator chrome.
Screen mirroring with a single click
Price: 29.99$/year
Conclusion
An Android emulator for chrome can be a useful tool when you need to test Android apps on your Chrome device. You can also use the Android online emulator chrome web store to run the mobile application on your PC. However, these methods are sometimes challenging and tend to generate error messages.
From that aspect, an app like AirDroid is much better than an Android emulator for chrome os. You can enjoy all the perks of an emulator without the hassle and minus the risk of downloading malicious software. Plus, the app comes in handy in various other situations too. So, get your free demo today and decide for yourself.
FAQs
Why can't I find the Google Playstore option on my Chromebook's settings?
Ans. If you can't find the Playstore option in your chrome OS device's settings then your device probably doesn't support android apps. This can happen with a lot of Chromebooks that are not designed for this software. In that case, you have to download an android emulator for chrome os.
Does the Android online for emulator chrome install an emulator on my device directly?
Ans. No, the extension that is installed on your browser after clicking 'Add to Chrome' is essentially a link that redirects you to a different webpage. You have to follow the instructions on that web page to download the emulator file and subsequently install it on your device.
What is 'Multiple Instances' in the MEmu launcher?
Ans. 'Multiple Instances' is a special feature for the MEmu launcher. It lets you play the same game using multiple accounts at the same time. Or, you can simultaneously play multiple games from varying instances.
Was This Page Helpful?