How to Use AnyDesk Online to Remotely Control Your PC
Many a time, you just wish if there was a way to control your personal computer from somewhere else, be it for work or accessing some important files. Luckily, AnyDesk Online is one of many programs that allow users to access and control their computers from anywhere, anytime.
If you're planning to use this service but couldn't decide if it's the right choice for you, then cheer up. In this article, we will deep dive into the key features of online AnyDesk web including how-to guide.
Without any further ado, let's cut to the chase!
Part 1: A Brief Overview of AnyDesk Web Online
Here are some useful insights into this remarkable online service.
1. What Is Anydesk Online for Windows
AnyDesk is a remote desktop software that offers a simple procedure to connect to a computer remotely, Millions of employees, IT professionals, and managers use this program for their administration, telecommuting, and customer service.
What makes AnyDesk Online for PC so popular is it doesn't require a high-speed internet connection to run smoothly. Aside from the online version, this tool can be used on mobile (iOS, Android), desktop (Windows, FreeBSD, Linux, Mac).
Note that you don't need any installation for AnyDesk online use. Just head to its website and connect to any remote computer by entering the AnyDesk ID.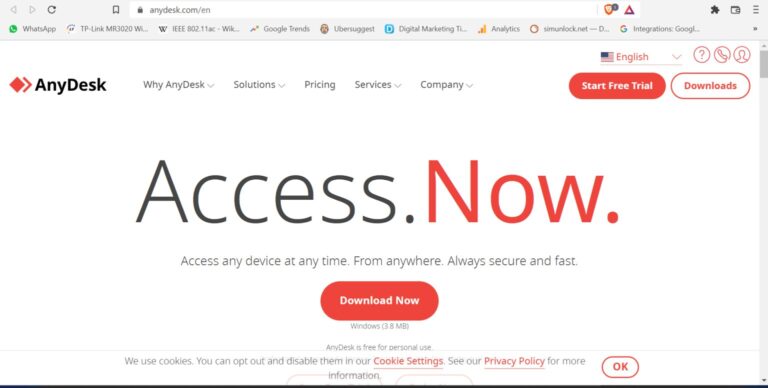 2. Key Features of AnyDesk Online
Below are the key functions of AnyDesk online free that you should know about:
Unattended Access: One of the powerful features of AnyDesk Online is unattended access. After enabling this feature for a specific remote device, you can start the session from anywhere with just one click – without the physical presence of anyone around the device.
Remote Printing: This feature allows you to take prints of any file on the remote computer from your web browser. The best thing is you don't even have to go through the trouble of transferring the file to your local device.
File Transfer: Using the File Manager feature of online AnyDesk remote, you can manage and transfer files between local and remote devices easily. Plus, there're no limitations on file transfer. Users can share as many files as they want, but note that the transfer speed isn't as good as you'd expect.
Teamwork: AnyDesk offers the Whiteboard feature to let you chat with colleagues in real-time. Now, communicating with other employees or drawing instructions to workers has never been easier.
Recording: It has a built-in recording capability to record a session for future reference.
Some other remarkable features of AnyDesk remote control online include:
Desktop Sharing
Interactive access
Mobile Device management
Privacy mode
Address book to organize your contacts and keep an overview of them.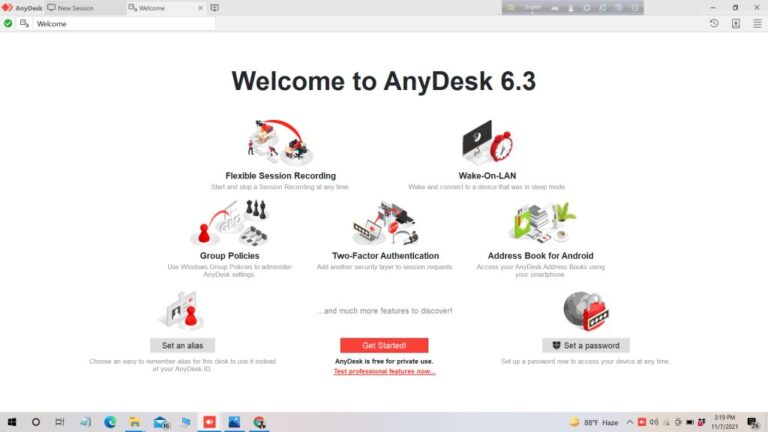 3. Price
To establish a connection between a remote PC and local PC via AnyDesk Online, you need to get the desktop version of this program on the remote PC. Just like most remote software, AnyDesk also comes in three premium packages, starting from $9.90 to $29.90/month.
Check out the latest prices at AnyDesk online download.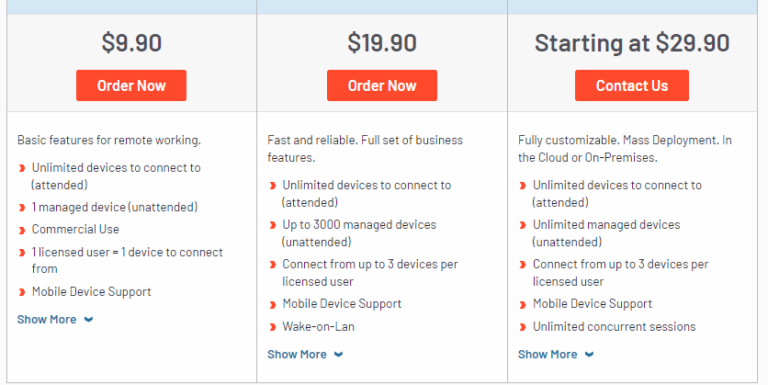 4. Limitations
Despite all its amazing features, AnyDesk online remote has many prominent downsides. Here are some biggest disadvantages of using this service:
First and foremost, users cannot configure uncontrolled access cannot be configured.
Absolutely no connection settings.
It doesn't store the session history and passwords.
The online version doesn't run on mobile devices.
It is very expensive for the features it offers.
Part 2: How to Use AnyDesk Online from Any Browser
Now that you know the basic interface and features of AnyDesk, it's time to learn how to use AnyDesk for Windows 10 online. Note that this service is also supported by Mac devices. So, you can use the below steps on both Mac and Windows systems:
Step 1. First things first, you need to install AnyDesk desktop version on your remote PC. After setting up your account, you'll see Your Address at the top. Copy this address.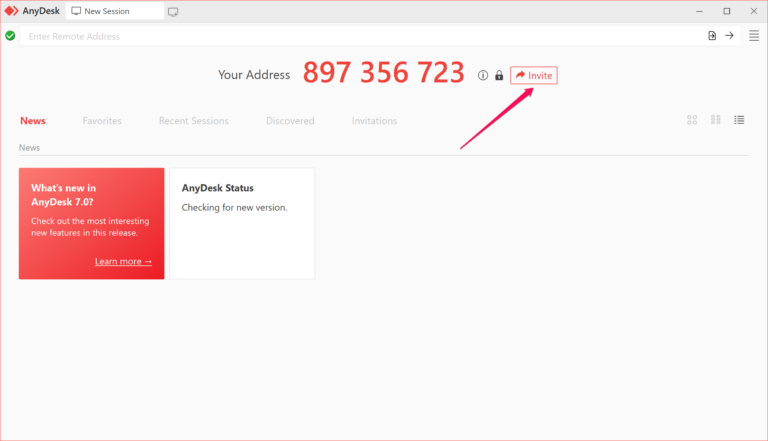 Step 2. Now, whenever you need a remote connection online, visit go.anydesk.com. it will ask you to launch the app on the remote PC.
Step 3. Now, enter the AnyDesk ID in the box and hit Connect.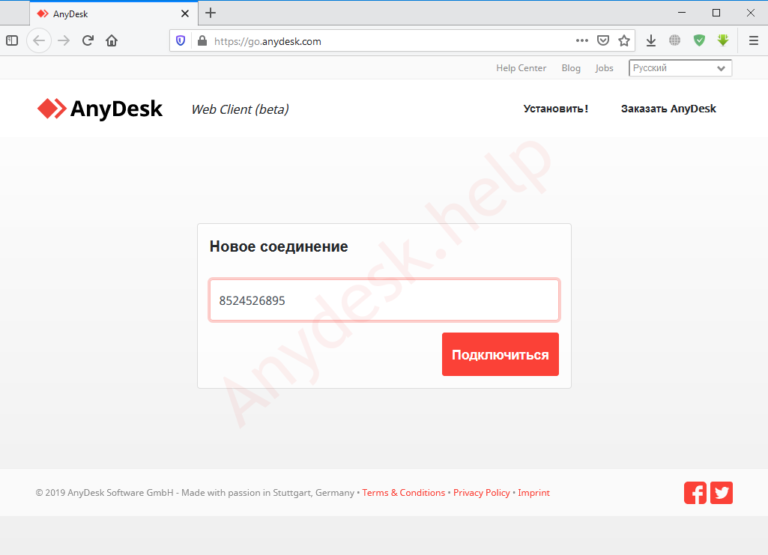 Step 4. The online program will now ask for permissions. Select the permissions and hit Accept at the bottom to get going.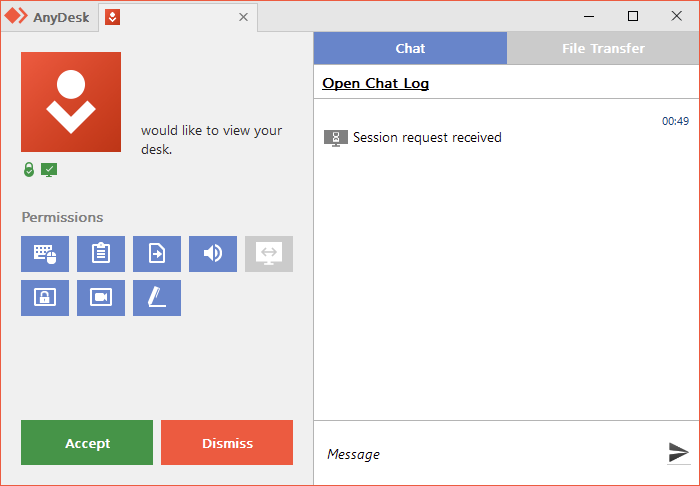 Step 5. Within just a few seconds, you'll have access to the remote desktop on your web browser.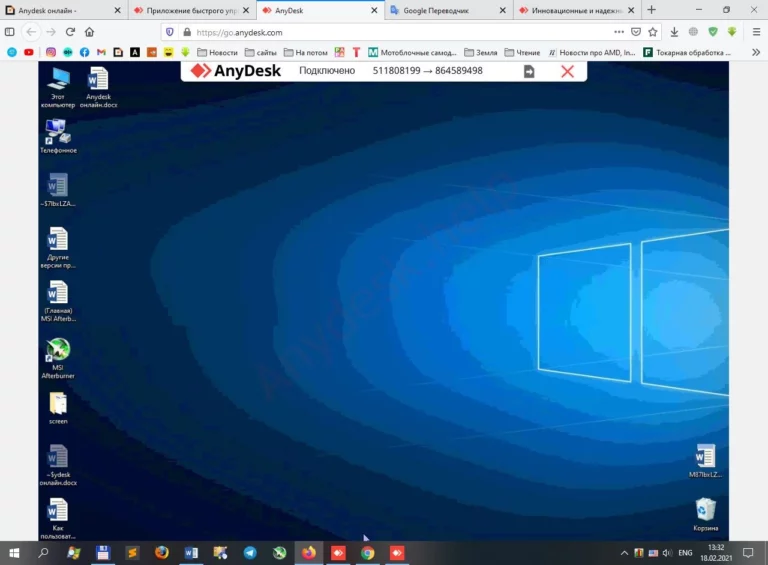 And that's all you needed to run AnyDesk online for Mac or Windows. Many users are often troubled by its complicated interface or sometimes language barriers. That's why we have also reviewed a perfect alternative to AnyDesk Online that anyone can use with ease.
Part 3: A Perfect Alternative to AnyDesk Online Web – AirDroid Web
If you are looking to control your Android phone from any web browser, then AirDroid Web is your ideal companion. The company has been around for many years and has already earned the trust of millions of users around the globe.
AirDroid Web boasts of a sleek interface which offers tons of amazing remote features. Users can connect and control their Android phones from web, without any emulator or installation. Plus, this tool can be run on any browser, including your smartphone. In addition, you get plenty of advanced remote features including file transfer, Android file management, SMS notifications and management, make and receive calls, screen mirror, Find phone, and many more.
But what sets it apart from other remote tools is the convenience and ease of use. Even a first-time user can navigate its features without any hassles. All you need to do is head to airdroid.web and scan the QR code to connect your devices. Not to mention, it is way cheaper than AnyDesk Online, costing you as little as $2.50 per month.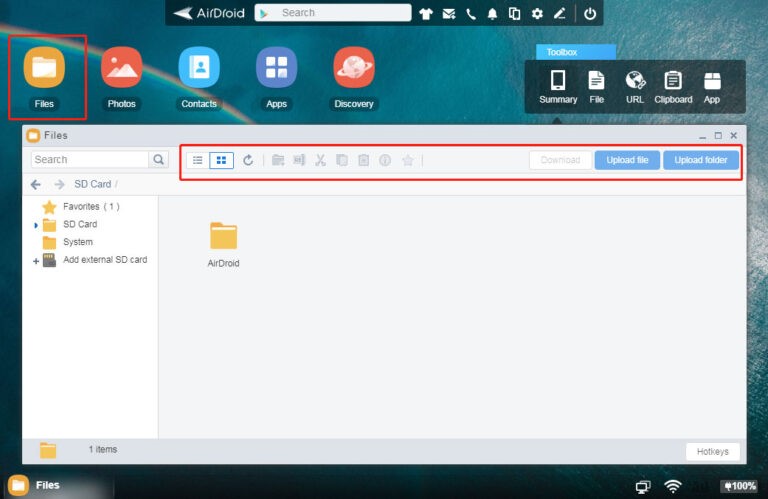 Part 4: Key Features of AirDroid Web
Here are the notable functions of AirDroid Web:
Offers a simple and quick procedure to control your Android phone remotely from the web browser
Users can transfer files with just one click.
Use the Android device as a security camera.
Mirror Android on PC.
Control SMS notifications
Play Android music on PC.
Its Find Phone feature helps you find a lost phone or wipe out its data in case it's lost or stolen.
Using AirDroid Web is as easy as it can get. We have divided the whole procedure in just three steps. Give it a quick read:
Step 1. After installation, launch the AirDroid Personal app on your Android phone that needs to be controlled. Login with your AirDroid account.
Step 2. Now, head to AirDroid Web from on web browser. Either sign in with the same account or hit Scan QR code and scan the code on your personal app.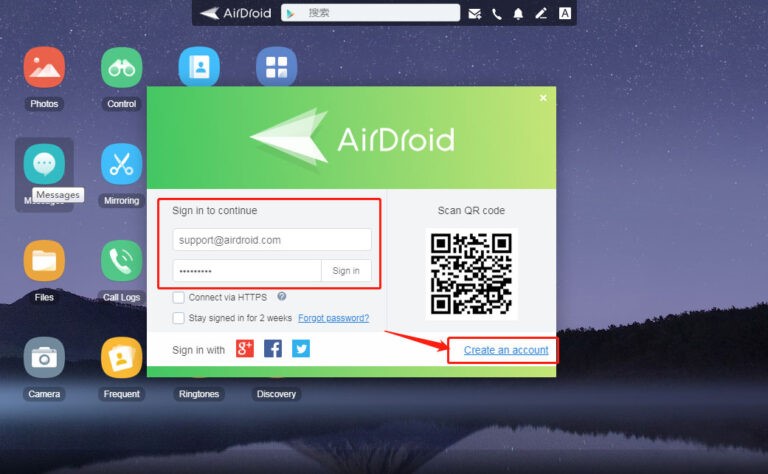 Step 3. The program will establish a remote connection over the internet. After that, you can enjoy all the features using a mouse and keyboard.

Best AnyDesk Alternative for Unattended Android Remote Access
AirDroid Remote Support is an alternative to AnyDesk that provides remote support for mobile devices. As an all-in-one enterprise remote access, remote assistance, and remote control solution, AirDroid Remote Support can instantly and remotely assist employees and customers of an organization to remotely control and manage unattended Android devices. What's more, it also offers a personal version to help assist friends and family.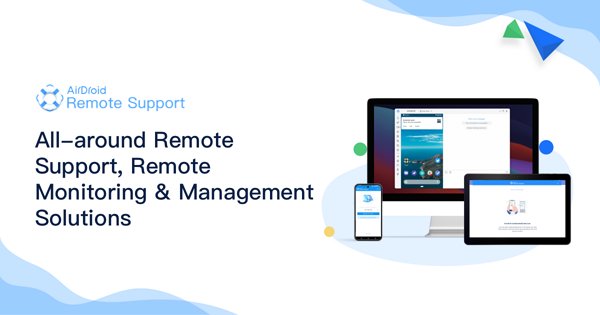 Both AnyDesk and AirDroid Remote Support are remarkable for remote control and support, but which one is better and how can you pick the one according to your preferences? Here comes the comparison of AnyDesk and AirDroid Remote Support:
| Features | AnyDesk | AirDroid Remote Support |
| --- | --- | --- |
| Supported Platforms | Win, macOS, Android, iOS, Linux, Raspberry Pi | Win, macOS, Android, iOS |
| Remote Access & Control | ✓ | ✓ |
| Tutorial Gesture | – | ✓ |
| Unattended Devices Management | ✓ | ✓ |
| Black Screen Mode | ✓ | ✓ |
| AR Camera | – | ✓ |
| Communication Methods | Text | Voice Messages & Call/Text |
| Lightweight and Easy to Use | ⭐⭐⭐⭐ | ⭐⭐⭐⭐⭐ |
Final Remarks
And that brings us to the end of this article. We have dived into the key features, price, and limitations of AnyDesk for Windows online. Now, you know how to AnyDesk use online to remotely access and manage a PC from your web browser. Of course, you can also use the perfect alternative to AnyDesk Online Web - AirDroid Web for online access.
If you ever wanted to remotely control Android from PC, then use AirDroid Remote Support. It can provide the same or richer features of AnyDesk, making it easier for you to support your mobile devices remotely.
Was This Page Helpful?