8 Best Camera Remote Trigger in 2023
How do you take a self-portrait with your professional camera? How can you capture photos and videos without physically touching your camera and disturbing its setup? What should you do to set up a camera in tight corners and operate from a distance? The answer to these questions is a camera remote trigger.
When it comes to buying the best camera remote trigger for your camera, there is no dearth of products. But not all of them are worth purchasing. We have handpicked the best camera remote triggers and reviewed them for your convenience. Also, we introduce a way of using a phone as a camera remote trigger as an extra tip
What is Camera Remote Trigger and Why You Need It?
A remote shutter for camera is a device to trigger the shutter of your camera from a distance. It gives you the power to control your camera remotely. When you press the button on the remote control trigger, the paired camera will start shooting. You can press the trigger button again to stop shooting. Therefore, you can shoot any scene hands-free without shaking the camera the slightest.
It is highly useful when you want to take self-portraits and group photos. It is equally essential when you have set up your camera perfectly, and you do not want to press the shutter button physically to disturb the setup. There will be no slight movement of the camera without physical touch, and hence, the focus will not be disturbed even the slightest.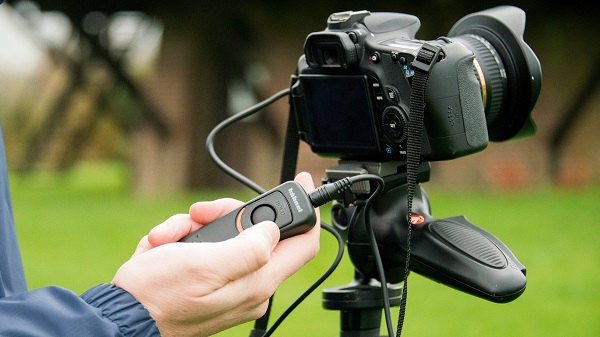 What are the Types of Camera Remote Controls?
There are mainly two types of camera remote controls available – wired and wireless remote for camera.
Wired Camera Remote: A wired camera remote stays connected to the camera through a wire. It sends signals to the camera through the wire based on the user's action. Wired camera remotes are not popular these days as no one wants to carry a long cord. Connecting the remote control to the camera through wire looks photography or videography cumbersome. On the contrary, there is no chance of interference in signal transmission.
Wireless Camera Remote: A wireless camera remote connects to the camera through radio or infrared signal. But a wireless camera remote can also connect to the camera through Bluetooth and even Wi-Fi signals if the option is available on both devices. Since wireless camera remotes are the most convenient, we will discuss the best wireless camera remotes only.
8 Best Wireless Camera Remote Shutter
When you search for the best wireless camera remote control online, you will be spoilt for choice. There are literally endless wireless camera remotes you will come across.
Most of them promise a lot but perform very little. That is why we have picked the best ones for you so that you can choose from them as per your requirements.
1. Canon RC-6
If you own a Canon camera, this is the official camera remote trigger. The wireless remote is compatible with all the popular Canon cameras. You can check the specifications to ensure that the remote control is suitable for your Canon camera or not. It happens to be the best-selling and overall best camera remote trigger.
The operating range is 16 feet which is decent though there are many remote controls available with greater range. You can operate the shutter of the camera immediately as well as choose a two-second delayed operation as per your requirements. There is a bulb mode available for applicable cameras.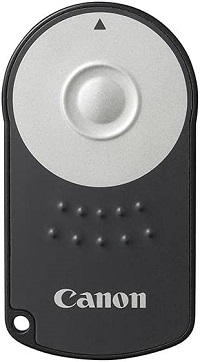 Connectivity: Wireless(Infrared)
Range: 16 feet
Weight: 0.6 ounces
Key Features:
Long-exposure bulb mode available.
Immediate or delayed shutter operation.
Compatible with most Canon cameras.
16 feet of operation range.
Hole to attach a string and carry easily.
2. PIXEL TW-283
If you are looking for a long-range wireless camera remote control, this is the one for you. The remote control has 80 meters of range which should take care of all requirements. It is more feature-rich than any regular wireless remote for camera.
There are four different shooting modes available starting from continuous to delay shooting. The dedicated timer schedule shooting has various sub-divisions for professional photographers and videographers.
The remote control has an anti-interference feature with 30 different channels to avoid interference completely. It is mostly compatible with Canon cameras, but it also supports different brands of cameras. You get a transmitter and a receiver in the package, and both of them are powered by 2 AA batteries.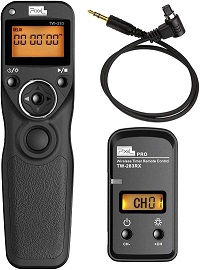 Connectivity: Wireless and Radio Signal
Range: 80 meters
Weight: 0.529 ounces
Key Features:
Four different shooting modes.
Time schedule shooting with different options.
LCD screen to set timer as per shooting needs.
80 meters of very long range.
Avoids interference with different channels.
3. AmazonBasics Wireless Remote
AmazonBaiscs is a budget-friendly, reliable brand from Amazon that caters to buyers with a limited budget. This wireless remote is a decent product that is compatible with Canon DSLR cameras only. You can activate the shutter of your Canon camera remotely from a maximum distance of 10 feet.
Therefore, you can take family portraits easily without physically touching the camera that you might have set on a tripod. Naturally, there will be no vibration and no out-of-focus photos. The device is battery powered, and it comes in a pouch bag for storage. You should check the specifications to find out if your Canon camera is compatible.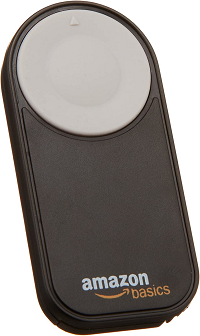 Connectivity: Wireless
Range: 10 feet
Weight: 0.385 ounces
Key Features:
For Canon cameras only.
10 feet range.
One battery required.
Pouch bag for storage.
Budget-friendly.
4. RFN-4s Wireless
If you are a Nikon camera owner, this is the wireless remote shutter release that is highly likely to be compatible with your device. In fact, the remote control has the highest maximum operational range of 320 feet. This is because it uses Wi-Fi signal to connect to the camera wirelessly. There are 16 different channels available to avoid interference.
The most-demanded bulb mode is available on the remote control for long-exposure photography. The remote control is powered by one AAA battery. Thanks to its compact structure, you can accommodate the remote receiver in certain Nikon cameras as well. The improved receiver catches the signal thanks to enhanced antennas and pins.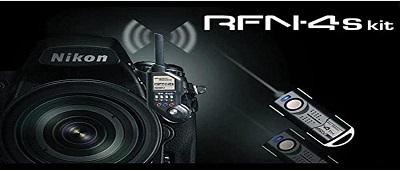 Connectivity: Wireless(Wi-Fi frequency)
Range: 320 feet
Weight: 2.39 ounces
Key Features:
Transmitter and receiver model.
Huge operational range of 320 feet.
Long-exposure bulb mode available.
Compatible with popular Nikon cameras.
Improved receiver to prevent signal drop.
5. Hahnel Captur Remote
This camera remote trigger is compatible with Nikon cameras. The operating range of the device is 100 meters. The remote control is designed for professional photographers and videographers. There are several modes available such as single and continuous shooting as well as bulb mode.
Moreover, there are long-exposure and timelapse photography modes available. The interval timer is fully programmable, and you can set the timer as per your requirements. However, the weight of the item is on the higher side that many can find inconvenient. Furthermore, the transmitter and the receiver need 2AA batteries each for power.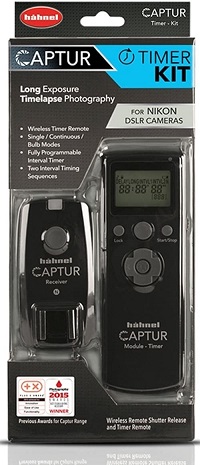 Connectivity: Wireless
Range: 320 feet
Weight: 8 ounces
Key Features:
Single and continuous shooting.
Long-exposure bulb mode.
Timelapse shooting available.
Fully programmable interval timer.
Relatively large LCD screen.
Great operation range of 100 meters.
6. Hama Wireless Remote DCCS
This wireless remote has the longest operation range of around 500 feet. The transmitter and the receiver have a compact structure. You can use an adapter to fix the receiver on the camera comfortably. It features a two-stage shutter release.
There is a dedicated bulb mode operation button. You can also set a timer for burst mode. The remote control is compatible with different brands of cameras. It is powered by 2 AA batteries. However, the mechanism to avoid interference is not strong.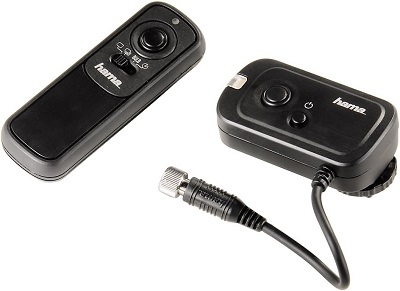 Connectivity: Wireless
Range: 500 feet.
Weight: 4.7 ounces
Key Features:
150 meter operational range.
Two-stage shutter release setup.
Dedicated bulb and burst modes.
Compatible with wide range of cameras.
7. PHOLSY Camera Timer Remote Control
This is an advanced remote control with 11 different buttons. The operation range is around 60 meters which should get all the jobs done easily. There are different modes available such as single, continuous, and delayed shooting. Besides, you get the popular bulb mode for a long-exposure shoot.
For timing control, there are five different settings available. The remote control supports different types of connecting cable for different cameras. The camera remote trigger is compatible with different brands of cameras. In fact, it is the most compatible camera remote control on our list.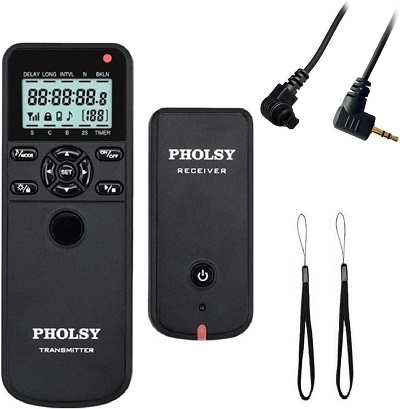 Connectivity: Wireless(Radio Frequency)
Range: 200 feet
Weight: 3.35 ounces
Key Features:
4 modes for shutter release control.
5 settings for timing control.
Super fast shutter operation.
High operational range.
Wide range of compatibility.
8. Xenvo Shutterbug
If you are looking for a remote camera trigger for iPhone and Android, this is the one for you. The phone camera remote trigger is compatible with iPhone and iPad having iOS 5.0 or high. It is also compatible with Android phone and tablet having Android 4.3 or higher. Mount your phone on a tripod and remotely press the shutter button o capture photos and videos.
It is super easy to connect to phones via Bluetooth. There is an indicator to show whether it is connected or not. The device uses Bluetooth 3.0 which shows no lag in operation. The structure is compact and the operational range is 30 feet. It is clearly the best remote phone camera trigger.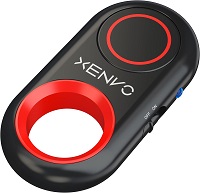 Connectivity: Wireless(Bluetooth)
Range: 30 feet
Weight: 0.282 ounces
Key Features:
Strong build quality and easily attachable.
Instant connection with indicator.
Compatible with almost all smartphones.
Lifetime warranty and great customer support.
Bonus: How to Use A Phone as A Camera Remote Trigger?
Now, we believe that you have a clear thought about the best camera remote trigger. But have you ever wondered you can still use a phone as a camera remote trigger?
In fact, you can even check how the camera frame is looking before capturing the photo or video using another phone. Wondering how? Well, this is possible through AirDroid Personal app that you need to install on both devices. Let's know more detail about this great invention.
Here are the useful features of AirDroid Personal that enables you to use your phone as a camera remote control.
1. Flexible Control Options:
You can remotely view the frame of the camera of the target phone from your phone. Before clicking the photo remotely, you can be sure if the frame is perfect or if you need to reposition.
You can remotely view the surrounding of the target Android camera phone from your Android phone, or from your PC. Therefore, you can use your camera phone as home security camera, pet camera, or baby camera.
You can turn on the flashlight remotely if the surrounding is dark. You can access the front as well as the rear camera of the target phone as per your requirements.
2. Remote Screenshotting & Recording:
Once you see that the front camera or the rear camera has the perfect frame, you can remotely screenshot the target phone screen. Similarly, you can record the screen to capture the scene in video form as per your preference. These captured photos and videos will be stored on your device instantly.
3. One-Way Audio:
You can even listen to the surroundings of the target phone. If audio plays a major role in the video that you want to capture, this one-way audio feature will be highly useful.
4. No Network Limitation:
There is no limitation on the network of the devices. Both devices do not have to be connected to the same Wi-Fi. They can have internet connections through different Wi-Fi networks or through cellular networks.
5. Available for Multiple Platforms
AirDroid Personal enables you control your phone camera from PC desktop app or Web. Also, you can use your Android phone to control another Android phone.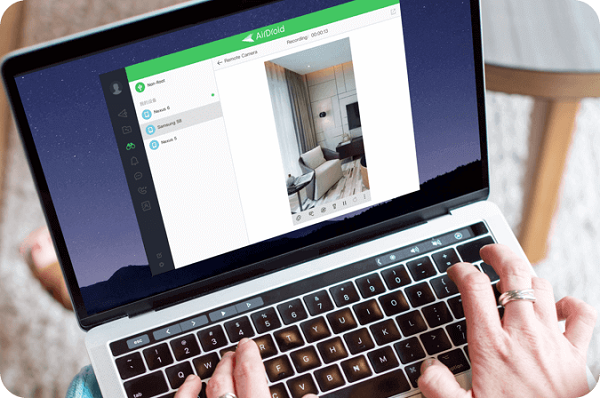 Steps to Turn Phone into A Camera Remote Trigger
Step 1. Click "Download Now" button to install AirDroid Personal on your Android phone and computer. Create AirDroid Personal account and sign into the account from both devices.
Note :
If you want to control your Android phone camera by Android, please download and install
AirMirror
on the controller devices; AirDroid Personal on the controlled devices.
Step 2. On the target phone, go to "Me" option. Tap on "Security & Remote Features" option. Then enable "Remote Control" feature.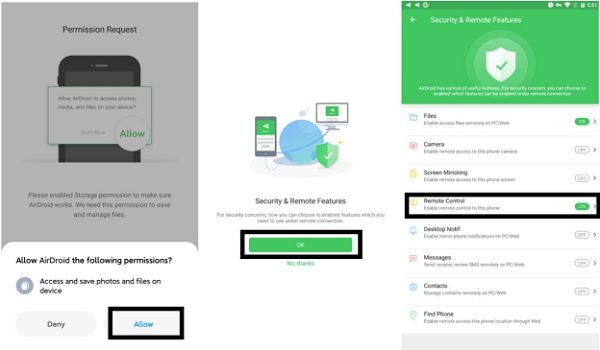 Step 3. Now, you can click on "Telescope" button, then click "Remote Control" on the AirDroid Personal PC application. Now you can control your Android phone and use it as a camera remote trigger.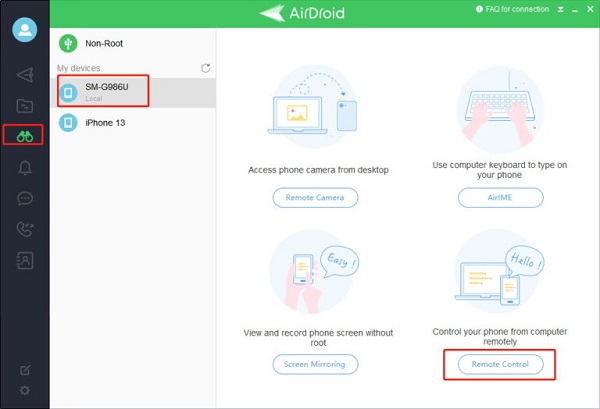 If you don't have more budget for camera remote trigger and have an old Android phone at your home. You could definitely try this way!
Conclusion
A camera remote trigger is a necessity when you are going to be a part of the photoshoot such as self-portrait or family portrait. You should purchase a compatible camera remote trigger. We have picked and listed the best camera remote triggers so that you can go through them and choose the perfect one for remote camera shutter operation.
FAQ about Camera Remote Trigger
How do you trigger multiple cameras at the same time?
You can trigger multiple cameras simultaneously by plugging cables into the receiver. Thereafter, if you press the trigger, all the connected cameras will get triggered.
How do I focus my camera when using the remote?
You should put your camera in auto-focus mode so that the subject in front of the camera gets focused on automatically. Moreover, the subjects should not move too fast, and you should not press the trigger instantly. Therefore, you can wait a few seconds and settle in front of the camera for it to focus and take press the trigger.
Can one blink camera trigger another?
Yes, you can connect multiple Blink cameras together using Sync Module. In fact, you can connect ten cameras at once and you can use Blink app to manage multiple Sync Modules. Therefore, Blink cameras can trigger one another when in sync.
Was This Page Helpful?