Is That Possible to Control Android from iPhone?
Getting access to a device from a distance through another device is not at all an innovation. Previously, only computers had such a function. It was possible to remotely remove a virus from a friend's computer or configure his PC. With the arrival of smartphones, new programs have appeared that allow you to control Android from iPhone devices remotely. There are several possible ways and apps to control your Android from your iPhone.
In this article, I have discussed the three best programs for remote control of an Android smartphone from an iPhone.
Part 1: When Do You Need to Control Android from iPhone?
The reasons are not very important for controlling an Android tablet from an iPhone. Maybe a user wants to play his favorite Android game while using an iPhone or looking for an app that is not available on App Store and available on an Android tablet. Also, if the user wants to spy on the children's Android phones to find out who they chat with, find out where their son or daughter is, which app they use and which sites they frequent search.
Sometimes situations arise when the Android device is not at hand, but it needs to be used. For example, if you forgot your Android mobile at home but you need an important file from it.
For all other cases, you need the best tool that helps you control the Android table from your iPhone. You may consider Parental Control or mirroring apps to resolve this issue. However, such a controlling option is not available on these apps. Therefore, there are several useful apps, such as AirDroid Personal, which you can use to remotely control the Android table from your iPhone.
Part 2: Is It Possible to Control Android from iPhone?
iOS and Android are like oil and water, at least commercially. These are, let's say, the brands that compete for the first place in the popularity of smartphones worldwide, although due to prices and variety, Android devices are the most widespread in many countries.
However, that does not mean that these systems cannot be joined so that a user, owner of two devices with both operating systems, can execute functions that improve their experience. There are lots of third-party apps to control Android devices. For instance, you can use AirDroid Personal, TeamViewer, and VNC Viewer apps to control it.
Way 1: AirDroid
AirDroid Personal is an app that supports multiple platforms for remote control, such as Windows/Mac, Linux (via web), Android, iPhone. So with it you can remotely control Android phone from iPhone.
Besides AirDroid Personal, AirDroid Remote Support also stands out when it comes to controlling Android from iPhone, which helps your friends and family solve problems through remote control and remote support that phone calls cannot provide. The ideal troubleshooting tool for solving problems efficiently.
Although it sounds contradictory, the AirDroid application has managed to link Apple and Android in a certain way, allowing two devices with those operating systems to interact with each other. Here is the comparison table of AirDroid Personal and AirDroid Remote Support:
| Features | AirDroid Personal | AirDroid Remote Support |
| --- | --- | --- |
| Compatibility | Win, Mac, Android, iOS, Web | Android, iOS |
| iOS Remote Support | No | Yes |
| Remote Camera | Yes | No |
| Remote Keyboard | Yes | No |
| Communication Methods | One-way audio | Voice call, voice message, and text message |
| Screen Mirroring | Yes | Yes |
| Unattended Access | Yes | No |
| Tutorial Gesture | No | Yes |
| Easy to use | Need an AirDroid account | No need to register |
| Free trial | Free to use under local network | 10 minutes for free per day |
Applications work in conjunction and allow you to control your smartphone remotely. After synchronizing from your smartphone, you can go to all directories with files of another gadget, use the google messages app, use the camera, download applications, and perform any settings. For example, choose a melody and wallpaper, and adjust the volume of the call. Separate buttons in your menu open a quick access panel on the connected device, where Bluetooth, geolocation, mobile data, and Wi-Fi are located - you can control all these functions remotely.
Other Features of AirDroid Personal
Receive notifications from applications (WhatsApp, Facebook, Telegram) and SMS from an Android smartphone and respond on an iPhone;
Support both root and non-root devices;
Remote wireless file transfer from your smartphone quickly;
Without using USB Cable; No cording requires;
Take screenshots on an Android smartphone through a client's iPhone;
Turn on the camera on your smartphone remotely.
How to control:
Naturally, for two smartphones (an iPhone and any Android) to be able to interact, you need to install the AirDroid Personal app on Android mobile.

Once installed, you will need to log in to your AirDroid Personal account.
On your iPhone, open the Safari browser and go to the web.airdroid.com
Log in to the same AirDroid Personal account in both services for the connection to be possible.
After that, you can see the files contained in your Android.

Click on the Control icon; then you will control your Android phone from your iPhone.
In addition, it will be possible to lock and unlock the smartphone and look at the Android screen from the iPhone. It is not necessary to have the phone rooted to manage it from a distance.
Way 2: TeamViewer
TeamViewer is a free app that provides the functionality to control Android mobile from iPhone. When you mirror an Android device to another iOS device, the second screen can control the main device. So you can check call logs and SMS or manage media files. Moreover, with this tool, you can also transfer files from one mobile to another. Now, let's see how to do it.
How to Control:

Step 1:Remote control is performed over the Internet, so activate the network connection on both devices. It is desirable that it be one Wi-Fi network.
Step 2: Download and install the app on your iPhone, and also download TeamViewer to your Android smartphone using the Play Store.
Step 3: Launch the app on both smartphones and grant all necessary permissions.
Step 4: The device ID to be copied will appear on the main screen of the Android mobile. Copy and paste this unique ID on the iPhone TeamViewer app, then press the Remote Control button.
Step 5: Press Allow on your Android mobile to confirm the process.
If everything is done correctly, then the Android interface will appear on the iPhone screen. Whether you're playing music, reading and sending emails, or taking photos, you'll be able to use all the functions from a distance.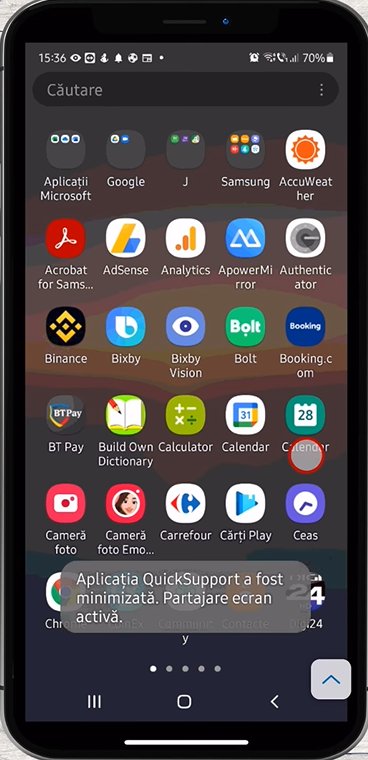 Way 3: VNC Viewer
RealVNC introduced a very useful app in the form of a VNC viewer that efficiently provides quick remote control access to various devices worldwide. You can control your Android tablet from your iPhone with VNC Viewer. A stable and safe connection to the cloud is set up through VNC-compatible devices without the need to set up a network.
The ability to be offered without a network setup is pretty insightful given the primary perception of the market, but it should be noted that the platform that evolves device-to-device connectivity uses an open source VNC viewer or any third-party app.
VNC Viewer offers several features, including backup and synchronization. While VNC Viewer provides total control that users can access to control their Android tablet from iPhone, it provides a secure connection with multiple authentication schemes and full encryption to protect your connection from malicious sources and content.
Let's see how to control the Android phone from iPhone with a VNC viewer.
How to Control:

Step 1:Firstly, open the Android settings and go to the Wi-Fi option;
Step 2:Open the network option and note down the IP address;
Step 3:Connect the iPhone with the same network as the Android mobile.
Step 4: Install the VNC viewer app on your Android mobile;
Step 5: Run this app and click on the plus icon in the top right corner of the app;
Step 6: Enter the IP address you already noted and press save.
Congratulation, you have done.
Part 3: What Is the Solution You Prefer to Choose?
Controlling your Android mobile remotely can be a solution to many problems. The AirDroid, TeamViewer, and VNC Viewer apps are so famous for a reason.
These are the highest quality programs for remote device access. TeamViewer is the most famous remote access software. It's easy to set up and use. The program is available on all mobile and computer systems, so compatibility problems should not arise.
AirDroid offers more functionality than the TeamViewer app. AirDroid is a user-friendly and easy-to-use tool.
It offers a high level of control flexibility. It is also compatible with iOS, Android, and PC. Due to all the above reasons, I personally recommend AirDroid and consider it the best in the market. You already know how to control a smartphone on Android through iPhone, so it remains to find its application in practice.
FAQs
1. Can it support controlling all android phone types from iPhone with AirDroid Personal?
Of course, AirDroid Personal support controls all android phone types from iPhone.
2. Are those remote control software safe?
All the above-mentioned remote control apps are 100% safe and secure.
3. Are those Apps free to use?
Yes, all the apps are free to use, but they also have premium versions to extend the functionalities of the applications.
Was This Page Helpful?