[2023] Control Android from PC without Root in 7 Ways
Nowadays, Android devices are widely used in our daily life and work. Controlling your Android device from a PC offers tons of benefits, be it playing your favorite Android games, watching a movie, managing your social media accounts, or managing your Android-based devices for business, which brings great convenience to your life and work.
Luckily, the internet is full of such apps that allow you to remote control Android from PC effortlessly. But most of these softwares are sluggish and not as efficient as the companies claim them to be. To help you out, we have handpicked some top-ranked tools that anyone can use easily.
Part 1: Remote Control Android from PC without Rooting – AirDroid Personal
When it comes to the best and most efficient Android remote control app, AirDroid Personal stands out from other players in the market. It is award-winning software that offers an intuitive way to remotely manage your Android phone from a PC.
No matter which Android phone you're using, all it takes is a few clicks to control it right from your computer. Not to mention it doesn't require you to root or jailbreak your smartphone. What makes it so popular is its sleek and modern interface so that even entry-level users can enjoy its impeccable features.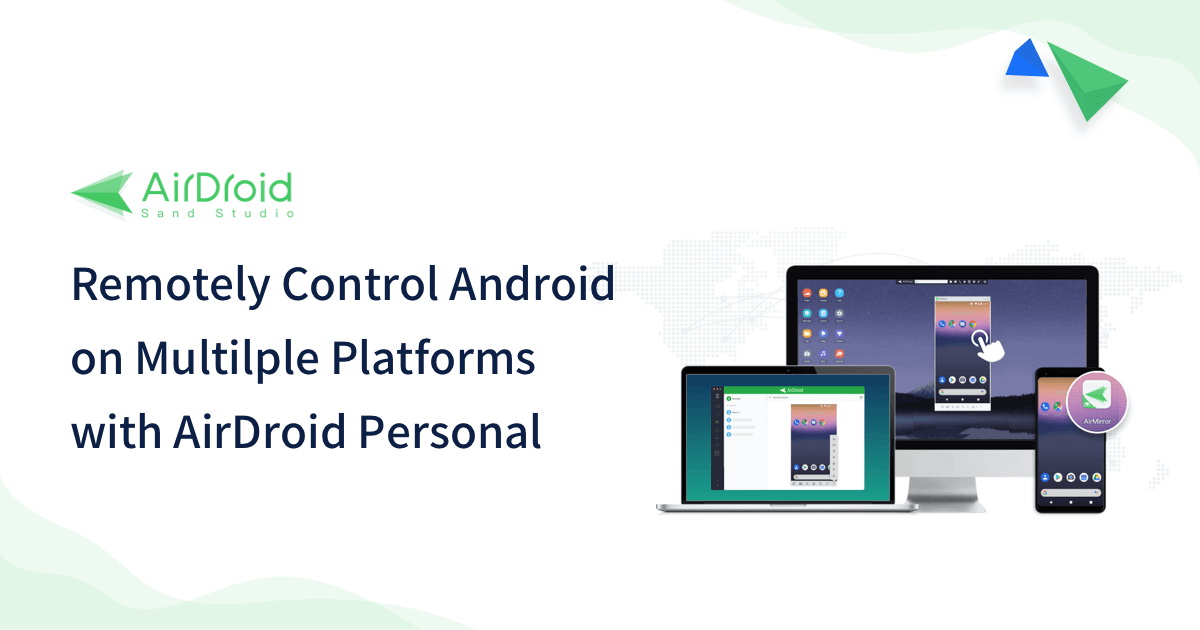 Key Features
Remotely access and manage your Android phones without rooting
Provides a consistent and seamless connection between Android and PC without USB
Transfer files between Windows, Mac, Linux(via web client), iOS, and Android devices
Comes with a built-in screen recorder to capture your Android phone's screen
Offers a remote camera feature to see everything near the device
Manage your SMS, calls, and other mobile notifications from your PC
Pros
Compatible with all Android phones and tablets
Supports non-root devices
Very easy to install and use
Free version meets your basic needs, budget-friendly on the premium plan: 3.99/1 month; 29.99/1 year
This tool offers two simple ways to control Android phones from a PC with Wi-Fi. Here are text guides for all of them.
1 Wireless Remote Control Android from PC
This method is a go-to choice for most users as it allows them to access the unattended Android device remotely and use the computer screen more efficiently.
Step 1. First of all, download and install AirDroid Personal both on your Android device and PC. Launch it and sign in with the same AirDroid account. Make one, if you don't have any.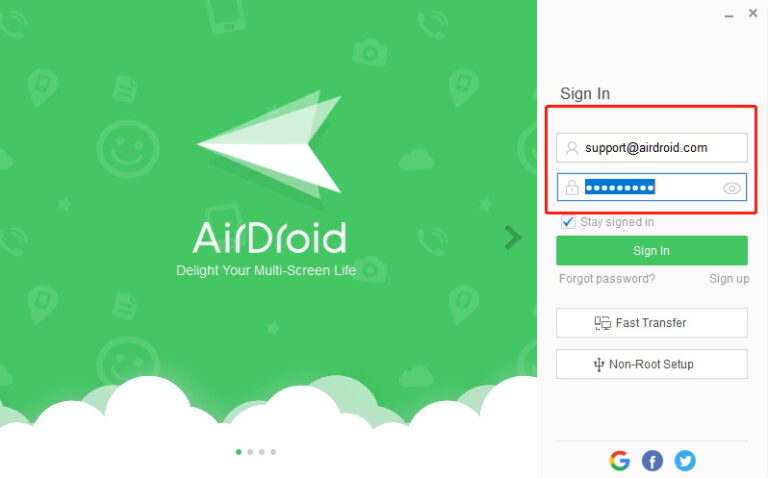 Step 2. Now, follow the step-by-step instructions to give permission to the program on the phone.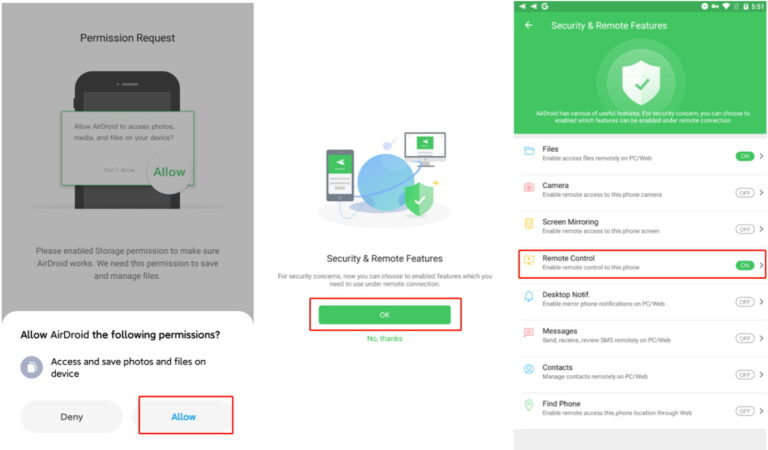 Step 3. After that, click on the Telescope icon in the left bar. The program will show the mobile devices synced with the same account. Here, select the Android device you want to control and hit on "Remote Control" to establish the connection.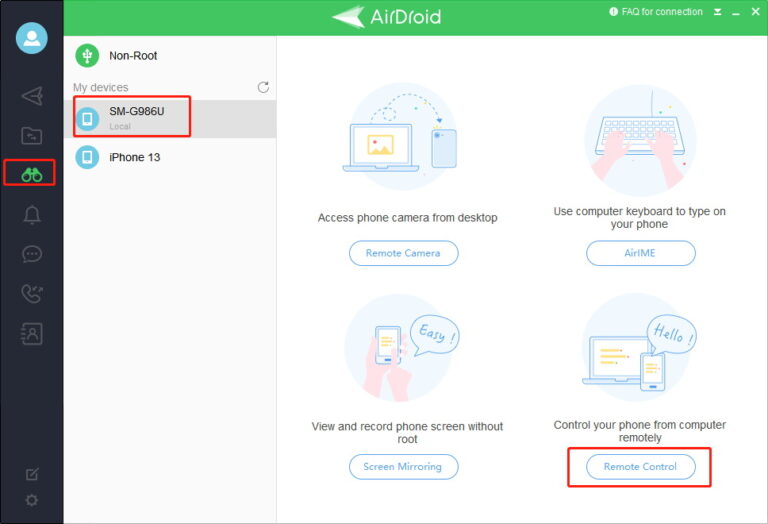 Step 4. The program will display the Android screen on your PC that you can control with a mouse and keyboard.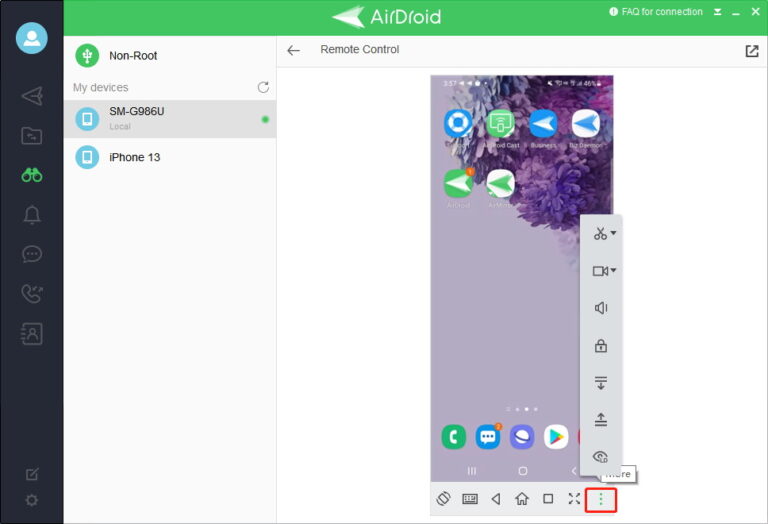 2Control Android from the Web without App
If your devices have access to a healthy Wi-Fi connection and want to access Android from PC without the app, then you can use AirDroid web with browsers like chrome and firefox. It also gives a seamless and secure connection.
Step 1. Be sure that both your computer and Android phone are connected to the same Wi-Fi network.
Step 2. Now, launch the app on your smartphone and go to AirDroid Web and then scan the QR code as shown in the figure.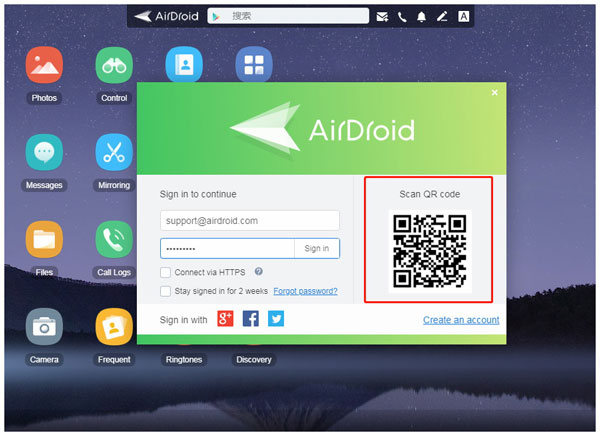 Step 3. The program will take just a few seconds to connect your devices. Now, start enjoying the Android screen from your PC. As you can see, You can also remote access Android files, music, videos, etc. from this interface.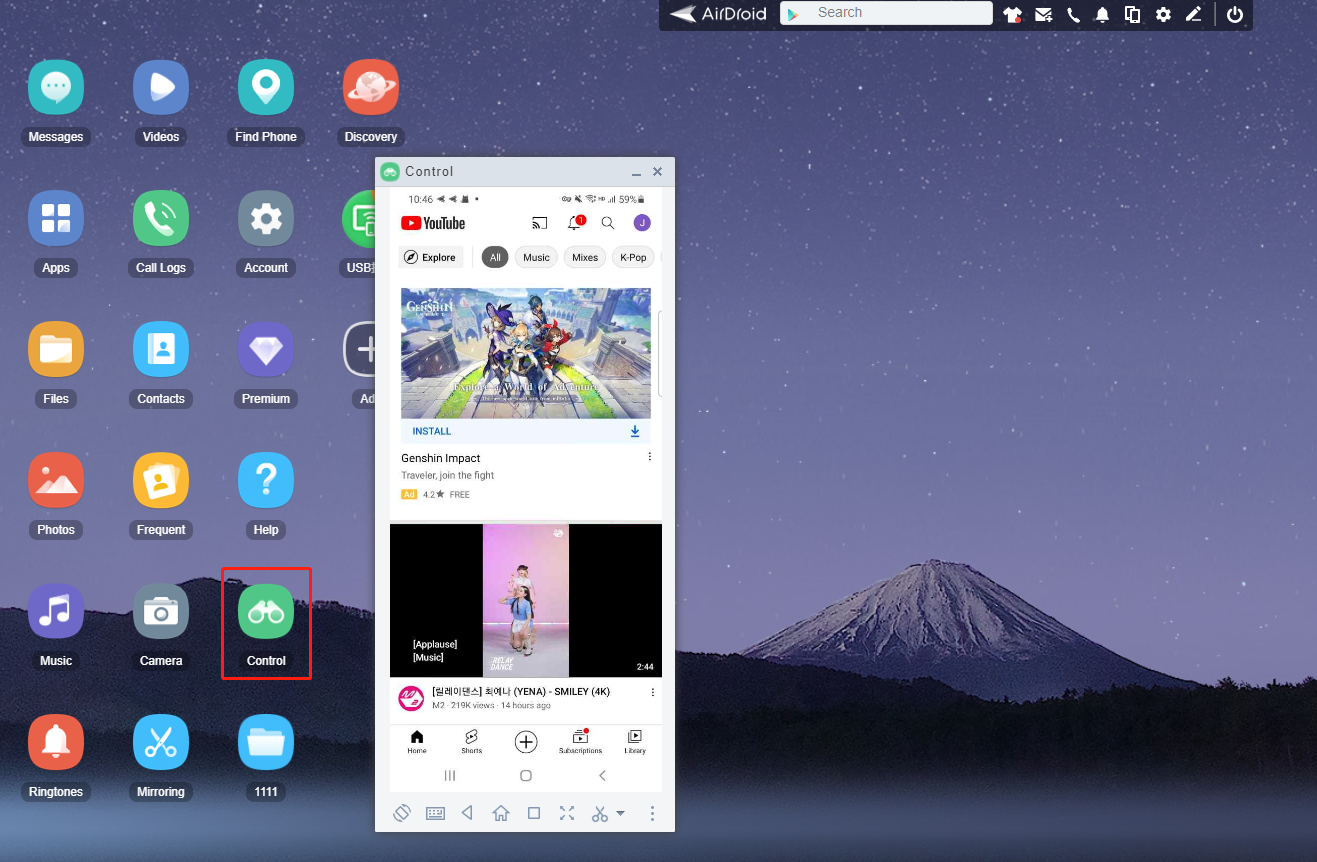 Part 2: Remote Control Android from PC – AirDroid Business
AirDroid Personal is as its name, which is best for personnel to control their Android devices. However, if you are running a business and want to control the company's multiple Android devices. Well, here comes the AirDroid Business.
AirDroid Business is the best Android mobile device management solution. It provides the best functions to help you manage your Android devices from PC, Web, Android, or iOS devices, hence, you can effectively control and manage Android devices for your business. Want to know about AirDroid Business? Just read on.
Key Features of AirDroid Business
1Remote Access & Control:
Imagine if your or your customers' devices are down due to some problems, and it's urgent to fix them. However, all of you are far away from the devices and unable to reach them quickly. At this time, controlling devices remotely become important.
Well, here is what AirDroid Business does. With it, technicians can remotely access and take full control of devices to troubleshoot immediately. Therefore, it improves work efficiency, reduces device downtime, and saves costs for business.
2Device Management & Security:
Controlling large deployments is never an easy thing, however, with AirDroid Business, you can manage a large number of your mobile devices easily. You can manage mobile devices in groups based on your business needs and set access limitations to avoid data breaches.
Moreover, AirDroid Business can create alerts to monitor the metric on your devices. When there is an irregular behavior, this will trigger the set workflow and send you a notification, and you can check it immediately to avoid making things out of control.
3App Management:
Being unable to keep apps updated all the time might slow down your business operation, in worse, it might even result in a security breach. Therefore, managing your device's app is very important.With AirDroid Business, you can easily manage
With AirDroid Business, you can easily manage your devices' apps remotely and easily to make sure these apps run well on the devices.
4Policy & Kiosk:
With AirDroid Business kiosk mode, it allows IT admins to lock Android devices into single app mode, whitelist websites, and block unauthorized network access, which can effectively protect device data.
Furthermore, based on kiosk mode, AirDroid Business provides a series of Policy templates. You can choose the templates that suit your business's device management needs.
5Track & Geofence:
With AirDroid Bussines tracking and geofencing feature, you can locate your device in real-time location, trace the history device location and path. Also, you can set the geofence for your devices, if the devices enter/exist the set areas, you will receive the alerts.
6File Management:
Files are essential parts in the business, hence, AirDroid Business also supports the feature of file management. With it, you can manage files, like transfer, copy, paste, and delete, on remote devices.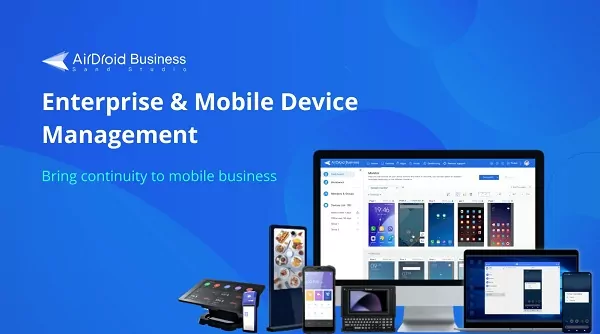 Part 3: Other Tools to Control Android from PC
Here are some other proven software that you can use to remote control Android phones. Check out which tool best fits your requirements.
1. TeamViewer Quick Support
TeamViewer allows users to easily access and remote control your Android from your PC with fast and reliable service. Moreover, you can transfer files from and to devices quite effortlessly. However, it's priced at $50.90 per month which is very expensive for entry-level users.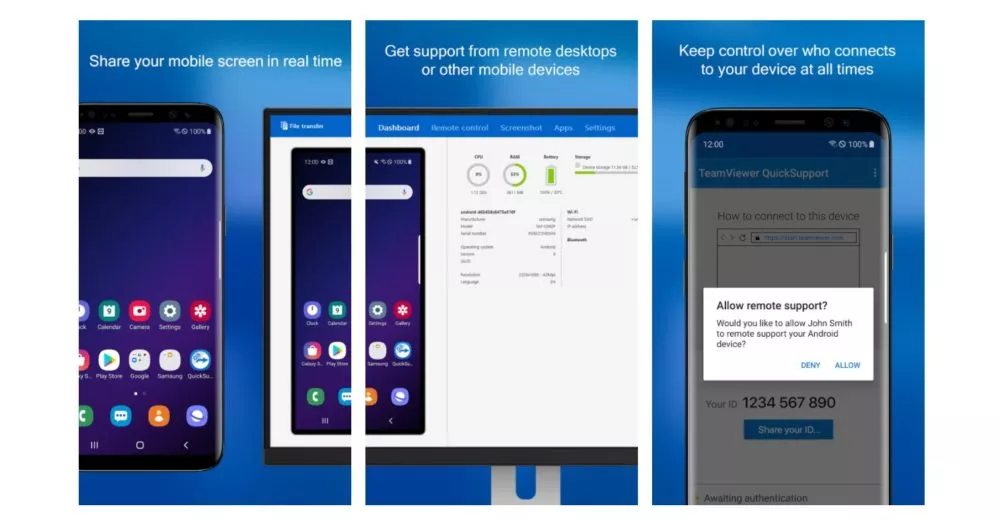 Pros
Quick and fast remote connections
Transfer files between devices
Integrations for Mobile Device Management and other apps
Cons
Very expensive
Interface is quite complicated for beginners
2. Scrcpy
Scrcpy is a free and open-source screen mirroring application that is a perfect choice for beginners due to its easy and simple interface. Users can rely on both USB and Wi-Fi to connect their devices for screen mirroring as well as notification management. Moreover, it doesn't require any root access.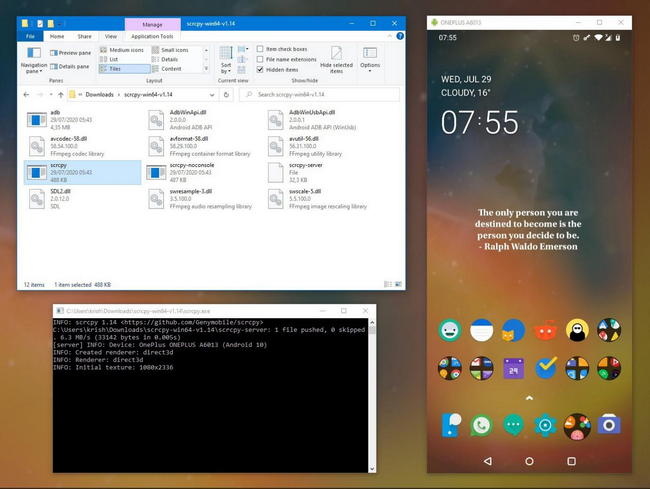 Pros
Easily manage all the tasks on your Android from a desktop
Cross-platform support
Offers a quick way to share files
Cons
Not suitable for professional users due to low speed and efficiency
3. ApowerMirror
Arguably one of the most popular screen mirroring apps to remote control Android from PC. With just a few clicks, you can connect your Android phone to a PC and then, control it with mouse and keyboard.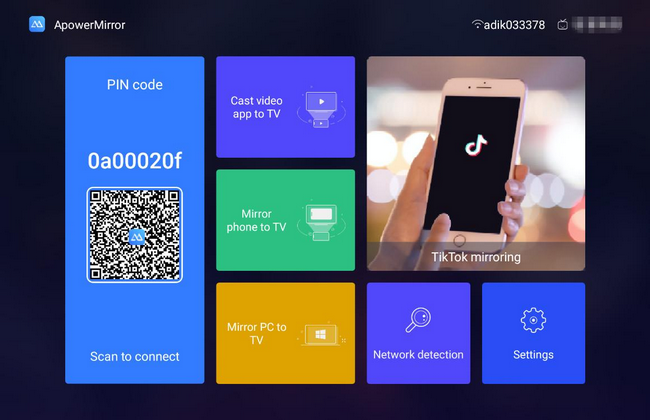 Pros
Comes with a built-in screen recorder
Take screenshots while recording
Cast both Android and iOS phones to a PC
Cons
Users complain of laggy connection
It disconnects too often
4. Samsung Flow
Just as the name indicates, Samsung Flow allows users to control android from PC. This app is particularly useful for Samsung users to get a quick, consistent, and seamless connection. Once connected, users can manage notifications, settings, and other features of their Android devices. On top of that, it provides a quick way to move documents between your computer and Android devices.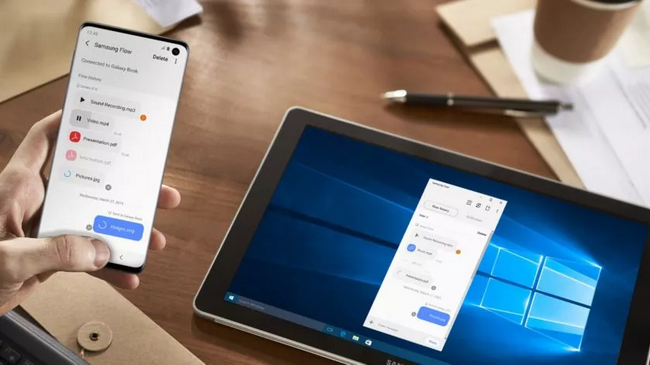 Pros
Secure and fast connection between your smart phone and tablet or PC
Transfer documents
Get notifications on a big screen
Cons
Often gives unexpected bugs
Not so user-friendly
Part 3: How to Make Choice Among Them
Now that you know about the most popular apps that make it extremely easy to Android remote control app from PC. But the question stands: which app you should use to get the best possible results.
Based on user feedback and our own research, it's safe to say that AirDroid Personal is the best remote control Android app when it comes to price, efficiency, speed, and ease of use. The below table will further make it clear.
| | | | | |
| --- | --- | --- | --- | --- |
| Tools | Personal/Business Use | Ease of Use | Speed | Price |
| AirDroid Personal | Personal | Very easy | Fast and secure | Free/$3.99 per month |
| AirDroid Business | Business | Easy | Fast and secure | $12/device/year |
| TeamViewer Quick Support | Personal | Difficult for beginners | Fast speed, disconnects quite often | $50.90 per month |
| Scrcpy | Personal | Quite complicated | Too slow | Free |
| Samsung Flow | Personal | Complicated | Quick connection | Free |
| ApowerMirror | Personal | Easy to use | Moderate speed but shows lagging | $29.95 per user, per month |
So, use the premium version of AirDroid Personal to manage and control any Android phone or tablet from the comfort of your big screen. Moreover, if you are looking for a way to control any Android device, AirDroid Business would be the best.
FAQs About Remote Control
Can I control my Android phone from a PC on the same LAN?
Yes, you can easily control your Android phone from PC on the same Lan with AirDroid Personal. Download AirDroid Personal on your computer and click on the Telescope icon in the left bar. Then, choose the Android device from the available options. Finally, hit on "Remote Control" to establish the connection.
How can I control my Android phone from PC wirelessly?
You need a competent third-party app like AirDroid Personal to control your Android phone from PC wirelessly. As the best Android remote control app, AirDroid allows users to control Android from PC via wifi and remote connection mode.
Can I control my phone from my laptop?
Whether you're using a Mac or Windows laptop, it's very easy to control your Android phone from it. You can use screen mirroring tool like AirDroid to get a secure and seamless connection.
Was This Page Helpful?