2023 Top 5 Find My Phone App for Android&iPhone
One of the most essential items we own in this modern world is our phones. Most individuals would find it difficult to function a day without their phones. Whether it be for work or keeping up with personal relationships, your phone is essential. So it's no wonder people get frustrated when they lose their phones.
Lucky for us, there are now plenty of apps that find your phone in case you lose it, or it gets stolen. But with so many options to choose from, it can be hard to decide which one you should use. It's better to be prepared and use an app with all the features you might need in case your phone gets lost. So let's figure out the best find my phone app for you.
Part 1: Top 5 Best Find My Phone Apps
Since there are so many apps out there that can help you retrieve your lost Android phone, it's only natural that there's no one best app for everyone. Depending on your preferences, you might find one app to work better than the other. So that's why we've scoured the internet to test the best options so that you can choose for yourself. Let's begin.
Find My Device or Find My Phone Android is Google's built-in method of an Android find my phone app. The function is built-in to most newer Android phones.
So even if you don't have the app installed and you lose your phone, you can go to the web version of Find My Device and locate your phone from there, as long as you are logged in to your Google account on your phone.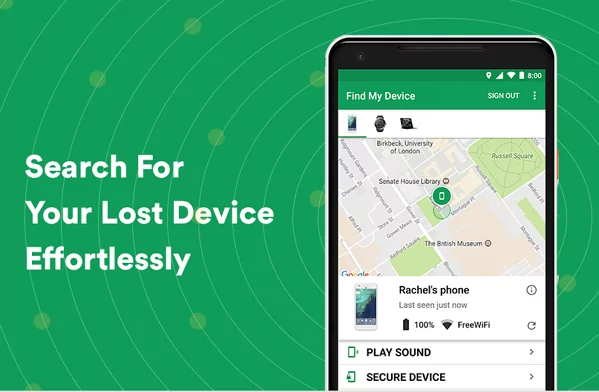 The app itself is pretty easy to use as well. It has all your basic features like locating the phone, wiping data, calling the phone, etc. So you can use it to contact your phone and see if you hear it ringing anywhere near you.
The wipe or erase features can come in handy if you can't find your phone, which may have been lost or stolen forever. Overall, it's a decent app that does what it's supposed to without extra features or hassle.
Supported OS: All Google-enabled Android phones
Price: Free
Pros
Easy to use
Supports most Androids
The native device tracking feature
Developed by Android
No ads
Regular updates
Reliable
Cons
No other features
Very basic
Having an AirDroid on your phone is like having a swiss army knife for your smartphone. It has many diverse features that can come in handy in emergencies. While it is not an app to find phones but a file-sharing app, it also has a Find My Phone feature. You can use it to find lost Android phones, as well as remote wipe phone data with ease. It would help if you had the AirDroid app installed on your phone and set up your account for this app to work when your phone gets lost. Since you never know when that can happen, it's usually a good idea to install this app on your phone because it has many valuable features.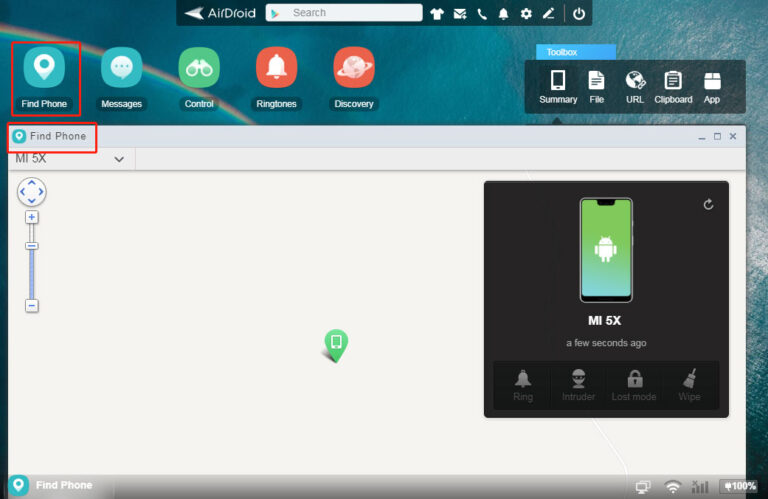 Supported OS: Android, Web
Price: Free, Premium Plans available as well
Pros
Multi-purpose
Easy to use
Feature-rich
Supports multiple devices
Cons
The phone needs to connect to the internet to work.
Cerberus is another excellent app that is useful for Android phone finders. You can use it to lock your phone, reset your phone, sound alarms, display messages on the screen, and much more.
Perhaps the most fantastic feature of this app is that it lets you take a picture with your phone's front-facing camera. So if your phone gets stolen, you might be able to get a picture of the thief, and you can even record audio from the mic. This app is excellent to help you catch thieves.
Supported OS: Android
Price: 6 USD/year
Pros
Feature-rich
Remote control with SMS
Backup your data
Hide it from the app drawer
Disguised version available
Cons
Paid
Not available on the Google Play store
If Cerbeus was a little bit too invasive for you, then something like Prey is much more lightweight and minimal. It can help you locate your device, lock it, and even remotely set the alarm.
It works very similarly to Google's find my device application. So, in case you want a better version of that simple app, Prey is the one to choose!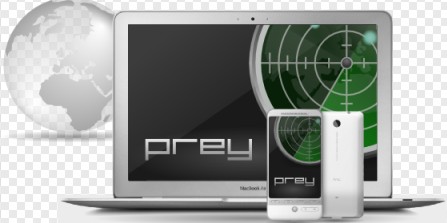 Supported OS: Android, iOS
Price: Free and Paid versions available
Pros
Minimal
Easy to use
Reliable
Geofence creation
Two-step authentication
If you are looking for an app to find a phone, then the McAfee Security app is a great tool. Not only can this help you locate your phone, but it is also mainly an antivirus app. So, it helps you keep your phone safe and secure from all threats.
You can use the app to take photos of the thief in case your phone gets stolen. You'll also get to see the last saved location of the phone before the battery dies or someone turns off the phone. So, if you just lost your phone without any battery, you'll probably be able to locate where you left it. This feature can also help you know your phone's location if the thief turns it off.
Supported OS: Android, iOS, Windows
Price: 109.99USD/year
Pros
Lock device remotely
Remotely wipe data
Backup and restore
Last location
Anti-virus features
Part 2: Editor's Choice
Out of all these apps, we recommend AirDroid Personal because it's such a multi-purpose app. It not only allows you to find your phone, but it also allows you to remove sensitive data from your phone and remotely control it. This is an app that can come in handy when things go wrong. Not to mention that you can also use this app for file transfer.
You can log in to the app's web version from any browser to locate your phone or remote access it. Even if your phone isn't lost, you can use this app to use your phone remotely and make your life easier. You can get notifications, send messages, and even make calls.
However, if you don't want to install apps, then Google Find My Device is the best choice. Since it's a native feature on all Google-enabled Android phones, it can work even if you do not have the app installed, and you can log in to any browser from anywhere to locate your phone. It's very reliable, and it should be the first step you take to find your phone.
While there are plenty of apps to find your phone, the best find my phone app for you depends on your preference. Apps like AirDroid are great because they have tons of other features as well, and you can use the app for many different problems. It's now easier than ever to find a lost or stolen phone. We hope this helped!
Should you report it to the police if your phone gets stolen?
Yes, if you find that your phone isn't simply lost but stolen, it's always best to report it to the police. Even if you locate your phone using an app and can wipe all your data, you should still report all your findings to the police so that they can catch the thief and prevent future incidents from occurring.
How do you know if your phone is lost or stolen?
If your phone is lost or you accidentally left it somewhere, you should be able to locate it with an Android phone locator app and go to the location to retrieve it. Try calling your phone. The thief will shut your phone off and discard the sim card if it's stolen. Check the phone's location and see if it's changing or in an unusual place. These are all signs of theft.
Can you use phone finder apps without the internet?
Yes, even if you turn off the data connection on your phone, you can still locate it using a phone finder app. GPS systems can also use radio signaling to find your device. If there is no internet or data connection, the phone can still send radio signals to help you locate it.
Can you find my phone with Google IMEI?
Unfortunately, you cannot use your IMEI number alone to find a stolen or lost phone. However, in case your phone is stolen, it's essential to report your IMEI number to the police and your mobile carrier so that they can mark the phone as stolen in their database in case a new sim is used with the phone.
Was This Page Helpful?