How to Fix the Phone Touch Screen Not Working Issue [2023 Update]
What could be more irritating than your phone touch screen not working? The phone becomes literally useless, and you cannot perform the immediate necessary tasks. However, the 'phone screen not responding to touch' is surprisingly a common issue.
Before taking your phone to the service center, you can try and fix the phone yourself. Wondering how? Don't worry, in this post, we will illustrate how to fix the issue .
Why Is My Phone Not Responding to Touch?
There can be several reasons why your phone is not responding to touch. Here are a few common causes:
Physical damage
If your phone is not responding to touch after dropping or being exposed to water, you may need to have the screen repaired or replaced. But in such cases, you can try to dry out your cell phone. A dropping may cause the internal digitizer connection to become loose; lightly tapping each corner of the phone may get the issue fixed. You may test which part is loose before tapping.
Software issues
Sometimes, your phone touch screen is not working in some areas or responds wrongly to your correct touches. A software glitch or a bug may cause it. Restarting your phone or upgrading your operating system may help resolve the issue. You may also optimize Galaxy device performance to improve your phone's overall performance.
Some special features and developer mode may also cause the touch screen not to respond on your Android phone. You can follow the steps to turn them off.
If malware gets downloaded, the touch screen not working Android can occur. Rebooting your phone in safe mode may help you identify the issue. You can also Otherwise, you may have to perform a factory reset.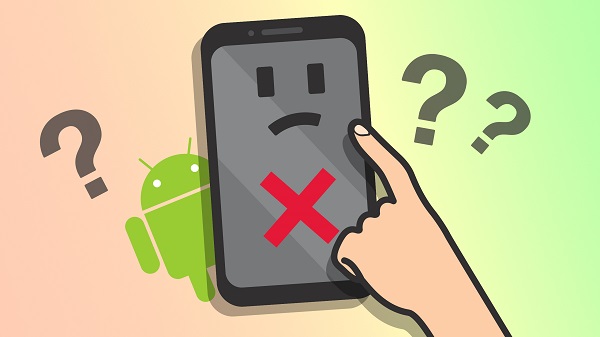 Touch screen calibration
Occasionally, the touch screen may need to be recalibrated. This can be done through the settings menu of your phone.
Insufficient Storage Space
Insufficient storage space in smartphones can cause unresponsive touchscreens and other issues. Clearing out clutter by deleting pictures, files, apps, and media can free up space. After doing so, restart your phone.
Hardware malfunction
In some cases, a hardware malfunction can cause the touch screen to stop responding. Removing the memory card and SIM card and inserting them later can make the touch screen malfunction. Cleaning the built-up dirt or taking off the case and screen protector may be another way to solve the problem.
If your charger is damaged, it may not provide power to your device, leading to phone touch screen not working when charging. To avoid this, we recommend using a different charger that is undamaged. Additionally, it is advisable to refrain from using the touch screen while the device is being charged.
Overheating
If your phone is overheating, it may affect the touch screen's responsiveness or respond very late and lag. Give your phone some time to cool down and see if the issue persists.
It's important to note that these are general suggestions, and the specific cause of the issue may vary depending on your phone's make and model. If none of the below solutions work, it may be necessary to take your phone to the service center and have it examined by a professional technician. You may also try Android remote control apps or seek help via a remote support software like AirDroid Remote Support.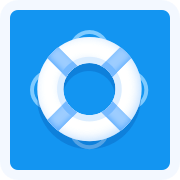 How to Fix the 'Phone Touch Screen Not Working' Issue
No matter whether your phone touch screen is not working due to physical damage or technical issues, here are the ways and steps you need to follow. Here are the ways to fix the phone screen not responding to touch.
Dry out Your Cell Phone
Dropping your Android device into the water can easily damage the touch screen, even though there are so-called waterproof Android devices available. But keeping the device under water for long will damage the device from its interior.
Therefore, when your phone drops into water, take it out as soon as you can. Then, remove all the removable parts of the device. Use alcohol to wash your device to remove dirt and minerals. Keep your device parts in a sealed packet of rice. The process dries off the device parts. After that, place them outside to dry off to the extreme and see if the problem is solved later.
Test Touch Screen
First of all, you should knock on the touch screen a few times in each corner. It can snap back the loose connection that is responsible for the touch screen not working. After that, you need to check the touch screen for bugs and find dead zones.
The best way to ensure that is by using star codes. Different Android phones and tablets have different compatible star codes. Here are the star codes to dial on your device.
For Samsung devices, dial *#7353#.
For Sony devices, dial *#*#SERVICE#*#*or *#*#7378423#*#*.
For HTC devices, dial *#*#3424#*#*.
For Motorola devices, dial *#0*#.
Once you dial the star code successfully, your device will get into diagnostic mode. It is where you can test the torch screen by choosing from different screen testing options.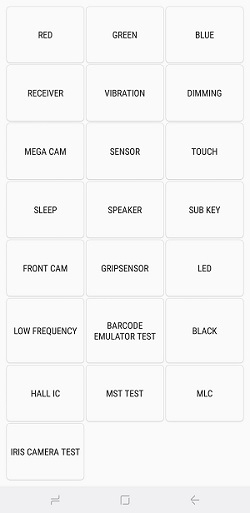 Restart Your Phone
Restarting your device is the first step to perform when your phone touch screen is not working for non-physical damage. It is referred to as soft resetting. Since the touch screen is not responding, you cannot turn your device off from the option on the screen. Here are the steps to follow to restart an Android phone.
Step 1: Press and hold the "Power" button until the device turns off. If you wait for a few seconds only, you will see "Power Off" and "Restart" options on the screen.
Since the entire screen is not responding, it is of no use to you. Hence, you should press and hold the "Power" button as long as required.
Step 2: Wait a few seconds when the device turns off.
Step 3: Press and hold the Power button for the device to get restarted.
For iPhone users, the steps are different due to devices. Please follow the steps from Apple.
Check if the touch screen is not working issue is solved. Otherwise, go ahead and execute the following methods.
Upgrade Your Operating System
If there is a new operating system, updating it may solve the issue of 'touch screen of phone not working.' Please make sure that your phone is connected to a stable Wi-Fi network before updating your phone. Then go to your phone's settings menu and look for "Software Update" or a similar option. Tap it to check for available updates. If an update is available, your phone will prompt you to download it. Ensure your phone has enough battery, or connect it to a charger. Follow the on-screen instructions to complete the update.
After installing the update, it may require a restart to finalize the process. Restarting your phone is recommended to ensure all changes take effect.
Optimize Device Performance
Improving your phone's performance with the Device Care feature may solve the issue. But, the feature is only available on Samsung Galaxy devices. It scans for wasted storage space and identifies potential issues. To optimize your device, go to Settings > Battery and device care > Optimize now.
Adjust Touch Sensitivity
The exact steps may vary slightly depending on the device model and version of the operating system. Let's take the steps of Samsung and iPhone as examples.
For Samsung Galaxy device, please go to Settings > Display or Display & Brightness > Touch Sensitivity or Touch Calibration, then follow the on-screen instructions to calibrate or adjust the touch sensitivity as desired.
If you are facing issues with an unresponsive or inaccurate touch screen on your iPhone (6S to XS), it could be related to the sensitivity of the 3D Touch feature. To resolve this problem, you will need to make some adjustments. Please head to Go to Settings > Accessibility > Touch > 3D & Haptic Touch, then follow the on-screen instructions to adjust the touch sensitivity as desired. If the screen continues to be inaccurate or unresponsive, you can try turning off the 3D Touch feature.
Turn Off Special Feature or Developer Mode
Running some special features like TalkBack or gestures may cause your phone screen not to respond. If you have enabled them, follow the steps to turn them off. For the TalkBack feature, simply go to Settings > Accessibility > TalkBack and tap the switch. For the gestures feature, just go ahead to Settings gt; Advanced features gt; Motions, and Gestures and tap all the switches.
The developer mode allows users to customize settings and remove certain limitations that are restricted. When you turn on Developer Options, certain Android devices start malfunctioning. If your touch screen is not functioning properly after turning on Developer Options recently, you should turn off Developer Options. Here are the steps to follow.
Step 1: Open Settings apps on your Android devices.
Step 2: Go to the System option, which is generally available at the bottom.
Step 3: Tap on Developer Options. You can understand if the option is turned on.
Step 4: You should turn off Developer options by toggling it off.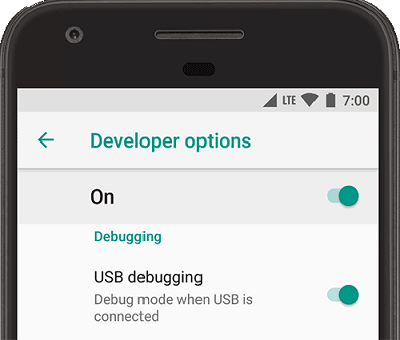 Step 5: You should restart your device and see if the Android touch screen randomly stops working.
Turn On Safe Mode
Whenever you suspect that the issue on your device is due to software and apps, you should enter into Safe mode. In Safe mode, the device works with the basic and essential software and hardware support. If your touch screen works in safe mode, you can rest assured that it is a problem with some app or program you downloaded. Start with recently downloaded apps and go from there.
You can take the below steps to turn on safe mode.
Step 1: Press and hold the Power button for some time to restart your device.
Step 2: Keep holding the Power button. When the manufacturer logo appears, release the Power button.
Step 3: Immediately after you release the Power button, press and hold the Volume Down button.
Step 4: Once your phone enters safe mode, you will see the Safe Mode label in the bottom-left corner.
Reset Device to Factory Settings
When uninstalling the recently installed apps does not solve the problem, you can perform a factory reset. It will restore your device to its initial state when you unbox the device. It means all the installed apps and the changes made to settings will be gone. All the phone data will be erased, including any malware present on your device that could be causing the issue. You may check the Samsung office website or iPhone office website to hard reset your phone, for other Android device, refer to the guide of Google.
Note:
Factory
resetting will erase all the data on your phone. Please back up your device before operating.
How to Control Your Android Phone When Phone Touch Screen Not Working
Remote Control Android Phone via AirDroid
If your Android phone screen is not working in some areas, you can use AirDroid Personal app to take full control of your phone. You can also use it to manage and back up your data before taking your device to the nearby service center.
Key Features of AirDroid Personal
Remote control your phone from your computer for versatile operation
Manage, back up, and transfer files among your phones and computer wirelessly
Transfer files without an internet connection with Nearby feature
Mirror phone screen to your computer for better viewing
Remote monitoring through phone's camera and mic from your computer
Access phone notifications, text messages, and reply to social media messages
Steps to Use AirDroid Personal:
You should have the AirDroid Personal app installed on your Android device beforehand. When your device screen gets broken, you can establish a wireless connection comfortably. Here are the steps to remote control your broken screen from your computer.
Step 1. Download and install the AirDroid Personal app on your phone and computer beforehand.
Step 2. Create an account for AirDroid Personal. Launch AirDroid Personal on both devices and log into the same account.
Step 3.On your phone, open AirDroid Personal app. Go to "Me" located at the bottom. Tap on the "Security & Remote Features" option. Turn on the "Remote Control" option and other options you may need by following the on-screen instructions.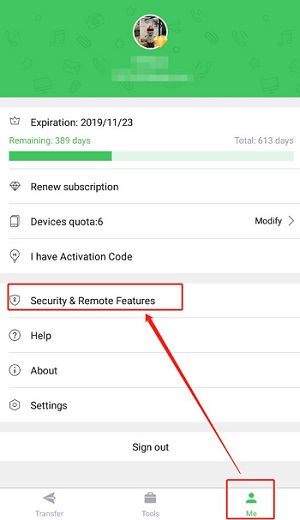 Step 4. After turning on the Remote Control option, you need to install the AirDroid Control Add-on app. You can install the app from Google Play directly. It will help in establishing a seamless connection for remote control.
Step 5. Under My Devices, select your phone.Click on the Remote Control option on the left panel. After that, click on the Remote Control button.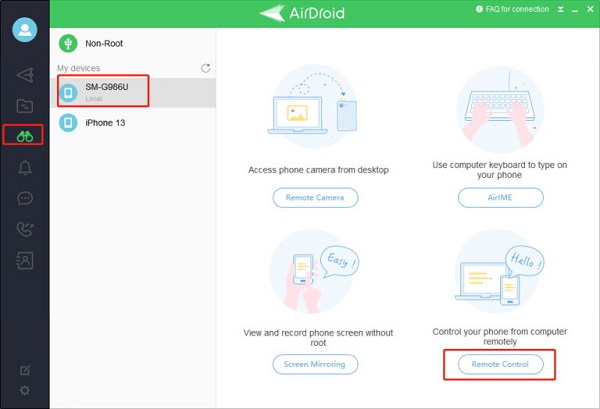 Step 6. Once your computer is connected to the broken screen device, you will see your device's screen on your computer. You can operate your phone remotely and control the phone easily.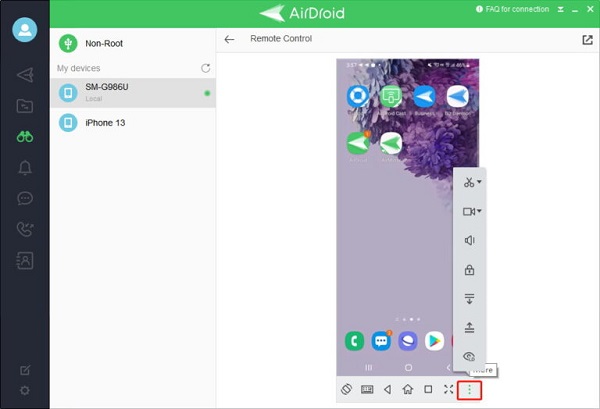 Control Device via Facial Movements or Voice Commands
When an Android phone swipe is not working, you can use your facial movements and voice commands to operate your device. It is more of a temporary solution to do some immediately necessary tasks on your device.
For voice control, you can use Google Voice Access app. You need to install the app beforehand. The app assigns a number for each action. Once you have assigned a number, you can call out the number to execute the correction action. Instead of numbers, you can use phrases for performing pre-defined actions.
For facial movement, you need to install EVA Facial Mouse app. The app brings a virtual cursor to your device, and the cursor moves as you make movements of your face. When the touch screen does not work, you can perform any action like a computer with facial movements.
Conclusion
We have stated how to fix the Android tablet touch screen not working, and the same is applicable to Android phones. You have to first decide if the touchscreen issue is due to physical damage or a technical issue. Accordingly, we have provided the solutions. For immediate access or remote support to your phone, you should use an Android remote support tool to remote control your phone or tablet.
Was This Page Helpful?