[100% Working]4 Methods to Tether Android to PC
It is not always possible to be around good Wi-Fi or an ethernet connection. At that time, tethering Android to a PC came in handy. It's a convenient tool that can save you a lot of hassle. And in this guide, we will be discussing how to tether Android to PC in a few different ways.
With tethering Android to PC, you can forget the ordeal of looking for Wi-Fi wherever you go. You can just use your phone's cellular data connection to connect your PC to the internet. We have compiled all the best methods in this guide so you can try out all of them.
Part 1: Best Method to Tether Android to PC
It's a bit of a hassle to choose which one might work best, depending on your situation and connection requirements. But, if you want the best overall experience that will give you a consistently good connection without any hiccups, you should use AirDroid. AirDroid Personal will keep your connection stable and secure. Also, it has many convenient and practical features that will make your life easier between the two devices. Some of these features are:
Stable Connectivity: When you use AirDroid to connect your Android phone to a PC, the connection remains stable. You cannot expect that by using other methods. So, random disconnects are not something you need to worry about with AirDroid.
File Transfer: AirDroid also allows you to transfer files between your two devices conveniently. It can be quite the puzzle trying to figure out which file usually went. But with AirDroid, that is not an issue anymore.
Remote Control: With AirDroid, you can easily control your devices remotely. This is very useful when you need to access one of the devices, but you are not near it.
Screen Mirroring: You can also mirror one of the screens with AirDroid. This feature is handy for presentations and similar things.
Part 2: 4 Ways to Tether Android to PC
Tethering an Android phone to a PC can be done in a few different ways. All of them are convenient in their specific scenario. So knowing them all can prove to be handy. Let's check out the methods down below.
1. Using Bluetooth to Tethering Android
Wondering how to use Bluetooth to tether Android to PC? It's pretty simple. If both your devices support a Bluetooth connection, you can try this out. It is wireless and clean as a connection, and you do not need a cable. You can easily pair the two devices and share the internet connection.
Step 1. Pair The Two Devices
On your PC, go to the Bluetooth menu from the settings. After turning on Bluetooth, make sure that your PC is discoverable by other devices.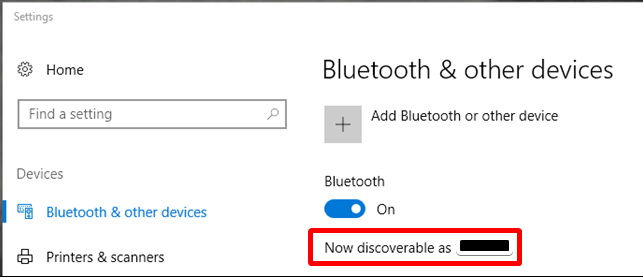 After that, go to your phone's Bluetooth menu and find the name of your PC.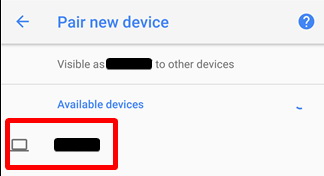 You can proceed to pair the two devices just by tapping. It might ask for a code, but the code will show up on the PC. After you pair them both, you can move to the next step.
Step 2. Turn on Bluetooth Tethering on Your Phone
First, make sure your Bluetooth and mobile data are both turned on. Also, make sure that they are not connected. Now, go to your settings app on your phone. Bluetooth tethering should be inside "Hotspot & Tethering" or "Connection sharing." You can even use the search in the settings.
From there, just turn on the option of Bluetooth tethering. Now you can move on to the next step.
Step 3. Connecting Your PC
Right-click on the Bluetooth menu from your taskbar and select "Join a personal area network".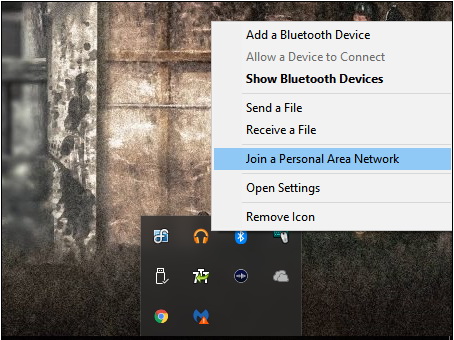 From there, a menu should open. You need to click on the "Connect using" tab and select "Access point." Your device should show up in the list.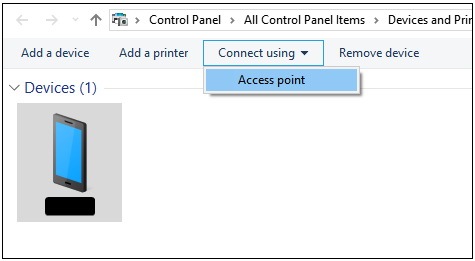 Tap on your device, and you should be done. Your PC now has internet access via Bluetooth tethering.
2. Tethering Using AirDroid
AirDroid Personal is one of the best Android management tools out there for tethering Android phones to PC. AirDroid has features that allow you to tether your Android to a PC and share internet connectivity. And it is straightforward to do it all with the help of AirDroid.
Step 1. Download AirDroid on Your Devices
Download and Install AirDroid on both your PC and your Android. Open a new account and log in to them on both devices.
Step 2. Connect Your Android via USB Cable
You can use either Wi-Fi or a USB tethering PC to Android. If you want to use a USB connection, plug your phone in via a data cable. Otherwise, if you're going to use a Wi-Fi connection, you can skip this step and move on to the next.
Step 3. Turn on Tethering In AirDroid
Go to the AirDroid app on your phone and the tools section. You should find an option called "tethering," tap on that.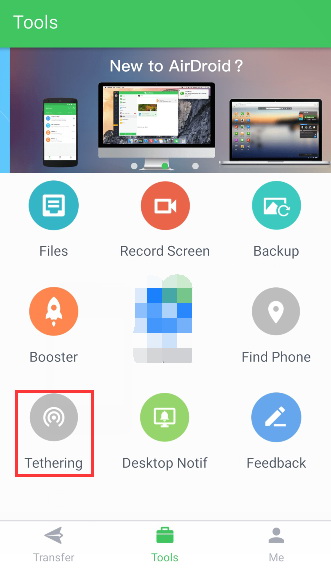 You will now find your tethering options; "portable hotspot for Wi-Fi tethering and USB tethering for USB.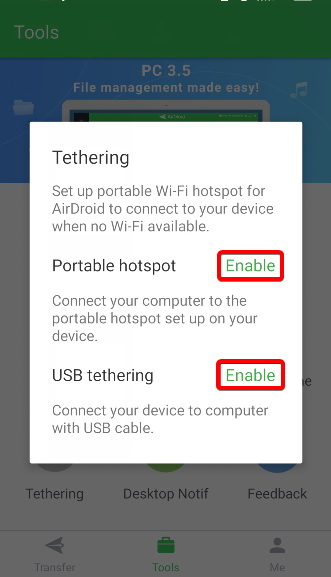 Tap on the option you would prefer to use and turn it on from the menu that appears next. If you choose USB tethering, you should be done by now, and your PC is directly connected to the internet. But, if you select Wi-Fi, please make sure to do the next step.
Step 4. Connect Your PC to The Hotspot
Tap on the Wi-Fi icon on the corner of your taskbar. The list of Wi-Fi connections available should show up. Click on the name of your hotspot and connect to it as you would connect to any Wi-Fi connection, and you should be done.
3. USB Tethering
Next is direct USB tethering. You can do this without extra software, and all you need is a USB cable. Let's take a look at how USB tether Android to PC.
Step 1. Connect Your Devices
You need a USB cable capable of transferring data. Most of your cables are capable, so there is no need to worry about that. You will need to connect your Android phone to your PC with that cable. Select data transfer if any prompts appear on your phone. Then move on to the next step.
Step 2. Turn on Mobile Data
Either from the quick settings menu by swiping down or directly from the settings menu, turn on mobile data. You can also check if your sim card is connected to the fastest available network (4G or 5G) or not from the sim card menus found there.
Step 3. Turn on USB Tethering.
You need to go to your settings app and find USB tethering there. It should be in connection and sharing or in tethering and hotspot. You can also use the search option in Android settings. Turn on the USB tethering toggle, and your PC should connect to the internet.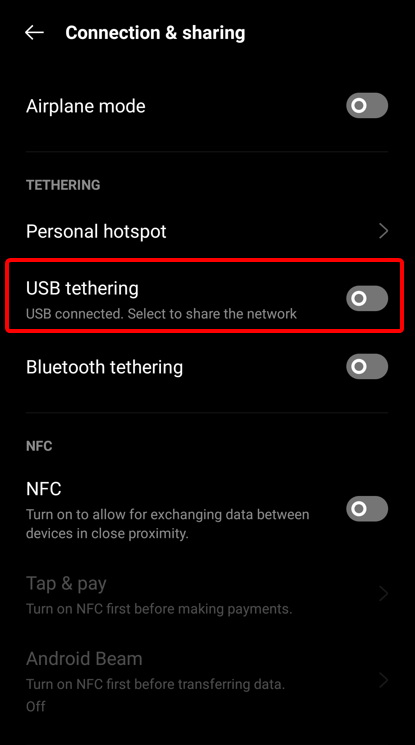 4. Wi-Fi Hotspot
If your PC can connect to Wi-Fi and you do not have a cable lying around, you can use a portable hotspot to Wi-Fi tether Android to your PC. Using this method, you can even share your data connection with other mobile phones.
Step 1. Turn on Wi-Fi Hotspot
Turn on your cellular connection first. Afterward, find the Wi-Fi hotspot option from your settings menu. It will either be called "Portable hotspot" or "Personal hotspot."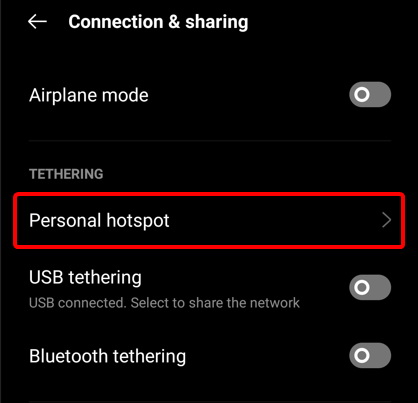 Tap that menu, and on the next screen, toggle hotspot on. You will also be able to figure out the password and name to the hotspot connection of your Android device in this menu. You can even change the data limits and password for the link here.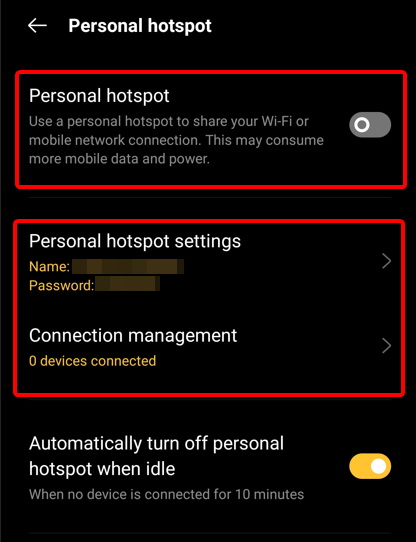 Step 2. Connect Your PC to The Wireless Network
Click on the network icon from the bottom right corner of your taskbar. You will get greeted with the Wi-Fi menu. Find the hotspot's name created from your phone and connect to it, and you're done!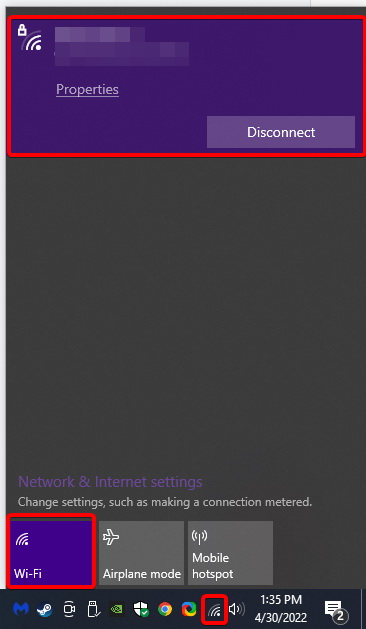 Part 3: Conclusion
We hope this guide on how to
tether Android to PC
was as helpful to you as we had hoped for. We tried to make every method and step as straightforward as possible. So now you can make life easier by sharing your phone's data connection with your PC with the help of tethering!
FAQs
Will Tethering Drain My Battery?
If you use USB tethering, your phone will draw out power from your computer. Then your PC will be the only device to lose battery power. But if you use a hotspot or Bluetooth tethering, both your devices will lose battery power over time.
Does Tethering Cost Me Extra?
No, tethering your phone to a PC will use your phone's data connection and your existing data plan. You will not be charged extra for any additional data packages.
Why Does My Tethering Connection Not Work?
If usb tethering android to pc not working, you should check the parts of the connection properly. Make sure the USB cable and the ports are all working correctly. Also, make sure that your data plan is still valid and has mobile data left. Otherwise, you will need to purchase a new data pack from your carrier.
Was This Page Helpful?