How to Use Phone as Webcam for Computers [2023 Update]
If you're a student, you might need a webcam for attending your classes or a virtual event. For other individuals as well, a webcam has become a necessary gadget. With the remote working more in trend, you will need a webcam to attend office meetings every now and then.
The flip side of this need is advancements in mobile phones with high-quality cameras and video results. Therefore, in this article, we will tell you explore how to use an Android phone or iPhone as a webcam.
Why Do You Need to Use Your Phone as Webcam?
Laptops often come with an in-built webcam above the LCD. However, the quality of the cameras is not as good. Besides, many PC setups do not have a built-in webcam. Therefore, it becomes a necessity in that case. If you go for a webcam, a good webcam can cost hundreds of dollars.
Therefore, you can go for an alternative method instead of wasting and bounding your money on a webcam that will be used occasionally. You can save money by using your Android phone as a webcam. Besides, you can use the high-quality camera of Android for better picture quality during video calls. You can use an Android phone as a webcam USB as well as wirelessly.
AirDroid is a mobile management tool that provides several solutions to its client. It is not limited to remote camera access of your Android phone, but it allows remote access to your phone, file sharing, notification management, screen mirroring, etc. You can also use AirDroid Remote Support. It adds AR camera and can help you go on-site virtually with your family and customers to provide instant support for physical device and equipment.
How to Use Your Phone as Webcam (Without Third-party Apps)
You can wirelessly use a phone as a Webcam or via a USB connection. Hence, this section shows how to set it up on your Android or iPhone without using a third-party app.
Use an Android Phone as a Webcam for Android 14 or later
The prerequisite for this method is that your phone device runs on Android 14. Also, you need a good transfer USB connection cable. Google has simplified the execution on this version of OS to use the method described below.
Step 1. Connect your phone to your PC using a USB cable, and you will see the USB prompt.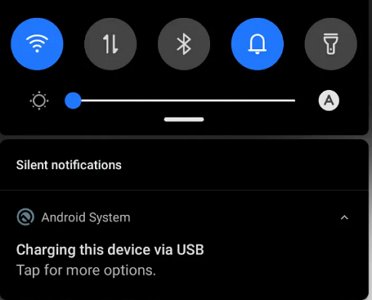 Step 2. Open it and then select Use USB for and pick Webcam.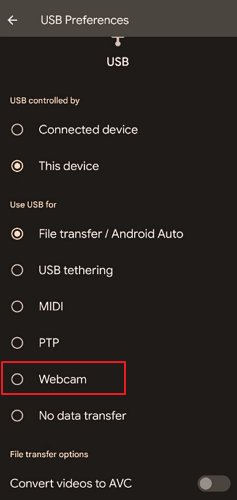 Step 3. Open the Device as Webcam prompt that pops up, then click on the notification, and you will see the same view on your PC.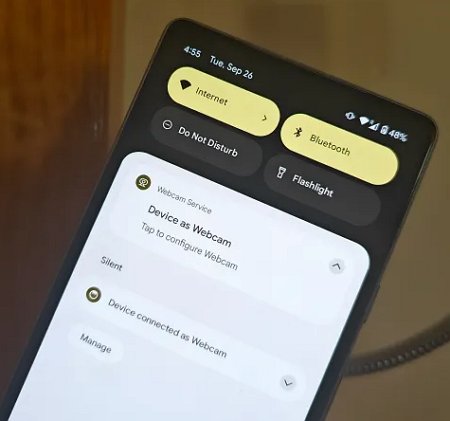 Step 4. Your phone camera is now your Webcam. You can pick it for any video calling app in the meeting app's settings.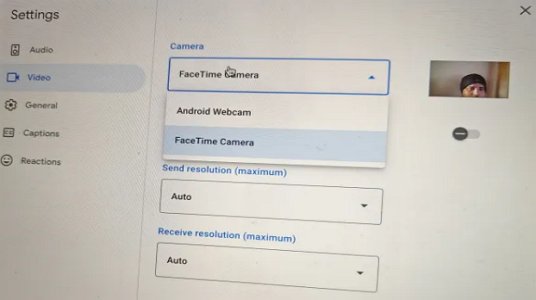 Pros
- It is simple to set up.
- It does not require a third-party app or internet connection.
Cons
- No feature is available to make changes to how the camera performs.
- Connection can be severed if the USB connection shakes.
Use iPhone as a Webcam for Mac with Continuity Camera
To use this feature, you need the MacOS (13) Ventura or later versions working on your Mac. While you can use an iPhone 11 or any later versions, you can only use an iPhone that supports iOS 16 or later. However, all the latest Continuity Camera features are only available when you pair an iPhone with iOS 17 and a Mac with MacOS 14 together or any later version of the two. Here is how to set up the connection.
Step 1. Ensure your iPhone and Mac are signed in to the same account.
Step 2. Switch on the Bluetooth and Wi-Fi for both devices. Alternatively, connect the two devices with your USB cable.
Step 3. Turn on your Continuity Camera in the Settings app.
Step 4. Under the General Settings, select AirPlay &Handoff to toggle on the feature.
Step 5. Ensure the two devices are close to each other.
Step 6. Open any app on your Mac that uses a camera.
Step 7. Open the app's settings and set its camera option to iPhone.
Step 8. Your iPhone Continuity Camera is now your Mac Webcam.
Note: If it does not connect automatically, click on video in the toolbar at the top of your Mac screen. Click on Camera and choose your iPhone.
Pros
- Users can easily interchange between wired and wireless connections.
- No third-party app is required to establish a connection.
How to Turn Your Phone into Webcam with Phone Webcam Apps
If your devices don't support the above ways, try the best webcam apps to use your phone as a webcam.
| | Droidcam | IP Webcam | EpocCam |
| --- | --- | --- | --- |
| Supported phones | Android, iPhone | Android | iPhone |
| Supported operating systems | Windows, Linux | Any platform with VLC player or web browser | Windows, Mac |
| Connection method | USB or Wi-Fi | Wi-Fi | USB or Wi-Fi |
Droidcam
Droidcam is one of the most popular webcams applications for Android and iPhone. You can go for a USB connection or wireless connection of your phone with a PC to turn your own phone camera into a webcam. Whether you want to attend a conference call on Skype using your phone camera through PC or stream a live video on YouTube, DroidCam can be your go-to solution. It is completely free with no usage limits or watermarks. If you want HD mode and advertisement-free, you may upgrade to premiun with an one-time purchase that cost about $4.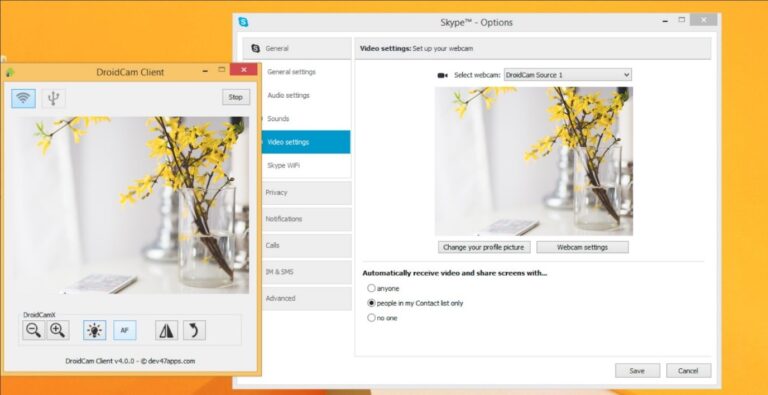 Main Highlights of DroidCam Free Version
Chat option using DroidCam
DroidCam can run in the background while you keep using your phone
Connectivity with USB as well as wireless connection
Hotspot connection in the absence of Wi-Fi
Main Features of Premiun Version
HD mode of video and more camera controls
Brightness, contrast, volume adjustment, etc.
Auto-mute phone calls to avoid distractions
Advertisement free
Pros
The safety and security of your data remain intact
USB connection and hotspot connectivity
The Pro version has higher controls and features
Available for Windows and Linux
Cons
Separate installation of two apps on Android as well as PC
The user interface looks outdated and not updated regularly
The free version has limited features
Steps to Turn Your Phone into Webcam with with Droidcam
Step 1. Install DroidCam from the official stores on your PC and phone.
Step 2. Open the Android app and copy your Android phone IP address in the Wi-Fi IP line at the top of the screen.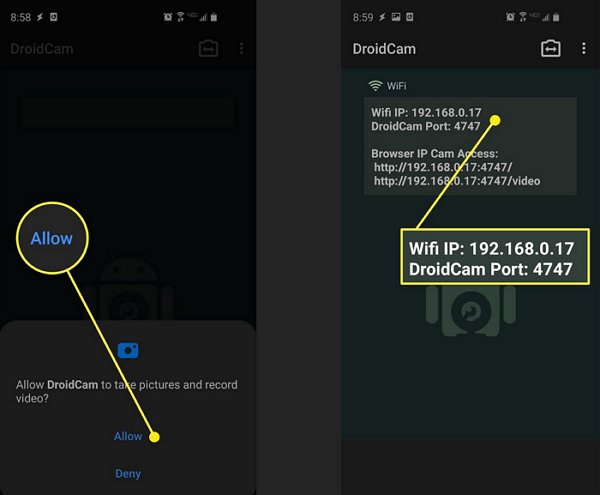 Step 3. After opening the PC app, fill in your Android phone IP address in the Device IP field.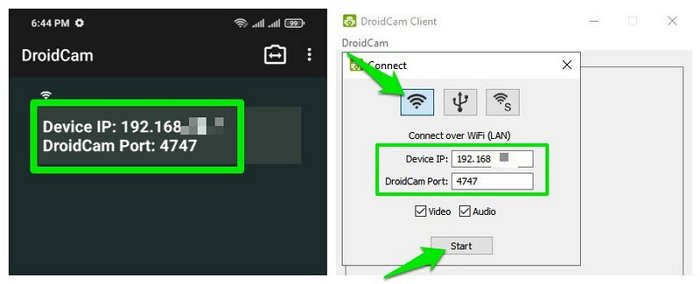 Step 4. Tap on the Video and Audio boxes of your desktop.
Step 5. Select Camera from the Menu options at the top of the screen to pick between rear or front camera.
Step 6. Your phone camera is now your Webcam. Now, you can pick it for any video calling app in the meeting app's settings. Select either DroidCam Source 2 or DroidCam Source 3.
IP Webcam
IP Webcam is also a popular option for smartphone users who are interested in using Android as a webcam. The wireless application setup helps you stream your camera footage to your computer over Wi-Fi. The application is often viewed as one of the best Android webcam applications. You can go for the free version or pro version (one time purchase that cost about $3) of the app as per your requirements.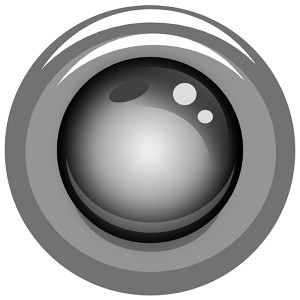 The main features of the IP Webcam are as follows:
Wireless connection of Android with PC
Two-way audio recording and support in various formats
Multiple Viewing points
You can stream video within a Wi-Fi network without internet access
IP Webcam can be integrated with surveillance software and security monitors
Pros
Easy setup and connection with your PC
No additional app or USB debugging enables required
The free version is a decent edition of the software
Cons
The app user interface is outdated and boring
No USB connection support is available
EpocCam
EpocCam is also an Android webcam app, but it cannot be installed to use an iPhone or iPad as a USB webcam. It can work with Windows, Mac to provide you with an HD camera alternative to your nominal PC webcam. There is a one-time cost to purchase a license of EpocCam worth $7.99.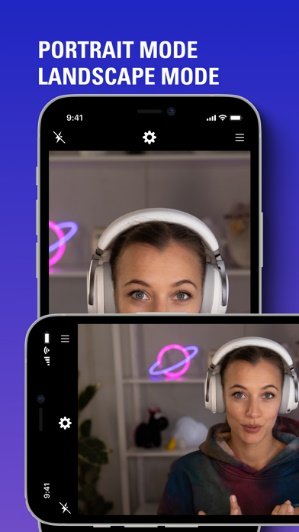 The main features of EpocCam are as follows:
Integrated Snapchat lenses and gesture-controlled lenses for video chats and live streams
Blur background, chroma key, etc., to transform video backgrounds
You can also create your digital avatar, change your hair color, etc.
Multicam setup allows you to get a complete setup for video conferencing, virtual lectures, YouTube videos, etc.
Wireless sharing of your camera footage to a PC over Wi-Fi
Pros
Compatible with famous apps like Skype, Google, Hangouts, Facebook, etc.
Affordable to purchase
The video quality is great
Easy setup process
Cons
Only available for iPhones
You cannot change the settings in the viewing software
App crashes can be annoying, and intervening
Best Practices of Using Phone as a Webcam
In order to enhance a better experience when you're using a phone as a webcam on a PC, make sure to follow these tips:
Ensure that both the webcam application and PC drivers are up-to-date.
Connect to a reliable Wi-Fi network or use a high-quality USB cable.
Make sure that the phone screen remains unlocked while using it as a webcam.
To use Android phone as webcam via USB, you should always enable developer options and USB debugging on your Android phone.
The process often takes a lot of battery. Therefore, make sure that your Android phone is plugged into a power source when using Android as a webcam.
If your computer still doesn't recognize your phone, try to restart or relaunch the application or devices.
Tips for Improving Video Quality in Remote Meetings or Live Streaming
Whether using a Webcam, 4K camera, iPhone, or Android, you want your picture quality to be as top-notch as possible. In this section, some of the solutions for improved video quality are discussed.
Select a high-quality camera: Regardless of your camera type, the quality must be optimal. Getting a good lens could be handy if you use an actual camera.
Strong Internet Connection: Internet connection can make the best video input look terrible. Hence, a high-speed connection via a router or direct subscription with a carrier is vital for improving video quality.
Use a third-party app and a phone: This tip might not seem the best given the privacy doubt of most third parties. However, it is essential because many third-party video rendering apps allow you to edit your video. For instance, you can adjust brightness, change the background, zoom in, etc., with third-party apps.
Good microphone or audio input: Video quality can be significantly improved with corresponding audio information. Also, you want to pick a location without noise.
Best Way to Remote Access Android Camera
If you want to access an Android phone remotely, you need a remote access app. The app will also help you remotely use the target phone camera for Webcam use. In this section, we have identified two options that will be very beneficial for you.
Remote Access Android Camera to Ensure Home Safety
Accessing an Android phone remotely allows you to use its camera for security purposes. Hence, it can be used to ensure home safety. The best solution for this purpose is the AirDroid.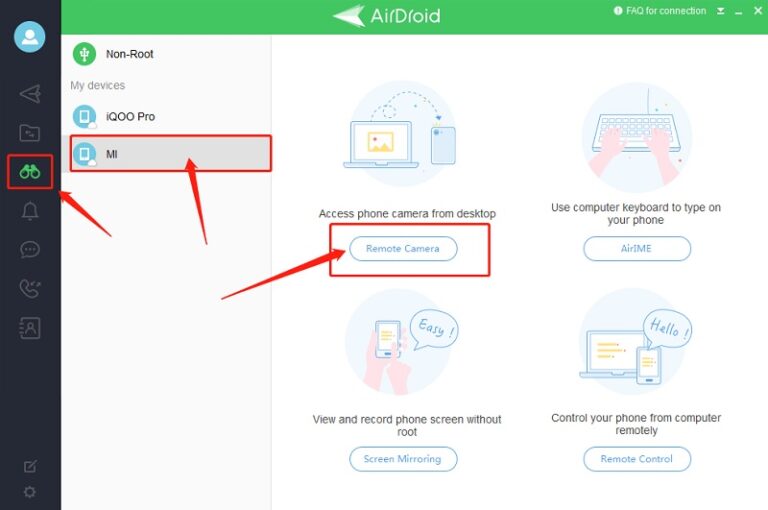 This app is helpful for efficiently controlling Android devices. Several functions are available on the app, such as removing or changing folders, arranging files, creating a backup of the device data, or other file transfer and management functions. AirDroid Personal can be used for attending to notifications, replying to SMS, screen sharing, etc. Additionally, you can use it to control up to four devices simultaneously. Some of its other features are;
Unattended Access: You can control an Android phone without requesting permission.
Video Recording: You can record security footage of what is happening around the phone.
Location Tracking: You can follow where it is.
Usage Dashboard: You can view details about the app and target device on the dashboard.
Remote Access Android Camera with AR to Support Family or Customers
You need a tool to control more than four devices if you have an enterprise. With AirDroid Remote Support, you can attend to over 100 customers simultaneously. Technicians can use it to provide customer IT support and remotely see through its camera. Furthermore, it has a file management suite, real-time screen sharing, notification handling, etc.
Here are some other features of AirDroid Remote Support that you should know.
Remote Keyboard: To remotely type on the target phone.
Black Screen Mode: For hiding customer screens when being accessed.
Security Policy: Has end-to-end and multilevel encryption security that keeps all devices safe.
Lightweight Management: You can use the app without any drag on your device OS.
Final Words
We have shared different Android applications and macOS software that will let you connect your Android phone with a PC/laptop wirelessly or through USB and use Android as a Camera. Among all the software, AirDroid Personal is the best software giving you remote camera features and many other options like screen mirroring, screenshots, recording, file transfer, remote access to the phone, etc.
FAQs about Use Phone as Webcam
How can I use my iPhone as a webcam in Windows 11?
You can use your iPhone as a Webcam for your Windows 11 PC through a third-party app. For instance, you can use apps such as EpocCam. Once the app has been set up, connect the devices and select the camera feature on your Windows 11.
Q2. Can I use an Android phone as a Webcam without the app?
You can use an Android phone as a Webcam without a third-party app if you are using Android 14 or later . You can connect your Android phone with a PC via a USB cable connection. Follow the on-screen prompt to use the USB as a Webcam, then select the Android on the video app of your choice.
Q3. Can I use my phone as a Webcam for Streamlabs OBS?
Yes, you can use your phone as a Webcam for Streamlabs OBS. If you use the app to stream your video content on social media such as Twitch, Discord, etc., you can connect the phone directly or use a third-party app. For instance, DroidCam works well with Streamlabs OBS.
Q4. Can I use my phone as a Webcam via USB?
Yes, you can use your phone as a Webcam via USB. Android phones and iPhones allow wired connection to PC or Mac, respectively. You need USB debugging on an Android phone. While on an iPhone, you can use the Continuity Camera.
Was This Page Helpful?