[Step-by-step] How to Cast Android/iPhone to PS4?
AirDroid Cast Screen Mirroring App
Cast iOS and Android device screens to a computer wirelessly, and even control device on PC
Cast Windows and MacOS screens to a computer wirelessly
Use a USB cable to cast screen
As you know, other latest models of PS are available in the market, but still, the majority of people use PS4. The PS4 user usually Wants to enhance the functions of the PS4, and it is only possible by casting the mobile screen to PS4. How can you cast your phone to PS4? The Android and iPhone have different methods of casting their devices to PS4.
In this article, we will explain how you can cast Phone to PS4. For this purpose, we enlisted different applications that help you to cast phone to PS4.
Part 1. Does PS4 Have Screen Mirroring?
Yes, the PS4 has a screen mirroring feature, but you have to install a few applications for the support. Without installing the application, you can't mirror content from your smartphone to the PS4. If you are thinking of trying screen mirroring without installing the application, it's not possible. The PS4 user has to install the application for casting first.
Part 2. How to Cast iPhone to PS4?
The iPhone users have three options for the casting, and the user can try any method from the following list:
1. Plex
The plex is an amazing advanced application that helps iPhone users to cast their iPhone screen to PS4. This application allows iPhone users to share videos, audio, and photos. Plex is totally free of cost; users don't have to pay for casting.
How to use it?
First of all, go to the plex official website, create your account.
Now install the plex application on your PS4.
After successful installation of the app, log in to your account.
Copy the code which is visible on TV screen and put it.

Now, you will receive a link on your screen; click on it.

You will receive a successful setup guide notification.
Now install the plex application on your iPhone.
Go to iPhone, open the application.
Tap on the stay in trial mode, and give permission.
Now tap on an icon, and go to settings.
Next, tap on the system and advise the server, show camera roll media and network discovery.
Now connect your iPhone and PS4 with the same internet connection.
Then go PS4 home screen, choose your iPhone and select the folder which you cast, tap on it.
Here, you successfully casted iPhone to PS4.
2. iMediaShare
Imediashare is an advanced application for iPhone users that help in the casting of PS4. This application is easy to use; it automatically detects the available devices for the casting. it is the best application for screen mirroring iPhone to PS4. The user can cast their videos, music and pictures easily to the PS4. The best thing about this application is that it does not charge anything from the users.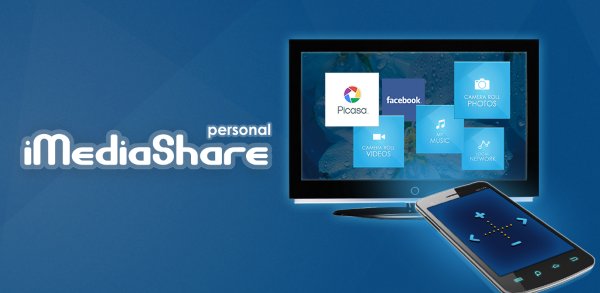 How to use it:
First of all, you need to Connect Your PS4 and iPhone to the Same Network.
Now download and install iMediashare on your device.
Open the app and choose what do you want to see on the PS4 screen.
Click " Choose a Screen", then select your PS4 Console from the list.
Now you will be able to see the photos, videos or audio on the big screen.
3. R-Play
Remote play is specific to iPhone users; that is the most used application for casting a PS4. Most people use this application for streaming or recording video games. This application allows the users to do multiple functions.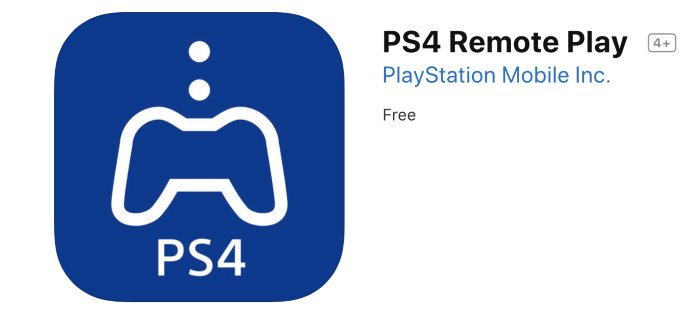 How to use:
Go to your iPhone, and start PS4 remote play.
For configuration, note 8 digit figure which appears on the TV screen.
Put this eight-digit figure on iPhone.
Open remote play application and enjoy your games.
Part 3. How to Cast Android to PS4?
1. PlayStation
You can do screen casting of your Android phone without any difficulty by using screencasting apps. Following are the famous apps to cast phones to PS4:
Download the play station app on your phone.
You can download it for free on the Apple Store or Google Play Store.
Now connect your smartphone and PlayStation 4 to the same wireless network. You can connect your PS4 through Ethernet or wirelessly.
Open the setting on your PS4. The setting option appears on the right side. You can get access to the higher menu by pressing Up on the main PS4 menu.

Choose "connection settings for PlayStation app". Select "add device ". On display will appear a code.

Now on your mobile phone, launch the PlayStation app. Give access to your PS4.
Tap on "connect to PS4 ". You can see this option at the bottom of your screen. It will appear beneath the words "powered on" on the connect to PS4 screen.
If you cannot see it on your screen, then make sure that these are connected to the same Wi-Fi network.
Tap on the refresh option to refresh it.
Enter the code that appears on your PS4 screen. This will enable your screen to connect to your device. This code contains eight digits.
After entering the code, your screen will be connected to your PS4. You can easily operate it through your mobile.
2. iMediaShare
iMediaShare is an app available for both iOS and Android tablets as well as smartphones. You can stream multimedia to your device through this app. You can download it from the google play store. It is free of cost.
It helps you to stream your mobile phone to your PlayStation 4 easily. It is a highly recommended app for screen mirror Android to PS4. It is mainly for Android smartphones running version 2.2 or high. It automatically provides you with a range of available devices.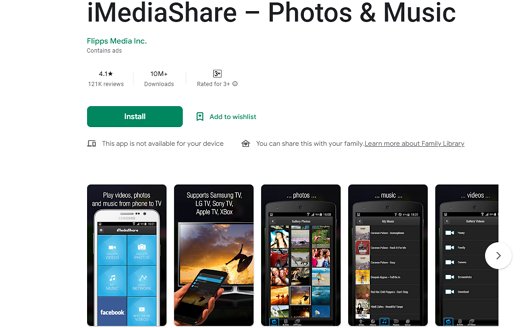 How to use it:
Download and install iMediaShare on your mobile.
Open the app and navigate to the main screen.
Choose what you want to stream, like videos or photos etc.
To access all videos, tap on "all videos" at the bottom of your screen.
Now select the one you want to replicate. Tap on "choose a screen".
Now the streaming process will initiate.
If both your devices are not connected to the same wifi network, then you will be unable to view it after it enters recognition mode.
3. PS4 Second Screen
You can get free access to PS4 access and functionalities through the PS4 second screen. This app enables you to watch game info while playing games on PlayStation 4. You can also do texting on PS4 using your mobile device.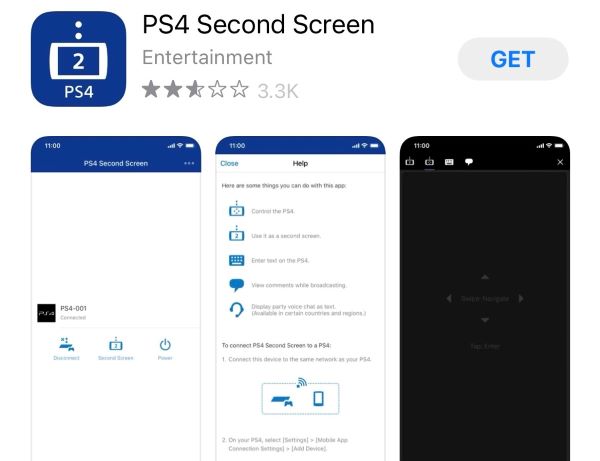 How to use it:
Download and install your PS4 second screen app using the Android app store.
Now open PS4 second screen.
Sign in to it.
Now users will be able to see connected PlayStation devices on your device.
Go to settings. Open mobile app connection options. Now add a device. It will display a screen with a number.
Open your Android device. Click on the PS4's name. Put code to link your phone to your Console.
Now your phone is casted to your PS4.
4. Plex Media Server
The Plex Media Server is an UPnP/dlna compliant digital media server app which is available for Android devices like HTC 10. After installing it, your device gets converted to the media server. It is free of cost.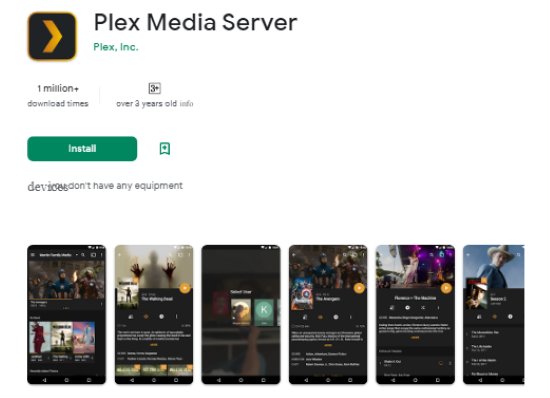 Install this app on your device.
Choose any name for your device by clicking on the DMS name.
Tap on any icon and open the app.
Activate your PS4's media player.
Choose the device you want to connect to and tap the file you want to play on PS4 screen.
Part 4: How to Play PS4 Games on iPhone/Android?
Are you a game lover? Do you love to play games on the screen of a smartphone? If yes, that's great because you can easily play games on your iPhone or Android with PS remote play. This amazing feature provides an opportunity for the PlayStation users to play games on their Android or iPhone. The PlayStation user just has to install the application on your Android or iPhone.
Follow these steps to play games on Android or iPhone:
First, connect our Android or iPhone to the same Wi-Fi that Console uses for the internet.
Now go to console, tap on remote play connection settings.
Enable the remote play.
Now go to your Android or iPhone and download PS4 remote play from the Google Play Store or Apple Store.
Enter the similar user details that you added on Console.
Now go back to your smartphone and tap on the start button. After this application will search and connect to PS4.
Part 5: How to cast iOS/Android Phone to PC -AirDroid Cast
AirDroid Cast is an efficient mirroring or casting application that lets the user cast their tiny devices on a bigger screen. This application is the perfect choice for the users who want to share their screen with other devices like PC, Mac, Android, iPhones etc.
It's a most used and loved app by users because it is easy to use and casts screens in a few minutes. AirDroid Cast comes with a huge variety of features that make the casting or mirroring process easy.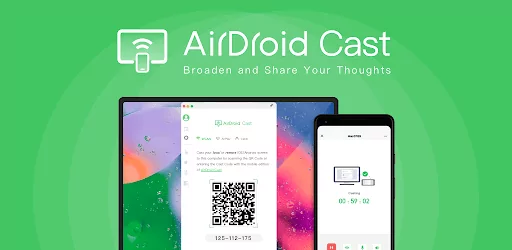 How-to use:
Step 1.Download AirDroid Cast on both your devices

First of all, download AirDroid Cast app and install it on your phone and computer. You can click download button below for installation. Or search this app at Google Play Store or App Store.
Step 2.Connect your phone to computer

There are 3 connection methods that you can choose to cast your Android/iPhone to PC/Mac.

Via WLAN: You can scan the QR code or enter the cast code displayed on PC/Mac. This option supports local or remote network connections. It means even if your phone is not on your side, you can still cast the phone screen remotely.

Via USB Cable: You need to prepare a USB cable to connect your mobile phone and computer, and your mobile phone will be displayed on the list after connection. Click on it for casting.

Via AirPlay: This option is only available for iOS devices. Go to "Screen mirroring" center on your iPhone and click on "AirDroid Cast -XXX" on the list.
Step 3.Start mirroring

After a successful connection, your phone screen will be displayed on your PC/Mac. The most attractive feature of AirDroid Cast is the control phone screen on the computer. Simply click the hand icon to activate the control feature.
Key Features
Compatible with all Android and iOS devices.
Work with the remote network.
Multiple screens on one PC.
Remote control.
Part 6. Conclusion
No doubt casting the phone to PS4 is not a difficult job because a lot of applications are available for casting Android and iPhone to the PS4. If you are interested in casting your devices to PS4, choose the application from the above-mentioned list to cast screen to PS4. Additionally, if you want to cast your Android or iPhone to PC or Mac, download Airdroid Cast application on your devices.
FAQs about Cast Phone to PS4
Can You Chromecast to a PS4?
Yes, you can use Chromecast to PS4; you just have to download any app that support chomcast on your phone and connect both focuses with the same internetwork, select cast screen or audio, and monitoring will be started on it.
Can I Watch TV on My PS4?
Yes, you can watch TV on your PS4. Usually, the HDMI cable is needed for the casting on PS4.
Can I Mirror My Mac to My PS4?
Yes, it is possible to cast your Mac to PS4, but you must purchase an RCA cable or applications like Remote Play.
Can You Use AirPlay on PS4?
Yes, you can definitely use Airplay on PS4 for casting iPhone on PS4. Simply go to PS4 Settings - Devices - Audio Settings, and then change the audio output method to AirPlay.
Was This Page Helpful?