All the Best Free Google Chromecast Apps You Need to Know
Q: What is Chromecast? Are there any free Chromecast apps?
Chromecast is a technology developed by Google. It lets you circulate your preferred entertainment and apps out of your smart-phone, tablet, or PC proper for your smart TV or audio system.
There are certain situations when you feel the need to watch your mobile devices on your smart TV. Watching online movies on a big screen with family and friends, playing online games, all these scenarios click your mind to Chromecast technology.
In this article, we will discuss applications that support Chromecast technology. There are also available many free Chromecast app that you can choose.
1. What Apps Work with Chromecast?
There are thousands of apps available that work with Chromecast. These apps are mostly related to entertainment including watching movies, TV shows, games, music, sports, etc. Some most popular apps are Netflix, YouTube TV, Prime Video, Hulu, Deer Hunter 2018, Tricky Titans, CBS Sports, NHL, Spotify, Tidal, and thousands of other apps that support Chromecast.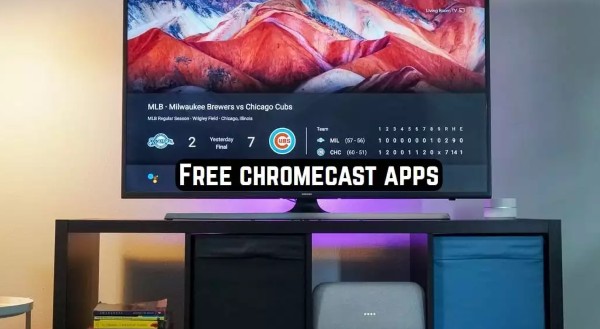 2. Google Chromecast App - Google Home
Google Home is a highly efficient casting application that effortlessly casts mobile devices to the TV. It is an enormously convenient application because of its advanced features. It allows you to watch hundreds of amazing videos and photos from your mobile to the big TV screen.
Additionally, you can stream any kind of content from apps like Netflix, YouTube and Spotify directly from your phone to TV.
Pros
Easy-to-use application
Stream mobile content to TV free of cost
Supports live streaming
Casts audio perfectly
Cons
It doesn't work properly if the Wi-Fi internet is slow
Users can not save or repeat streaming content.
How to Use Google Home to Cast Phone Screen to TV?
Pick your phone, go to the Google Play Store/App Store and download the Google Home app on your device.

Now open Google Home application on your device and tap on your Chromecast device.

Connect both devices with the same internet.

After tapping Chromecast device, now tap on cast my screen option.

Here you will receive a pop-up confirmation notification. Tap on the cast screen option.

Now again, go to your device, play video or any content on your device. In a few seconds, this video will be mirrored on TV.
3. 15 Free Chromecast Apps for Android & iOS
Here are the 15 best Chromecast apps for Android and iOS:
1. VideoStream
You must be having tons of movies and offline content on your hard disks so, why don't you prefer watching it on the large display of your smart TV?
Download the Videostream Google Chromecast extension and then connect to the identical community on your computer and Chromecast. Launch the Videostream that will open a tab in the chrome browser. Just cast it and enjoy.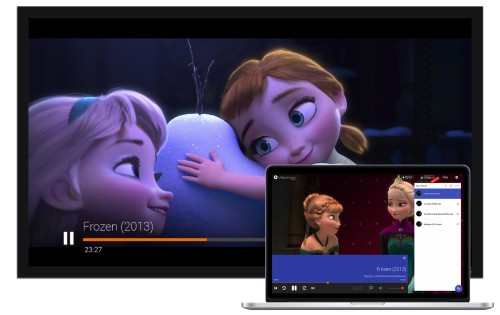 Features
It supports 400 audio and audio codecs.
Easily stream MP3s, videos, MP4s, AVIs, MKVs, and WMVs from your device to the TV.
It allows the creation of a playlist.
The playback option is available.
It supports mobile file browsing.
User's Reviews
The users of this application love it because it helps them stream local files too. They mentioned that it allows them to watch content with subtitles. Additionally, it smoothly pairs devices and also stores files here.
Download link:
https://getvideostream.com/
2. VLC Media Player
VLC Player is now able to provide you the cast support. It is a free Chromecast app with a user-friendly interface. To use it, you have to be very vigilant to connect the devices under the same WI-FI. A cast button will be shown and then you can cast anything that you have on your Android or iOS device.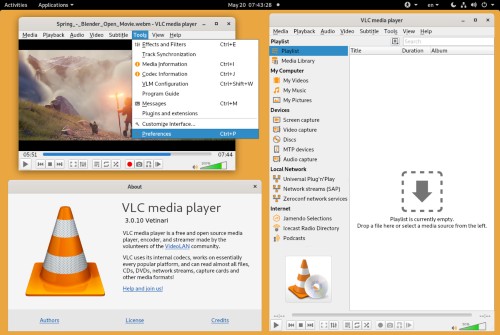 Features
Streams video and audio.
Streams internet radio and podcasts.
Allows you to loop a specific section of video or audio.
It automatically normalizes the streaming audio to make it safe for your ears.
Work as a video downloader for YouTube.
Helps to change video formate.
User's Reviews
According to users' reviews, this application is appreciatable because it supports every file format, provides streaming content, and allows you to customize subtitles. The most of users mentioned that it is the best music streaming content with high volume.
But a small group of people thinks it is not an efficient application. Its many features do not work properly.
Download link:
https://www.videolan.org/
3. YouTube
YouTube needs nothing for its introduction. You will get a cast button and simply connect both the devices under the same WI-FI, you can start your casting by playing anything on YouTube and even you can use the mobile or other purposes and your video will be playing in the background.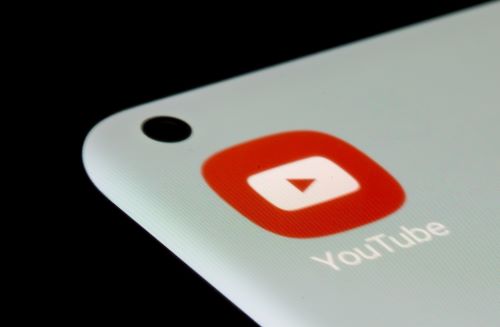 Features
You can download videos and watch them offline.
You can get the trending videos of all the genre.
You can also watch previously watched videos.
User's Reviews
YouTube users are satisfied with the efficiency of this application because, according to them, this is a phenomenal entertaining app that allows streaming content from different changes. It auto generates subtitles and allows the users to download content.
But few users want something extra from YouTube, like subtitles in local languages and live chat customer support.
4. Movies Anywhere
Movies anywhere are straightforward to use as Chromecast app, which helps you to enjoy your favorite purchased movies in one collection. The app allows you to sync your series throughout devices. It allows you to create our separate profiles and it also supports the 4K vision.
Features
You can browse more than 7000 movies.
It does support 4k UHD, HDR, and some good sound experience.
With the help of it, you can buy a movie from any reliable digital retailers.
User's Reviews
According to users, this app is great because it allows you to download content offline.
Download link:
https://moviesanywhere.com/
5. Google Play Movies and TV
Google Play lets you locate and watch movies and TV shows greater obviously than ever. It is one of the top-rated Chromecast free TV apps that lets you look for titles to see which streaming apps offer them. It updates you with the latest movies.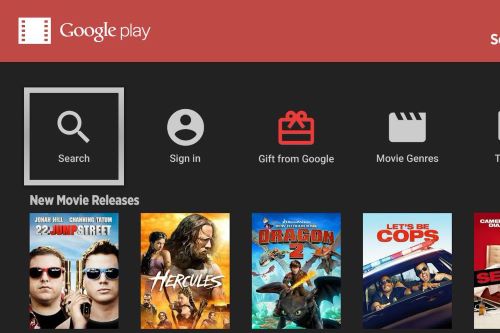 Features
Support Live streaming.
Stream content from different applications on your TV.
This app allows you to discover shows and movies.
User's Reviews
There are a lot of positive reviews about this application because it helps users to find trending movies easily. On the other side, a few users are unhappy with this application because it takes too much time to stream content.
Download:
You can get it from Google Play Store.
6. Local Cast
Local Cast is an app that permits you to play any track, video, or image saved for your Android device on your Chromecast device with just one click. It allows listening to what you are watching on your phone. Subtitle can also be watched if you have Chromecast or Apple TV4.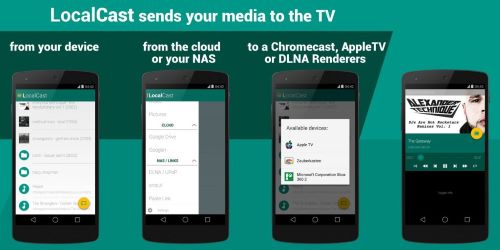 Features
Compatible with Wi-Fi multicast mode.
The video editing option is available.
Media sharing available.
User's Reviews
The users of the Local Cast added in their review this application is not suitable for streaming content because it shows a lot of Ads.
Download:
You can get it from Google Play Store.
7. BubbleUPnp
BubbleUPnp app permits you to transcode media outside the local network. You can additionally use this app to optimize transcoding to Chromecast for enjoying non-natively supported formats. It also provides secure internet access to your home.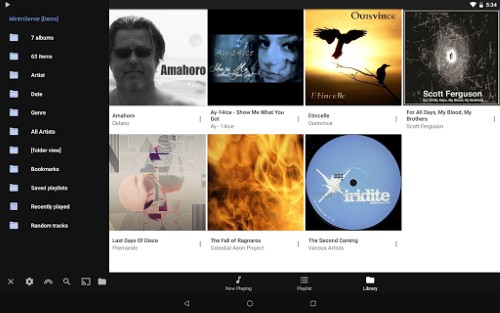 Features
It enables you to cast your favorite movies and music video series on DLNA TV or any other Smart TV.
It does support all series of Xbox and Nvidia shields.
You can also enjoy files from cloud storage like Google drive, Google photos, Box, one drive, etc.
From your Smartphone, you can cast files.
User's Reviews
According to a few users, this app is best for deaf people because it shows subtitles with streaming. But galaxy users added that it does not work properly.
Download:
You can get it from Google Play Store.
8. Google Photos
Google Photos is the best app for watching photos on your phone. It saves your photos until you have space in your drive. The app has a free Chromecast service as well. You can put your snapshots up on the screen. Additionally, you could create collections in this application and use them as your background screen at a time when you do not need casting.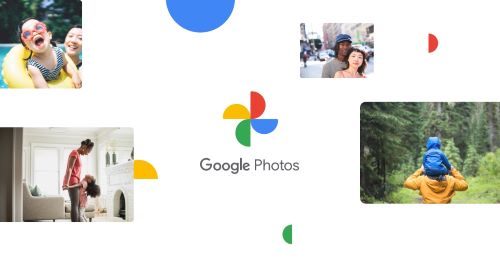 Features
It gives you backups storage of 16 megapixels and 1080p HD for free.
You can secure your photos with the help of Google photos.
The best feature of it is that it automatically creates an album after the event and puts all the best shots in it.
You can get access from any device and phots.google.com.
User's Reviews
The user of the Google Photos app is completely satisfied with the working of this application. But few users regret buying this app because many features of this app do not work on their devices.
Download:
You can get this app from Google Play Store.
9. iHeartRadio
iHeartRadio is popular for its streaming service. This app is just similar to Pandora. It provides stations to play various kinds of music. You can also listen to the radio using this application. It is considered to be the best Chromecast app for listening to music.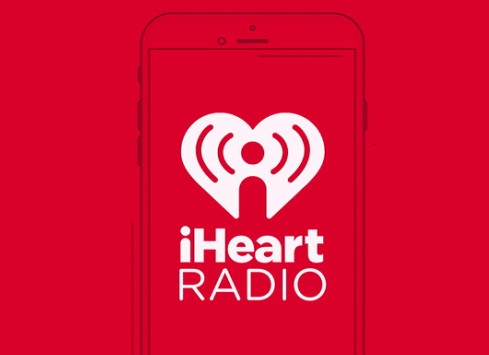 Features
It gives you access to customize your stations with your favorite radio.
You can also select soundtracks for waking up and chilling out.
It gives you access to on-demand episodes across different industries like sports, finance, comedy, etc.
It does support the rock, pop, dubstep, and musical genre.
User's Reviews
The reviews of free users expressed that this app is not worth using because it only offers features in the premium version.
Download:
You can get this app from Google Play Store.
10. Podcast Addict
Podcast Addict is one of the top podcast apps and it additionally has Chromecast help. The User Interface is very basic, however, it otherwise does everything you'll anticipate a podcast player to do. You could search for, observe, and download over a million distinctive podcasts. Additionally, the app works with audiobooks, live streams, YouTube, SoundCloud, and radio.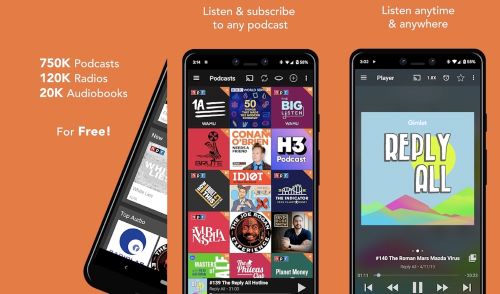 Features
You can search for your favorite podcast by putting keywords in the search bar.
It enables you to customize your recommendations depending on the subscription.
It can work on iTunes/ apple podcasts.
You become able to download your favorite podcast.
User's Reviews
The majority of users loved this app because of all the latest features but noticed a few users are facing issues in finding and selecting podcasts.
Download:
You can get it from Google Play Store.
11. PLEX
Plex is a media server software that enables you to attend to a large length of media collections. It's considered one of the first-class apps for Chromecast which enables you to play TV shows, movies, non-public films, and much more. Plex allows you to view videos together with your family.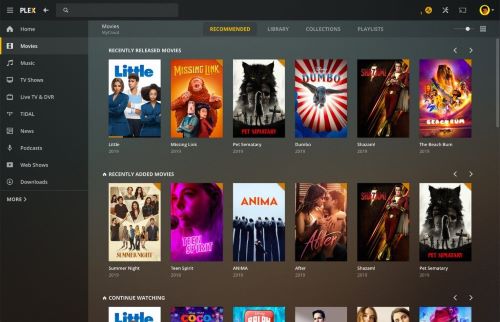 Features
It is a reliable source of getting news from more than 90 global publishers.
It enables you to make a playlist of movies and shows.
With just a single click, you can arrange photos, videos, etc.
You can find your favorite podcast.
User's Reviews
According to overall reviews, this application does not work smoothly. It causes issues in streaming content.
Download:
You can download this app from Google Play Store.
12. Spotify
Spotify is one of the best song streaming service available with the limitless series of songs curated and with the set of rules that gives you the subsequent best songs that you would love. Spotify also supports Chromecast, you just need to select the device and click on play on other devices.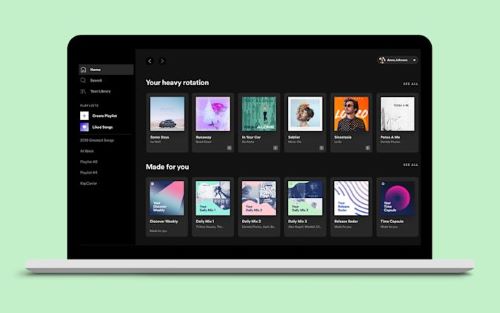 .
Features
It is free of cost.
You can easily find music according to your mood.
You can make your own playlist and listen to your favorite music in it.
If you get a free subscription, you become able to download the music and listen to ad-free music.
User's Reviews
According to the user, it is a fine app for streaming music, users can listen to trendy music, but few users explained it as a buggy app. Free users are not happy with it.
Download:
You can download this app from any app store.
13. Netflix
Netflix is the most widely used Chromecast app. It is a super OTT video streaming platform that brings a wonderful collection and films. Netflix allows offline downloads on your mobile and provides ad-free streaming. The Chromecast service or TV of Netflix provides high-quality content and offers programs in various languages.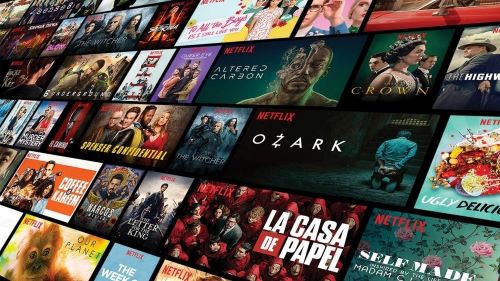 Features
You can watch films and web series streaming.
You can try one month's free trial.
Get the notifications for new movies and web series.
It gives you a preview of the content. Thus it makes the decision to watch easy.
You can make a max of five profiles in one account.
User's Reviews
This application is outclassed, provides a lot of content, and streams smoothly, but it is costly and sometimes does not work for multi-users.
Download link
You can get it from any app store.
14. Jellyfin
Jellyfin is a free Chromecast app that helps you to circulate any media from your server. This application permits you to gather and manages videos. It allows you to enjoy the music party with your friends and family members with full comfort and ease. It also allows you the storage of media files.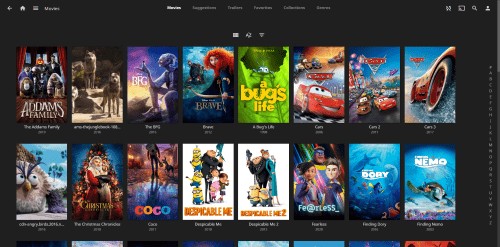 Features
Aid you in streaming content from your own server to TV.
It allows you to watch live and recorded shows.
Collects all your videos, and audio in the same place.
User's Reviews
It works great for the majority of users but a few Users mentioned in the review section that this application is glitchy and takes too much time to set up.
Download:
You can download this app from any app store.
15. Vevo
Vevo is a multination video web hosting service. This utility connects artists with their target market globally by the use of tune films and original content. It helps people have a look at music, artists, and the viewers. Vevo is also one of the best choices for Chromecast usage.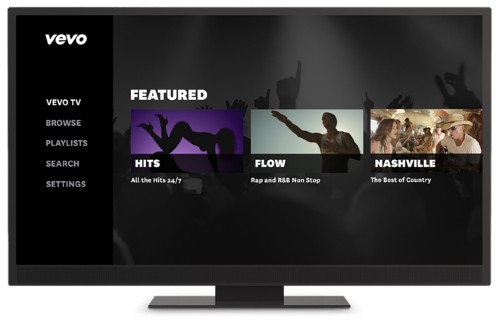 Features
It works without creating an account.
It streams XBOX, Apple TV, Roku, amazon fire tv, etc.
Streams video audios and live performance.
You can easily resume videos.
User's Reviews
No review is visible on the Google Play Store.
Download link
You can get it from any app store.
4. Does Chromecast Come with Built-in Apps?
Yes, Chromecast comes with built-in apps. There are a large number of apps that have built-in Chromecast technology. You can set up the Chromecast built-in technology to cast your favorite movies and channels on your Chromecast online TV by accessing it from the Android or iOS device.
5. How to Fix Chromecast Not Working Issue?
If you can't cast even you have carried out the troubleshooting, observe these steps to ensure that the Chromecast integrated app isn't always disabled:
At the furnished IR remote control, press the house button.
Choose the Settings option and beneath the Television tab, select "App".
Underneath the App tab, pick System app.
Underneath the device app category, pick out Google cast Receiver or Chromecast built-in.
Then select "Enable".
6. Bonus: Screen Mirroring App for Android & iOS to PC
Are you also looking for a way to mirror the screen of your phone to your PC? Then you come to the right place. Airdroid Cast is the best app to mirror Android/iOS/Mac/Wins to other PCs because of its amazing features that other applications do not.
Remote control: It is a remotely used app. As an instructor, you may turn your Android or iOS tool into an accessible whiteboard using the usage of AirDroid Cast.
Several connection methods: AirDroid Cast provides 3 connection methods for user to connect both the mobile phone and PCs. Read the using steps as below to get this powerful tool.
How to set up AirDroid Cast screen mirroring app?
Step 1.Download & install it on both your devices

Click the "Try It Free" button below or go to its official website to finish downloading.
Step 2.Connect both the devices

Create a connection between both the devices by choosing one of the methods you like.

Wireless: You just need to type or scan the QR Code that is displayed on the PC side to connect it, whatever both the devices are connect under the local network or remote network.

USB Cable: It is a comparatively faster method. Click the USB button here to connect your mobile phone to the PC using a USB cable.

AirPlay: It is especially the best choice for iOS users. You only need to open the "Screen Mirroring" control center and choose "AirDroid Cast - XXX" to connect them.
Step 3.Start Screen Mirroring

Now you can not only enjoy your phone screen on your PC. One of the amazing features of AirDroid Cast is that you can also remotely control your phone screen on PC.
7. Final Verdict
In this article, we have highlighted the free Chromecast apps for desktops. Thousands of apps support this Chromecast feature and many entertainment apps are specially included in these apps. Netflix, Disney+, YouTube, Prime Video, etc. All these apps serve the Chromecast feature. Some apps have Chromecast as a built-in feature but not all the apps have. However, if you are finding the best app for screen mirroring mobile devices to PC. Airdroid Cast is a powerful app that fits your needs.
Was This Page Helpful?