[Answered] Is It Possible to Mirror iPhone to PC without Software?
There is only one exception to the rule that you can't view your iPhone's screen on your PC without software: AirDroid Cast Web, it allows you to do screen mirroring without installing an app on the received device.
In this article, we'll show you how to mirror iPhone to PC without software and we'll also recommend three great apps for screen mirroring from iPhone to PC.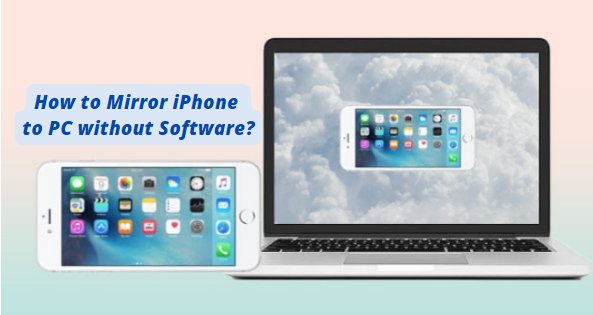 1 Can I Mirror iPhone to a PC without Software?
It was once very difficult to mirror the screen of an iPhone onto a PC. This required a software program. However, there is now an easy solution that does not require installing an application on your received device. AirDroid Cast Web will allow you to mirror your screen without any issues.
AirDroid Cast Web is an online screen-sharing website that you can use to project your device screen to any browser across multi-platforms.
How iPhone Mirror to PC with AirDroid Cast Web?
Step 1. First you need to download AirDroid Cast onto your iPhone from App Store or its official website. Sign up an account and log in.
Step 2. Open webcast.airdroid.com on your PC. In this section, you don't need to download and install any software on your PC.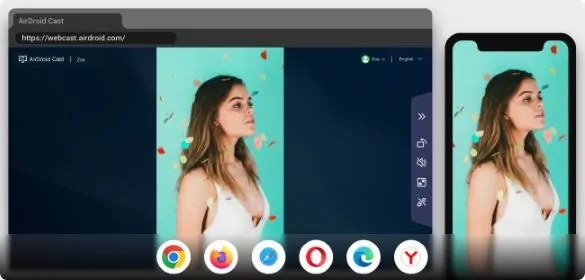 Step 3. Use your iPhone to enter the Cast Code displayed on the webcast browser. Also, you can scan the QR code to wirelessly cast the screen via a local or remote network.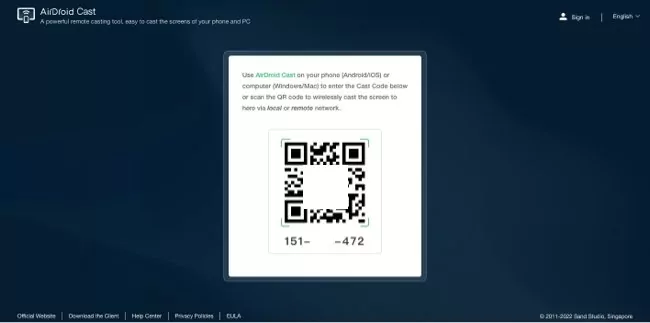 Step 4. After a successful connection, your device content will be shown on the browser instantly.
Note : AirDroid Cast web version does not require the installation of the software. It offers you remote and local casting features just by visiting the web on a PC and having a device with an internet connection.
Through Airdroid Cast Web, you can now easily share your screen no matter where you are and whatever device you are using as it is compatible with all mobile devices, computers and TVs.
This tool enables you to provide better training and create presentations anytime anywhere. It's available for local and remote casting. Whether you are casting at an office or working from home, Airdroid Cast Web keeps you productive all the time, even on the go.
2 Mirror iPhone to PC via Bluetooth
Connecting your iPhone to your PC via Bluetooth is a smooth process; however, the data transfer rate is only 1-2Mbps. If you are looking for ways to mirror your iPhone to a PC, here are some simple steps to follow:
On your PC, open "Bluetooth and other devices" in "settings".

Now turn on the Bluetooth.

Once both devices are discoverable, select your PC from the list of devices on your iPhone.

Enter the PIN that appears on your PC when prompted and tap Pair on your iPhone.
3 Best 3 Ways to Mirror iPhone to PC
In this section we will discuss three applications to use for mirroring iPhone to PC; AirDroid Cast, AnyMirror, and LonelyScreen.
1. AirDroid Cast
AirDroid Cast supports casting a maximum of five devices onto a computer at any given moment. This tool supports device with different systems cast to PC includes casting of Android/iOS/Windows/Mac.
Further, this app has a unique feature that enables users to remotely control their Android devices from any laptop or a computer. It does not only offer screen casting but also delivers you the audio during remote meetings with two methods. Thus, it increases work efficiency during business meet-ups.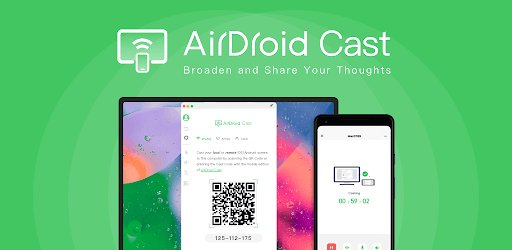 Several Connection Methods to Start Casting
1. WLAN
You can scan a QR code or cast by enter the Cast code on AirDroid Cast desktop. This option also supports remote network.
2. Cast through USB cable
You can use a USB cable to cast the screen. A USB cable will eliminate delays in real-time transmission.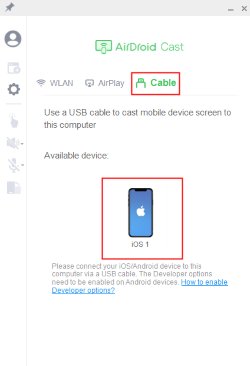 3. AirPlay
You can wirelessly connect to your computer from any AirPlay-compatible device such as an iPad, iPhone.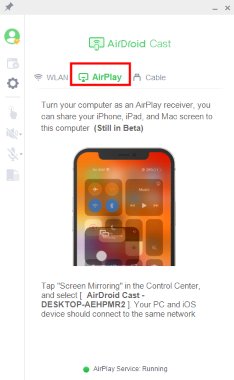 2. AnyMirror
AnyMirror is a useful tool for anyone who needs to mirror their iPhone or iPad to a computer. With AnyMirror, you can display whatever is happening on your phone in real-time, with high resolution and low lag.
AnyMirror also comes with powerful tools for taking screenshots, recording live HD videos, and adding annotations. Plus, AnyMirror lets you mirror multiple devices simultaneously, for a truly wonderful visual experience.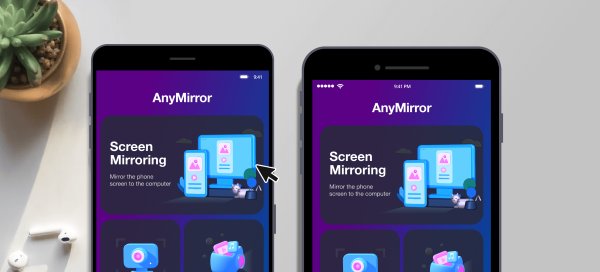 Install and launch the AnyMirror app.

Connect your device and computer to the same Wi-Fi network.

Open the "Control Center" on your iPhone.

Tap the "Screen Mirroring" button.

Select your "AnyMirror App" from the list.
3. LonelyScreen
LonelyScreen is amazing software that allows you to mirror iPhone to PC or laptop with a simple click. Your PC becomes an AirPlay-compatible device, which means you can cast the content from your phone onto the screen.
LonelyScreen is available for both Windows and Mac computers, and it's just like having an Apple TV. With AirPlay, you can mirror what's on your iPhone or iPad screen to your Windows PC. There's no extra installation needed on your iPhone/iPad. Just download and install LonelyScreen (an AirPlay receiver) on your computer.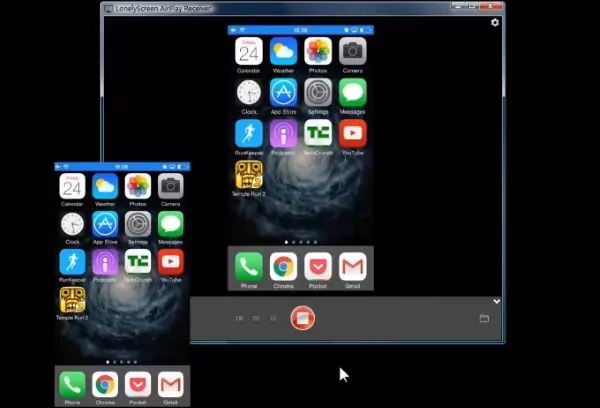 Install and launch LonelyScreen.

Open the "Control Center" on your iPhone.

Tap the "Screen Mirroring" button.

Select your LonelyScreen laptop from the list.

iPhone screen will instantly appear on your PC.
4 How to Mirror iPhone Screen to a MacBook?
With AirPlay, you can extend your iPhone display to your Mac, using it as a second screen. This is great for watching videos or viewing pictures and images on a larger screen. Additionally, you can AirPlay audio from your phone to your computer speakers for a better listening experience. Here is how to do it.
Visit "Control Center" On your iPhone.

Tap the "Screen Mirroring" button.

Select your Mac from the list of devices.

Play your iPhone video and watch it on the Mac.
5 Can I Mirror iPhone to a PC via USB without Software?
In order to mirror your phone screen on your computer via USB, you will need to install an app. This is because mobile phones do not have a USB mirroring option from phone to PC/Mac. Any third-party app can make the system think that the device is AirPlay compatible.
Thus, to mirror an iPhone screen to a PC, install AirDroid Cast App as its best available option out there. Here is how it works!
Download and install AirDroid Cast on both your iPhone and PC.

Log in to your account in the AirDroid Cast Desktop Client.

Connect both devices through USB.

Click cable n AirDroid Cast desktop.

Click your iPhone on the Available devices list on PC.

Tap the "Trust" option when a window pops up on the iPhone screen.

Start mirroring.
6 Any Ways to Emulate AirPlay on PC?
​
There is no way to emulate AirPlay on PC. However, you can use any third party app to AirPlay any device to PC. Airdroid Cast is a screen casting software that let you view your small screen of iOS and android devices on bigger displays. Here is how to AirPlay through AirDroid cast application.
7 Final Thoughts
There are multiple ways to mirror iPhone to Windows, including using various third-party apps. In this blog post, we analyze three of the best software options: AirDroid Cast, AnyMirror, and Lonely Screen. However, if you don't want to download any third-party app, you can use the AirDroid Cast web version.
AirDroid Cast Web is a great option for anyone looking to enjoy high-quality videos without interruption. Its unique features allow for a pleasurable experience on any big screen. AirDroid Cast Web does not require installation, so you can use it anywhere, anytime.
FAQs about Screen Mirroring
Can You Mirror Phone Screen to a Browser?
AirDroid Cast web version is specially designed for screen mirror any devices to any browser so you can easily do this by using this tool.
Can You Screen Mirror without Wi-Fi?
Screen mirroring without Wi-Fi by using tools like Miracast, Chromecast, and AirDroid Cast App. Two-way communication is possible between the device that is sending the signal and the one that is receiving it.
How to Mirror your iPad Screen on a Computer?
You can mirror your iPad screen on a computer via AirPlay, and by using any third-party software like Airdroid Cast. Airdroid Cast is a great option because it's fully secure and affordable.
Was This Page Helpful?