The Ultimate Guide on How to Mirror Mac to Firestick
Mirror your Mac to Firestick using AirDroid Cast
Cast iOS device screens to a Firestick wirelessly
Cast device's audio and microphone sound
Guarantees high-quality streaming
While screen mirroring is available for Android phones and iPhones on this streaming device, Mac PCs are unable to be screen mirrored to Firestick. However, several solutions have been developed to solve this problem as this article addresses the ways you can screen mirror Mac to Firestick.
Amazon Firestick also known as Firestick is a streaming device that is used with an HDMI compatible TV to watch videos, enjoy music, and install apps. This portable external device offers several streaming services and it includes a screen mirroring feature that provides yet another way to enjoy videos.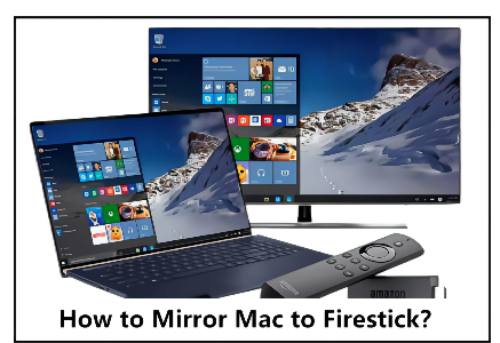 Part 1: How to Set Up A Firestick?
When you purchase an Amazon firestick, you get a box containing the firestick, an HDMI extender, a USB cable, 2 AAA batteries, an Amazon power adaptor, and a remote. the remote has a microphone that allows you to use the fire stick with the help of Alexa Amazon's virtual assistant.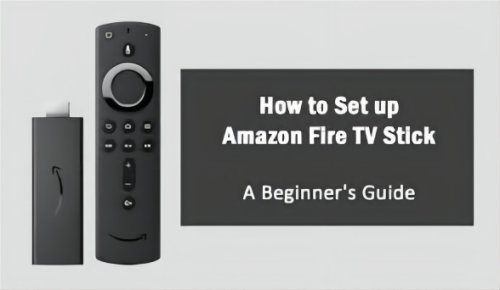 The firestick is inserted into the HDMI port then one end of the USB cable is attached to the firestick and the other end to the power adaptor, an alternative connects the other end to a USB port. Insert the AAA batteries into the fire remote, hold down the microphone button to activate voice control, and your TV should be connected to the Internet to use the Amazon Firestick.
Part 2: How to Check Network Connection on Firestick?
Setting your Mac and Firestick on the same Wi-Fi network is the most important of screen mirroring. However, this important step may be easy for some to set up and difficult for others. Here are the detailed steps on how to check the network connection on Firestick.
Procedure to Check Network Connection on Firestick:
Go to the source mode of your TV and select the appropriate one for your Firestick.
On the home screen, the settings is positioned on the right side of your screen. Click on this button and select "My Fire TV".
Click on "About".
Locate the network settings and check the SSID and ensure that the values match the ones on your Mac.
If the SSID values are not identical, disable and enable your wifi and check it again.
Part 3: How to Mirror Mac to Firestick?
1AirDroid Cast
AirDroid Cast is a cross-platform app and allows screen casting across multiple device. With HD video and audio streaming, this app supports multiple features. Its high-quality screen casting and lag-free performance have grown its user base to millions in a few months. AirDroid Cast gives you multiple connection options and you get to decide between using the app or the website version,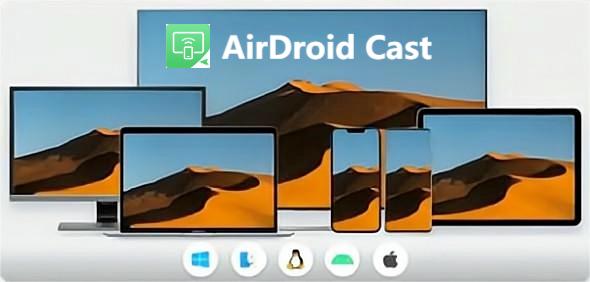 Below are the necessary steps on how to mirror mac to Firestick using AirDroid Cast .
Install the AirDroid Cast on your Mac from the official website.
Amazon Firestick supports Firefox browser, open this browser, and enter "webcast.airdroid.com" into the search bar.

A QR code will be displayed on your TV, just below the QR code is a casting code. Enter this code into your Mac to start the connection.
You will be asked to grant permission, after granting this access, you can choose to recognize your Mac for easy connection next time.
The screen of your Mac will be mirrored after following these steps
Note: Ensure that your Firestick is connected to the internet.
Advantages of Using AirDroid Cast:
Wireless connection
Easy screen mirroring of Mac to Firestick
Allows multiple devices to mirror on one screen
The website version of this app does not require you to sign in
Web-version and software application available for both iOS and Android devices
2How to Screen Mirror Mac to Firestick Using AirScreen?
AirScreen is the most common method of screen mirroring devices to Firestick and it also works for MacOS. It is easy to use this app because it can be installed on this streaming device. Another plus is that it supports AirPlay which is Apple's screen mirroring feature, however, you may experience a minor freeze when attempting to screen mirror.
The guide below shows you how to use AirScreen to cast your Mac to Firestick.
Open your Firestick by selecting the right source mode
Ensure that the Firestick is connected to the internet and for a better screen mirroring experience, the connection should be at a high speed.
Click on the tab that says "find" and then go to search
Search for the AirScreen app under apps and games and install it

On the menu bar of your Mac, open the control center and click on "screen mirroring" which sits close to the brightness adjustment settings

The option displayed will read "AS-AFTT[AirPlay], select this option. This is the AirScreen display name.

If this name is not displayed on the list of available devices, disable and enable the wifi of your Mac and then connect it to the same network as your Firestick. check again after doing this.
Your Mac PC will be displayed on the screen of your TV afterward.
3How to Mirror Mac to Firestick using AirBeam TV?
Airbeam TV is another great screen mirroring app that is capable of casting your Mac to Firestick. This app is available in the app store of your Firestick so you will need to install this app, but your streaming may get interrupted as a result of displayed ads which can only be removed by upgrading to the paid version of this app. Follow the steps below to mirror your Mac.
Search for the AirBeam TV screen mirroring app using the search tab on your firestick. ensure that you are connected to the internet.
Download and Install the Airbeam TV Mac client from the official website and install it on your Mac.

On the menu bar of your Mac, click on "start mirroring" and "scale display to fit the TV screen" and enable Firestick as the target device. Check the "enable sound on TV" settings and ensure that they are enabled.
Allow Airbeam TV to have access to your microphone.
You will be asked to grant screen recording permission, select the "open system preference" option" then click on the lock button positioned on the bottom left of your scree
ission and enable "mirror for fire TV" .

Click on "quit and reopen" and then open the AirBeam TV app menu and select "start mirroring." This should mirror your Mac to your TV.
4How to Screen Mirror Your Mac to Firestick Using JustStream?
JustStream is a screen mirroring software that allows you to cast one device to another and this includes casting your Mac to Firestick. While this application Is capable of screen mirroring to external devices, your video stream will be interrupted every 40 minutes unless you purchase a license code.
To use JustStream to enjoy videos and games on your TV you should follow these steps;
Install Juststrem software application on your Mac.
Launch this app and access it on the menu bar.

A pop-up will appear and you will select the device you wish to screen mirror from.
At the bottom of this pop-up, the AirPlay setting is visible. Click on it and select your fire TV from the list of available devices.
To start screen mirroring, click on "start streaming" and to end this connection, click on "stop streaming".
5How to Mirror Mac to Firestick Using AirPin Pro
AirPin Pro is an advanced screen mirroring application that allows you to screen mirror your Mac to Firestick, but it can be complicated to use for beginners. below are the steps you need to follow to use AirPin Pro to screen mirror your Firestick.
Search for AirPin Pro on your Firestick and install it

On the menu bar of your Mac, select the AirPlay setting and set both devices on the same Wi-Fi network
Select your Firestick as the target device
A request will be sent to your TV, accept this request to start screen mirroring.
Part 4: Conclusion & FAQs about Mirroring Mac to Firestick

You may want to mirror your Mac to your Firestick to watch videos, play games, or make a work presentation. However, relying on your default screen mirroring feature alone is not the best way to go about this.
You can use great third-party apps like AirDroid Cast or AirScreen. After evaluating the pros and cons of these apps, you can determine which one is best for you and easy to use. You can also review the troubleshooting steps for screen mirroring to FireStick for a better connection.
Why is my firestick not showing up?
The reason your firestick is not visible on your list of available devices is that both your Mac and Firestick are not connected to the same Wi-Fi network. Inspect your Fire TV and determine if both devices share the same SSID.
What software help with mirroring Mac to Firestick?
Aside from AirPlay, you can utilize third-party apps to help you screen mirror your Mac to Firestick. A good option is the AirDroid Cast as it has various special features, and it is easy to use, however, you can choose from lots of software applications.
How do I troubleshoot screen mirroring to Firestick?
Ensure that mirroring is enabled on your Firestick and that both devices involved are on the same wifi network. If these steps don't seem to work, disconnect the connection and start the process again.
Was This Page Helpful?