Issue & Fix: Netflix Not Working on Samsung TV
Netflix is one of the most popular video streaming platforms in the world, but it does not mean that there are no issues with it. In fact, many Smart TV users have often complained about Netflix not loading properly.
If you are also facing the issue of Netflix not loading on Samsung Smart TV, you are in the perfect place. There are certain strategies you can try to resolve the Netflix-related problems on Samsung. Otherwise, you can also use AirDroid Cast as a perfect solution by screen mirroring Netflix from another device to your Samsung TV.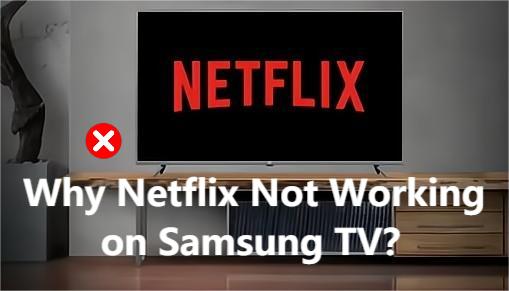 In this article, you will get to know about all of these different reliable solutions you can use to resolve Netflix issues on Samsung TV.
Why Won't My Netflix Load on My Samsung TV?

Many people have reported the issue of Netflix not loading on Samsung TV. It commonly involves opening the Netflix app on the Samsung TV, but it does not show anything on the screen. It can be an annoying experience when you are in the mood to stream something. You don't want to face such delays and errors.
You can try to resolve this issue by simply turning off your Samsung TV and unplugging it. Keep the TV turned off for at least 5 minutes before starting it again. Try to load Netflix and make sure you are connected to the internet.
Different Scenarios of Netflix Not Working on Samsung TV
There are various situations in which Netflix might not be working on your Samsung TV. Some of the common issues you are likely to face are:
Netflix app is not showing on your Smart TV.
Netflix app is not loading at all.
Netflix streaming slows down from time to time.
Samsung TV freezes when you open the Netflix app.
Netflix app shows specific error codes such as UI-800-3 (DNS error) or 11800 (problem with playback)
Compatibility issues.
Netflix app does not open and prompts you to update the app.
If you are facing any such issues, you should try the top 10 effective solutions one by one to get rid of the problem.
10 Effective Solutions for Netflix Issues on Samsung TV
There are multiple effective solutions that you can try one by one to resolve the issue of Netflix not working on Samsung Smart TV. Let's discuss these solutions in detail.
1 Check the Netflix Servers
It is common to assume that a large-scale company like Netflix cannot suffer internet outages and database issues. However, it is possible for the Netflix servers to be down for some reason. Therefore, if Netflix is not working on your Samsung TV, you should check whether Netflix is working for others.

You can easily get this information from the official accounts of Netflix on social media like Twitter. Moreover, Netflix has an official page that indicates the status of the streaming service. So, if you are experiencing issues with Netflix, you should always check the status of the Netflix servers.
2 Reboot Your TV

Rebooting your Smart TV is a reliable solution for lots of bugs and glitches that might be affecting the TV's storage. Samsung TVs provide high performance, but they also need a good restart every once in a while to keep working with optimum performance.
If your Netflix is not working properly on Samsung TV, you should restart the TV at least once before trying the other solutions. Restarting the TV is also known to resolve issues like Samsung TV freezing in the middle of a video, login problems, and unresponsiveness of the Netflix app.
3 Ensure Internet Is Working

It should go without saying that you cannot expect Netflix to work efficiently without a stable internet connection. Therefore, whenever you are trying to start Netflix on Samsung TV, and it's not working properly, you should make sure that your internet is working.
You can simply check the internet connection on another device, such as your smartphone. Don't worry if you don't have any other device near you. It is possible to test the internet connection from Samsung Smart TV as well.
Press the Home button and navigate to Settings > Support > Device Care > Self Diagnosis > Smart Hub Connection Test. Once the test is completed, you will get a list of issues with your internet connection so you can fix them.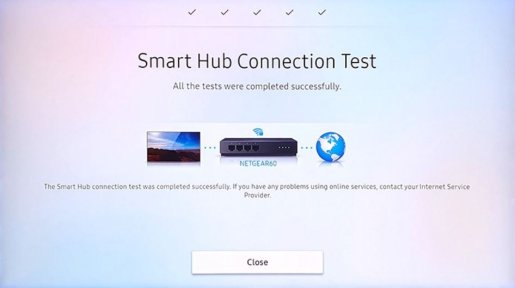 4 Update Netflix and Samsung TV

It is important to keep Netflix and the firmware of your Samsung Smart TV up-to-date to get rid of the bugs that might be present in a certain version. You can easily update the firmware by selecting Settings and accessing the update section. Regular updates can help you avoid many other Netflix error codes.
Secondly, open the Play Store on your Samsung TV and check if there is any update available on the Netflix app. Install the updates, if available, to remove the Netflix not working or loading error.
5 Clear Cache

A significant amount of temporary cache data is stored on the TV's storage over time. When such files get corrupted, they can generate a wide range of errors for you, such as Netflix not working on Smart TV.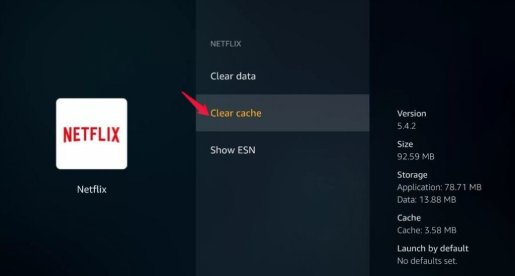 It is always a good idea to clear cache regularly to prevent such issues.
You can do it in 4 simple steps:
Press the Home button on your Samsung Smart TV.
Navigate to Settings and select Apps.
Choose System Apps.
Select the Netflix app and click on Clear Cache.
After the cache is cleared, try to start the Netflix app again.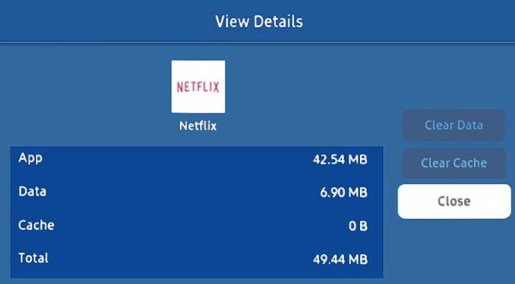 6 Reinstall the Netflix App
Deleting and reinstalling the Netflix app is another reliable solution to solve the issue of Netflix not loading on Samsung TV. You can delete the Netflix app by accessing the App Settings and using the uninstall option to remove Netflix.
Reinstall the app by visiting the app store and searching for Netflix in the search menu. Tap install to get the app again.
7 Log Out from Netflix

Another tried-and-tested solution to load Netflix efficiently on Samsung Smart TV is to log out from your Netflix and log back in to access Netflix.
It is a very simple solution that takes only a few minutes. Yet, many people ignore it because they assume that it won't work. You should not make this mistake and definitely try out this solution.
8 Disable Samsung Instant

Most Samsung TV users have enabled the instant feature to ensure the TV can start within seconds after plugging in. In an ideal situation, it should not affect any app like Netflix.
Yet, it is possible that it might be preventing Netflix from properly loading on the Smart TV. Therefore, you should disable the instant on feature from General Settings and try to access Netflix.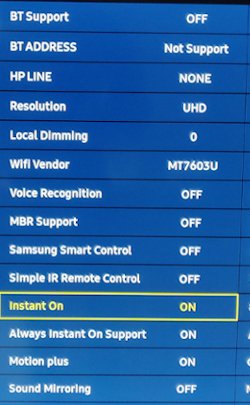 9 Contact Netflix or Samsung Support Team

If none of the solutions are working, you should consider contacting the support team of Netflix of Samsung. Make sure you know the exact model of your Samsung Smart TV before contacting the support team because the experts will guide you according to the specific model of your TV.
10 Reset Smart Hub

Resetting the Samsung TV's firmware and Smart Hub is an aggressive solution to get rid of issues like Netflix not loading on the Samsung TV. However, if none of the other solutions are working, you might have to reset the Smart Hub by following these steps:
Access the menu on Samsung Smart TV and press the Home button.
Find Support under Settings > Support.
The option of Device Care will be located at the bottom of the page. It will have an option of Self Diagnosis.
Select Reset Smart Hub and enter 0000 as the default PIN. If you have set some other PIN, enter your PIN.
It will reset the Smart Hub and remove all account login details and downloaded apps from the TV.
[Easy Steps] Watch Netflix on Samsung TV with AirDroid Cast
It is possible that even after trying all of these solutions, Netflix might not work on your Samsung Smart TV for some reason. In such a situation, you should consider using a screen mirroring app like AirDroid Cast that allows you to watch Netflix without any errors.
AirDroid Cast
AirDroid Cast is a user-friendly screen casting platform through which you can mirror the screen of your devices like laptops, Android smartphones, and Apple devices to a smart TV like Samsung TV.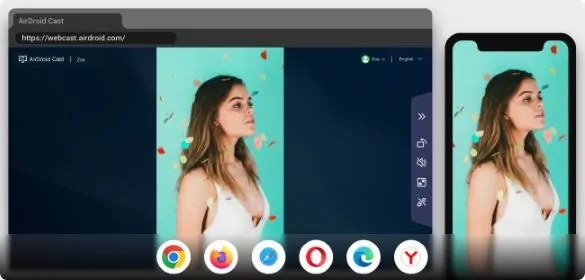 The good thing is that you don't have to install anything on your Samsung TV to use AirDroid Cast. A web browser is enough to start mirroring Netflix from any of your devices to the TV. You can do it in three simple steps:
Tips : If your TV shows a black screen with audio during screen mirroring, the most possible reason is that some Netflix content is copy-protected,so you need to make sure that the videos you want to mirror aren't restricted content.
Step 1. Download and Install AirDroid Cast on your Device
First of all, download the AirDroid Cast app on the device where the Netflix app is present. You can download it on your MacBook, Windows laptop, Android smartphone, iPad, or iPhone.

Step 2. Open AirDroid Cast Web on Samsung TV
Open the browser on your Samsung Smart TV and type the address "webcast.airdroid.com" in the browser. A QR code and a 9-digit code will be displayed on your TV screen.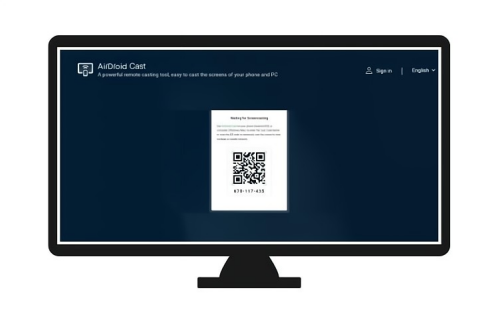 Step 3. Start Screen Mirroring!
Open AirDroid Cast on your phone, and then scan the QR code on your smartphone or enter the 9-digits code. Start screen mirroring your device to the Samsung TV.

If your mirrored device is a Windows PC or a Mackbook,you need to tap the "cast to" button and then scan the QR code or enter the cast code shown on your TV. Now you can play Netflix and chill!
Check the Model of My Samsung TV: Why Smart TV Netflix Not Showing Up/Available/Found?
There are certain situations in which you will have to find the model of your Samsung TV to find the right Support.
How to Find Out the Model of My Samsung TV?
You can easily locate the model number on modern Samsung Smart TVs. Open the system menu and select Support> Contact Samsung.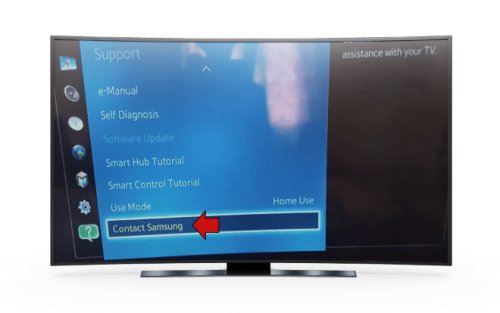 It will display all of the important information about the Samsung TV, including the model code and software version.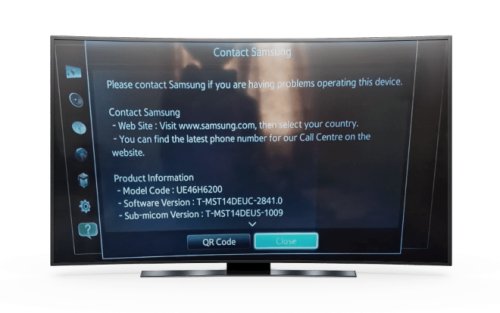 However, if you have an older Samsung TV, you will have to look for the model code and serial number on the back of the TV.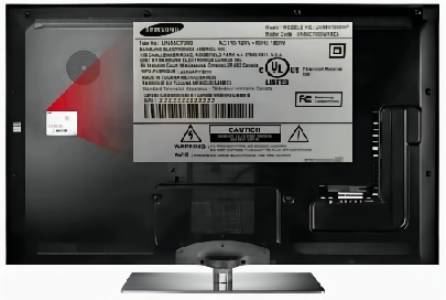 Troubleshooting for the Netflix Not Showing Up/Available/Found on My Samsung TV
There is no one specific reason why Netflix might not be showing up on your Samsung TV. If you do not see the app in your TV's App Store, there is a high chance that you are using an old model that does not support this popular streaming app.
In such a situation, the best solution is to use AirDroid Cast to mirror the screen of Netflix from another device, like your smartphone, to Samsung TV.
In Closing & FAQs about Netflix on Samsung Smart TV

Ideally, Netflix should work on all modern Samsung Smart TVs. Yet, the issue of Netflix not loading on Samsung TVs is commonly found among many users. If you are also facing such an issue, you should implement the ten solutions discussed above to resolve the problem and enjoy Netflix on your Samsung TV.
Otherwise, you always have the option of using AirDroid Cast to enjoy Netflix on your TV via screen mirroring. All you have to do is log in to your Netflix account on your devices, such as a smartphone, and screen mirror your device to a TV via AirDroid Cast to enjoy Netflix on the bigger screen of your Samsung Smart TV.
How to Find the Model Number On a Samsung Smart TV?
The model number of all modern Samsung Smart TVs can easily be found in the Settings. Navigate to the About or Contact Samsung option to view the model number and software version of your TV. If you are not able to find it in the settings, look at the back of your TV.
How to fix Netflix sound not working on Samsung TV?
In some Smart TVs, including Samsung TVs, audio issues can occur while using Netflix. If you are facing such a problem, you should disable the Sound Optimizer from settings and use the PCM format or stereo settings. Make sure that the sound is unmuted and if you are using external speakers, connect them properly. Reset the audio settings if the problem persists.
How to Get Netflix on Smart TV in Geo-restricted Countries?
Geo-restrictions are a common issue associated with Netflix. You can bypass them by buying a premium VPN and changing your IP address to a suitable country, such as the USA, that is not geo-restricted by Netflix
Why does Netflix app on smart TV not work?
Netflix app might not work on a Smart TV due to a number of reasons such as unstable internet connection, outdated Netflix app, outdated firmware of the Smart TV, excessive cache, and lack of Netflix availability in a country.
Was This Page Helpful?