The Modern Approach: Screen-sharing Remote Assistance
In the modern world, the vast majority of companies are present on online platforms. However, when customers are having problems with the system, It can be quite difficult to talk about the problem over the phone or via chat, and even more, it can create confusion. This is when screen share remote assistance is needed.
Screen share remote assistance has made the life of customers and support agents much easier. It makes it possible to share the screen with the agent in real time, who can see the problem and provide a solution swiftly.
Top 1. AirDroid Remote Support
AirDroid Remote Support is a great tool that makes it possible to share the screen of one device remotely. This tool is especially useful for organizations' IT departments.
The possibilities are wide with this software. Not only you can share the screen, but also this particular tool allows you to message the end user, make a voice chat, transfer files, photos and videos. All this helps to understand the problem quickly and find the solution swiftly.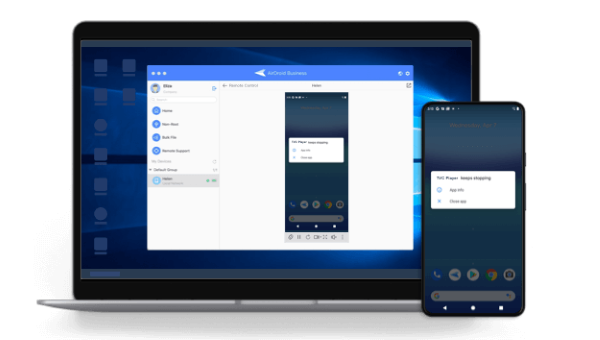 Some of the benefits of AirDroid Remote Support are that it helps to save costs, decreases the downtime of service and device, and helps to solve the issue quickly.
Supported Platforms: Android and iOS devices.
Suitable for: Hardware manufacturers, Software solution providers, System integrators, and In-House IT supports teams.
Key Features:
It comes with a high level of privacy such as permission to connect, a 9-digit code connection, and suspend screen-sharing option. The customer has the option to pause screen sharing if valuable or confidential information is shown. Additionally, the connection can not be established with a special code and permission. There is no need of sharing an account at all. All this makes the connection safer.

The tool has the option to enable gestures when doing screen sharing. After doing this, the end-user will get the "tutorial" on their end and will be able to follow the steps. In addition to that, Airdroid Remote Support offers remote control for Android devices.

AirDroid Remote Support does not require the root device and does not need the non-root setup.

Among the most important features of this tool are voice and message real-time chat. It also allows sending the Apk file or error log.
Customer's Demands & Solutions
AirDroid Remote Support will help your company to meet customer demand and provide proper solutions.
First of all, the tool is very helpful when the problem is regarding a system that relies on software solution providers and system integrators.
Sometimes customers have an issue that needs to be fixed quickly and directly from integrators. The quick fix is essential for them so customer operations, sales, or services will not be interrupted.
Additionally, one of the main customer's requirements is to have a protected and secure process. To meet those demands, AirDroid Remote Support offers an encrypted and protected process, that guarantees the safety of the company's data and quick and effective troubleshooting.
Top 2. Google Meet
Google Meet is a service for secure, high-quality video conferencing and calling that users can use regardless of their device.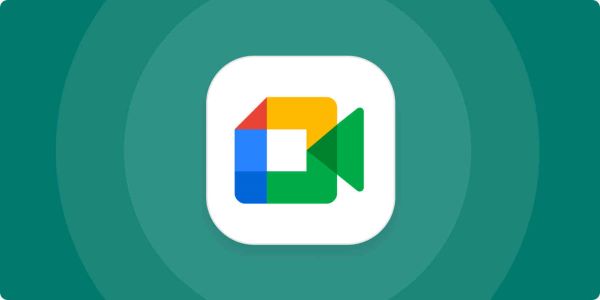 Supported Platforms:
Google Meet supports both Android as well as iOS.
Suitable For:
Stay in touch with easy scheduling, simple recording, and adaptive layouts.

You can share your entire screen or just a window to present documents, slides, or spreadsheets.

You can invite up to 500 internal or external participants to your video conferences.

You can join a video conference through the Google Meet app or simply dial in by phone using the dial-in number in the meeting invitation.

Google Meet video conferences are secure. The organizer decides who can join the video conference, and only approved users can join.

You can livestream events like town hall meetings and sales meetings to up to 100,000 viewers in your domain.
How to Set up?
Open Google Meet app on your mobile phone.

Join in a meet video conference. Click the three vertical dots in the lower right-hand corner of the screen.

Click Share Screen at the bottom of the screen.

Select Full Screen, One Window, or One Tab.

When you show a Chrome tab, audio from that tab is also streamed by default.

If you want to show another tab, select the tab you want and click Share this tab instead.

Click Share.

Optional: To detach a presentation and view it as a tile, click Detach . You can now see other participants during the presentation.
Top 3. Microsoft Teams
Microsoft Teams is a chat-based central workspace (hub). The tool is designed to digitally support more effective communication and collaboration in teamwork. It is based on existing Microsoft technologies and can integrate other Microsoft 365 services.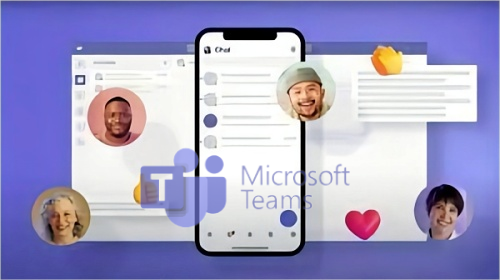 However, Microsoft Teams is more than just a chat solution. In addition to functions for chats, calls and meetings, the service offers access to many other M365 services, such as SharePoint Online, Skype for Business, Office Groups, OneDrive or even Microsoft Planner.
Supported Platforms:
Microsoft Teams can run on both iOS and Android devices as well as laptops, computers and tablets.
Suitable For:
As a central workspace for teamwork, Microsoft Teams is suitable for all company sizes - from large enterprises to medium-sized businesses to small organizations. It is ideally suited for:
Users and teams that want to collaborate in real time in a group of people.

Project teams that want to move through their project quickly, including file sharing and simultaneous collaboration on shared project documents.

Users who also want to include a wide range of tools in their workspace.
How to Set up?
Open the app on your mobile and join a meeting with the users you want.

Click on the ellipsis icon from the Menu and then click on the 'Share' tab. You will see the Share Screen option there. Click on "share screen".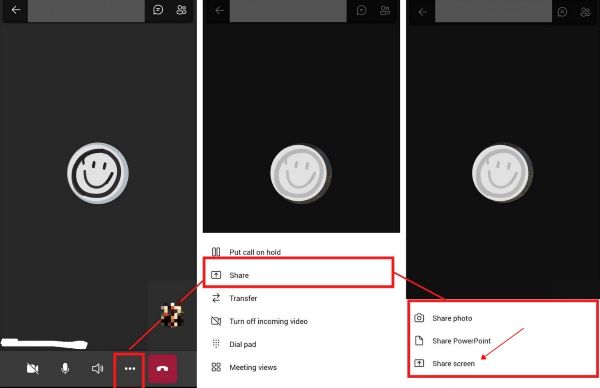 What Can Screen-sharing Remote Assistance Help for Enterprises?
Remote IT Support
As already mentioned above, screen share remote assistance can help large enterprises with remote support. The tool makes it possible to share the device screen, which allows IT support agents to take control, spot the problem, and resolve it in a timely manner.
It also allows IT support agents to have connections with unlimited devices. The process of establishing the connection is very simple and secure. Last but not least, some tools such as AirDroid Remote Support come with AR cameras and remote control tools, and Gestures, which can be very useful in the process.
Remote Management
With screen sharing remote assistance, team usage can be monitored such as the connection status of support agents, and analysis summary. Finally, this kind of tool also makes it possible to analyze the logs by giving access to the log history.
For example, tools such as AirDroid Remote Support comes with shared hours. 50 connecting hours are established per team in a month on every seat. In addition, extra seats can also be added to provide the team with more flexibility.
Why Do You Need Screen-sharing Remote Assistance?
1 For Enterprises
Increased Efficiency
When using the screen share remote assistant. Real-time IT support is one of the most important and major factors that increase the efficiency of enterprises.
Authorized IT administrators can access and carry out operations like installing updates on several devices at once without interfering with the user's work. This saves time for IT support because they don't have to travel to each device's location, as well as for the user because they can continue using their devices as usual without interruption, resulting in a seamless working environment.
Lower Costs
Screen share remote assistant is a great way for enterprises to lower costs. Employees are not obliged to attempt to explain complicated technological difficulties over the phone or by email, and IT is not needed to organize expensive on-site visits that take a lot of time and effort.
A technological malfunction that occurs at a vital time might make a company's activity ineffective. Your firewall may be inoperable, your server may be overworked, or your desktop machines may be cut off from the network. Any cause of downtime might cost the business thousands of dollars. When a technological issue arises, you may obtain immediate assistance from a reputable IT support agency.
Remote Troubleshooting
Users can quickly establish connections with IT specialists, enabling real-time troubleshooting on unattended devices with prior authorization. This boosts productivity across the board. Some remote support applications come with helpdesk functions that might increase your productivity in addressing technical problems.
Remote support software can aid in lowering MTTR through the use of helpdesk services and real-time troubleshooting. IT professionals may connect to the device in question to resolve issues, modify settings, and apply updates thanks to remote software that has been pre-installed on both devices.
Ensure Security for Every Device in Any Location
The majority of screen share remote assistant tools come with data encryption and this guarantees both customers and employees additional security. Additionally, for example, AirDroid Remote Support has the permissions before connecting and a special code is required in order to remotely control the screen. Additionally, the tool has also an option that allows end-user to pause remote screen sharing. All this makes the remote sharing process secure for every device in any location.
2 For Personal Using
If you require access to your family's gadgets because you serve as their informal IT expert. You will benefit from having the screen share remote assistant. The same holds true if you only sometimes need access to your home server from the road.
Even though remote assistance tools are generally used for enterprises and companies, they can be very useful for personal use too. When a friend has a problem with his device, with this tool, you will be able to provide help quickly and effectively. It saves you time and helps you to find solutions for your family and friends.
Bonus: Desktop Sharing Software
Best 3 Screen Sharing & Remote Access Software
1. Best Remote Assistant
You can use a computer or mobile device to access files and applications on another computer over the web with Chrome Remote Desktop.
Chrome Remote Desktop is available on your computer over the web. If you want to use your mobile device for remote access, you need to download the Chrome Remote Desktop app.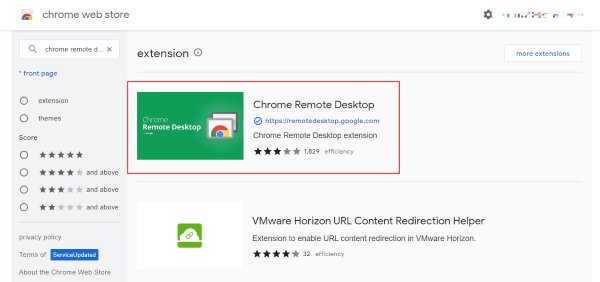 2. Best for Parental Control
Norton Family provides tools to teach safe, smart, and healthy online behavior. You'll also gain insights to help you promote a balance between online and offline time when it comes to your kids' device use.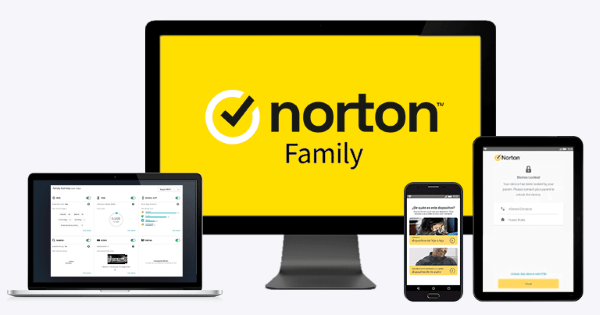 3. Best for Team Cooperation
Zoom Meeting: Host unlimited in-person meetings, even with the free plan.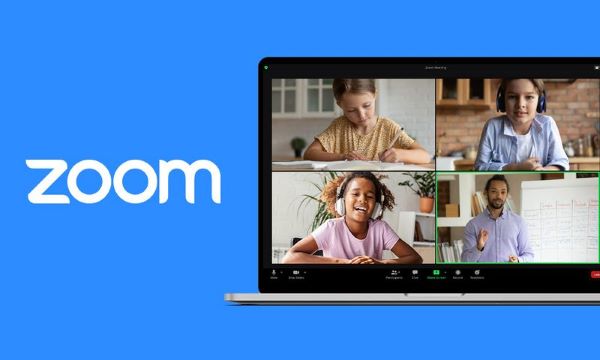 Group video conferencing: Host video conferences with up to 500 participants (if you purchase the Large Meeting add-on). However, with the free version, you can hold video conferences lasting up to 40 minutes with up to 100 participants.

Screen sharing: meet with individuals or large groups and share your screen with them so they can see what you see.

Record: You can also record your meetings or events.
Bottom Line
Companies and organizations have loyal customers, who have trusted them when purchasing specific products or services. It is essential to have good customer support, so that loyalty and trust in the company remain the same. Remote support is a great option when there is a need to keep the device up without taking too much time or cost. The support agent can use the remote screen-sharing assistant to control the end-user device, spot, an issue, and fix it quickly. In this article, we explored several good remote support tools that can guarantee the protection of data and privacy.
Was This Page Helpful?